Bread dumplings - Semmelknödel - are the final entry in the stodge section of the mental to-cook list I made during our October trip to eastern Germany. For ages, since Jackie and I visited Prague in the 1980s, we've favored a very different sort of bread dumpling: cubes of bacon-grease-fried bread embedded in a thick eggy batter. Only occasionally did I make dumplings like the ones we were eating in Germany, but these have now displaced the Czech style in my affections.
Start by identifying an appropriate bread. What you want is a well-structured but not especially chewy bread made of white flour. "Semmel" means roll, and an excellent option would be kaiser rolls, preferably without poppy seeds - though come to think of it, a few poppy seeds might produce a nice variant, especially if you scrape some of them off before proceeding. For my part, I use a reasonably light-weight round loaf with a thin but crisp blond crust - rather like an overgrown kaiser roll, in fact.
To make, say, 16 or 18 Semmelknödel, slice 10 oz (300 g) of bread or rolls fairly thin, tear the slices into smaller pieces and let them dry: I get the best results by spreading the bread out on a baking tray and putting it in a 300º F (150º C) oven for ten or fifteen minutes. You could also leave the slices at room temperature under a kitchen towel to get stale overnight. If the crust is thin, as I prefer it to be, leave it on; if your bread is heartier, with a thicker, potentially tougher crust, remove most or all of it before weighing out your 10 ounces.
While the bread is desiccating, cut a medium onion into very small dice and soften it in butter with a little salt. Depending on what you're serving the dumplings with, you could start with some finely diced bacon and cook the onion in its fat supplemented with a little butter for flavor. Let the onion turn a very light golden, though there'd be no harm in cooking it until a deeper golden brown.
Allow the oven-warm bread and the onions to cool for a couple of minutes. Place the bread into a large bowl and add the cooked onions, 2 Tablespoons of flour, 1-1/2 cups (300 ml) whole milk into which you've beaten two eggs, plus salt, pepper and nutmeg. Mix to combine and leave alone for ten or fifteen minutes to enable the bread to soak up the liquid and soften. Add a generous quarter cup of finely minced parsley (optional, but worth doing if you have flavorful parsley in the house) and knead/squeeze the mixture until it is fairly homogeneous; pay special attention to the fragments of crust and break these up with your fingers, especially if they seem tough. Taste for salt, pepper and nutmeg.
At this point you should leave the mass for a while - even as long as a few hours at room temperature or refrigerated overnight if that works with your schedule - though you can proceed immediately if time's a-wasting.
Bring a big pot of lightly salted water to the boil; while it is heating, wet your hands and form balls 1-1/4 to 1-1/2 inches (3 to 4 cm) in diameter. Put them on a damp plate as you work, then add them to the boiling water. When it returns to the boil, lower the heat to achieve a slow boil and cook for 15 minutes. Should you cover the pan? I maintain that the finished dumplings are a little more swollen and hence a little lighter when cooked in a covered pan - that is certainly true of matzo balls, which are not all that distant a relation - but any difference is slight. I've done it both ways and have always been happy with the outcome. Leftover bread dumplings can be halved and reheated, cut-side down, in butter in a covered skillet - you can let them brown a little.
Like so many other kinds of dumpling, these demand sauce. Gravy. Cooked sauerkraut. Something wet and tasty. Recently, we've eaten them with chicken braised in sauerkraut, and we've eaten them with meat (once veal cheeks, once pork shoulder) cooked along the lines of goulash, with lots of paprika and roasted red peppers. But a plate of any central or eastern European stew would be an appropriate destination.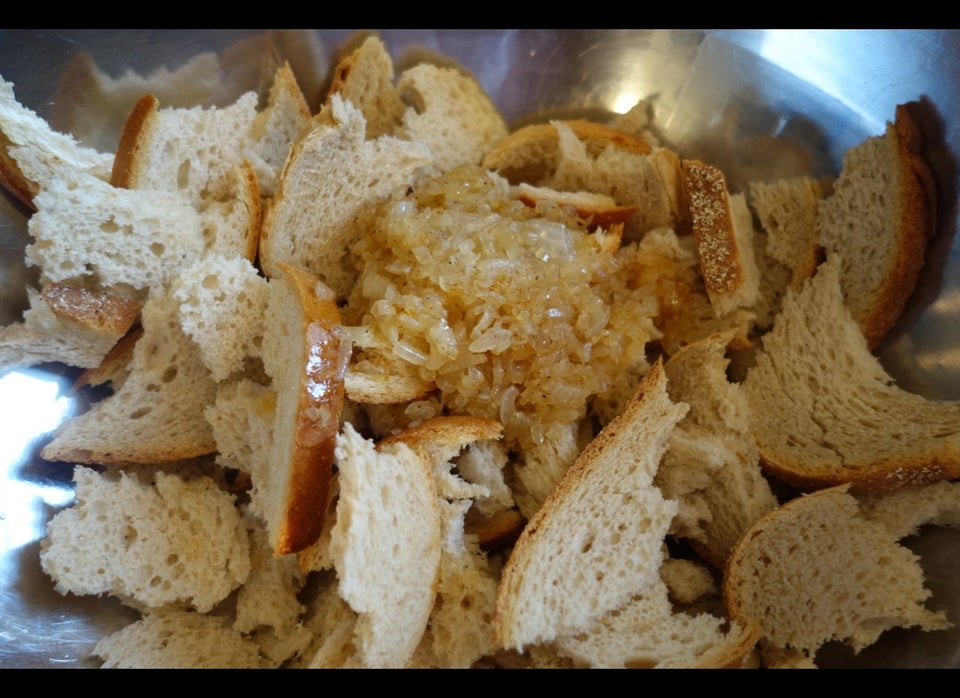 Just One More Dumpling, Please