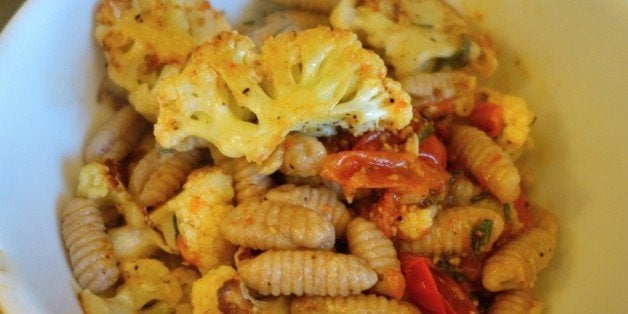 Last week I made brief mention of Jean-Georges Vongerichten's wonderful dish of scallops with caramelized cauliflower and caper-raisin emulsion, and I couldn't get that cauliflower out of my head. So, when Jackie and I saw pretty little early-season caulis at the farmers' market the other day, we slipped one into our shopping bag, knowing only that it would be cut up and browned in a skillet. A couple of years ago, a friend suggested I try cutting cauliflower into thick slabs, browning them and making them into garlicky, herby "steaks." But this one wasn't really big enough for that.
And besides, the freezer held a plastic bag of mixed-grain gnocchetti sardi. Dense, chewy flour-and-water pastas of that kind (orecchiette, cavatelli and so forth) are versatile: they can stand up to strong flavors like cured meats and yet are good with vegetable mixtures. Also, in the fridge there were excellent, sweet-acidic cherry tomatoes that I'd previously roasted with olive oil and herbs.
A dish of pasta, then, was to be the cauliflower's fate. I put salted water up to boil, then cored the cauli (which measured a little more than 5 inches - 13 cm - across) and cut it into large florets. Each of these I cut in two, slicing down the stem to prevent them from falling apart. This gave me pieces each of which had one nice flat surface; I placed them flat side down into a hot skillet slicked with olive oil. I lowered the heat to medium-high and browned the flat surfaces, which took three or four minutes. I further lowered the heat to medium, added salt, pepper and a minced clove of garlic and gave the cauliflower a toss: from this point it wouldn't matter which side was up or down, because the one-surface browning was finished. When the garlic was aromatic, I added half a cup (120 ml) of chicken stock and around 2/3 cup (160 ml by volume) of those roasted tomatoes. I could have used chopped fresh tomatoes, in which case I'd have skipped the stock because of their higher moisture content, adding water or stock only if needed.
Once the ingredients were in the skillet (which I covered with the lid ajar), I put the pasta into the boiling water; from frozen, it took seven minutes compared with just shy of six when they were fresh. This dish would be excellent with any short non-egg pasta - orecchiette, ziti, fusilli, nodi marini, radiatori, gigli toscani, ventrigli di quaglia, you name it - so timing will vary.
A couple of minutes before the pasta was done, the cauliflower was tender enough - not mushy, with a tiny bit of almost-crunch. I tinkered with the seasoning (because of the acidity of the tomatoes, it needed more salt) and also added a few fresh sage leaves, slivered. Then the cooked pasta went into the skillet to be combined with the vegetable mixture and scooped out into a serving bowl. Finally, each portion got a modest sprinkle of grated pecorino.
Browning the cauliflower adds a dimension to its flavor, though the transformation is not as startling as it is with, say, onions or porterhouse steaks. And because the pieces are on the large side, caramelization does not dry the vegetable out, so you get both the best of frying and the best of moist cooking. And if you're not in a pasta mood, the same process will yield a delicious vegetable side dish.
Each piece of cauliflower has a flat surface so it will brown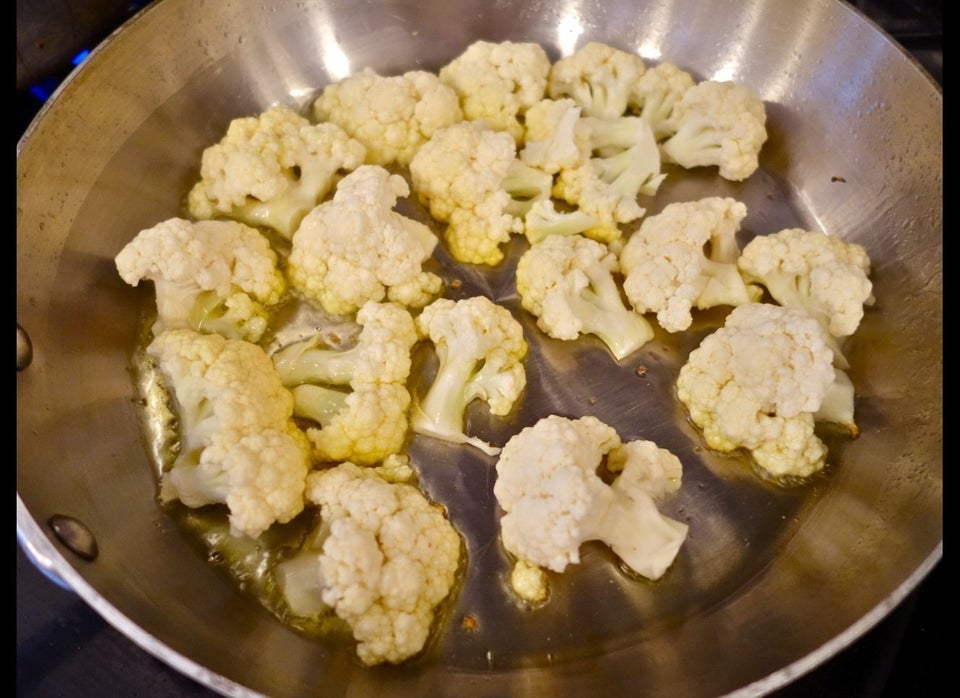 Once it's been browned, you can just toss it around in the pan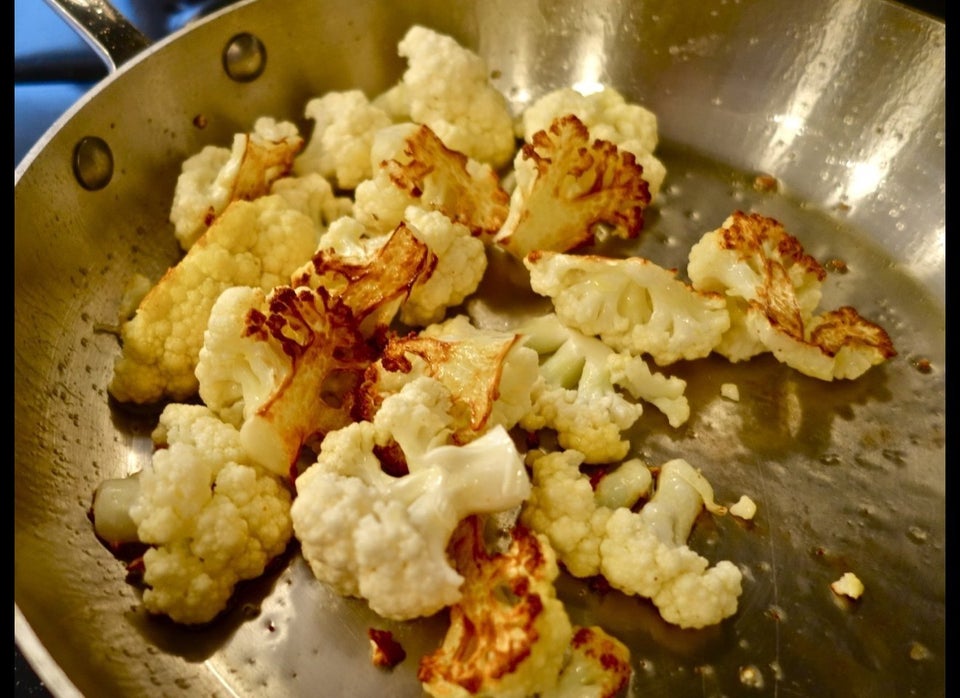 Cooked with garlic, tomatoes, stock (if needed) till tender enough; finished with sage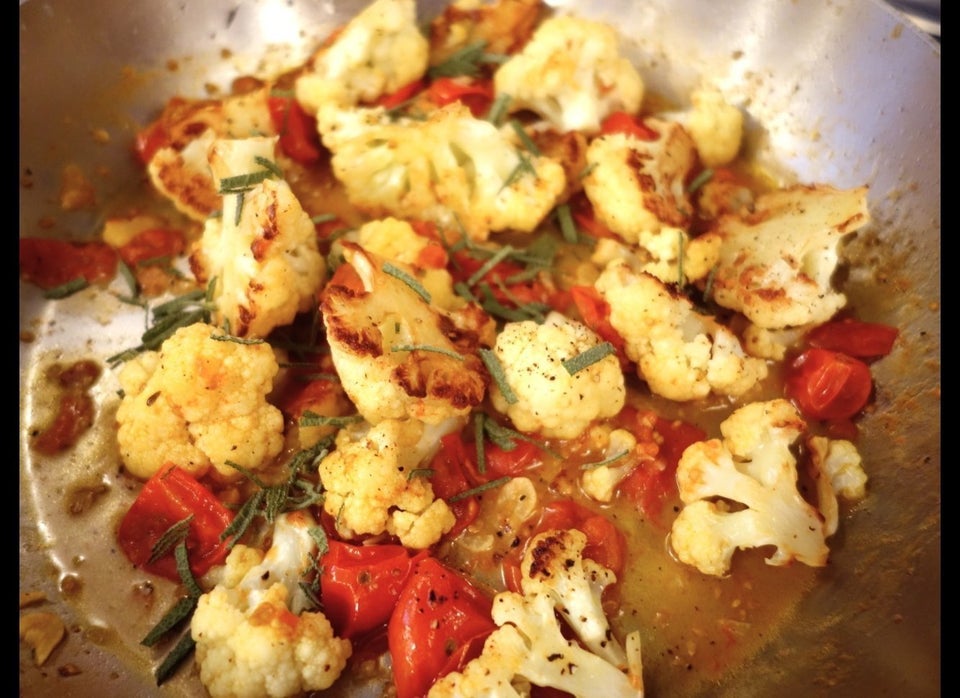 Served with mixed-grain gnocchetti sardi, but any short pasta would be delicious