As of mid-April, the farmers' market scene in New York was still something of a winter landscape: lots of last season's apples, potatoes, root vegetables and so forth, plus the odd greenhouse-raised crop and some sturdy (and delicious) over-wintered greens. But there was very little that would respond to an increasingly urgent yen for local asparagus and peas.
So, having bought a particularly nice piece of the freshest weakfish you can imagine, I puzzled over how to bring a semblance of spring to our dinner table. The solution came, first, from one of the few new-season things I saw: a bunch of sorrel (from a greenhouse, I think, though it could just have been grown outdoors; I was too deeply engaged in conversation with produce expert Kate Galassi to ask the vendor). With its lemony acidity, sorrel is a classic with fish, either on its own or in a sauce.
The second part of the answer was already at home in the refrigerator: the lower 40 percent of a head of romaine lettuce, which had provided part of two dinners already. A few outer leaves had gone into ham sandwiches, and I'd cut the leafier top of the head crosswise into strips to make lettuce and egg fried rice.
All along, the destiny of the remaining romaine was to be braised, probably as a side dish with some sort of fish, and I realized that the sorrel could integrate this neutral accompaniment into an interesting dish. Its tartness would complement the lettuce's mild bitter-sweetness without interfering with its aroma, and it would of course provide a link to the weakfish: there's nothing like a hit of lemony acidity with a piece of fish, is there?
Lettuce is wonderful when braised. For one thing, it is nearly all water (beautifully flavored water, to be sure), so for most applications you need no stock or other additional liquid. In fact, all you really need to do is melt a little butter, turn the lettuce in it, sprinkle with salt, cover the pan and wait a (very) few minutes. I wanted flavors here that were a wee bit more assertive -- more a question of my mood than of any objective criterion -- so (for two portions) I started by rendering a single slice of bacon cut into 3/8-inch pieces until cooked but not crisp. I tossed most of the fat, softened a couple of tablespoonsful of thin-sliced onion in the remaining fat (I'd have preferred shallot, but oddly there wasn't any -- I must remedy this), then added two teaspoons of butter. When this had melted, I mixed in the romaine (mostly ribs at this lower point in the head) cut into two-inch lengths and well washed. After salting, I covered the pan and left it over medium-low heat, stirring occasionally, until the ribs were tender but still very slightly crisp.
Earlier, I had prepared the sorrel by removing the central stem from each leaf (see picture below); this really is worth the effort, because the leaves collapse instantly on contact with heat, while the stems don't. The same goes for any but the tiniest spinach, by the way. I then washed it twice, drained it and wrapped it in a towel until needed.
Now I cooked the fish, which I'd seasoned with salt about 10 minutes before. That day, I lightly floured the prettier side and pan-fried it in neutral oil, turning only once, when the floured side was golden; you could cook yours any way you liked, even steamed. You probably wouldn't want to bread it or cover it in batter, because of the delicacy of the braised lettuce. Of course, many fish would work well here: bass, skate, hake, cod and any of the flatfish come to mind.
When the fish was half a minute from completion, I reheated the lettuce and folded in about two thirds of the sorrel leaves, which very quickly melted down to almost nothing; I could have used the whole bunch, in fact, but the level of tartness was just right, and the rest would be great in, for example, an omelet. It is especially important to check for salt: you need to balance that tartness.
I dressed each plate with the lettuce mixture and topped it with a piece of fish, momentarily drained on paper toweling. Nothing else was needed, certainly not lemon for the fish, because the sorrel took care of that. And even though romaine is available in the supermarket all year round, treated this way it somehow tasted of spring. And about time, too.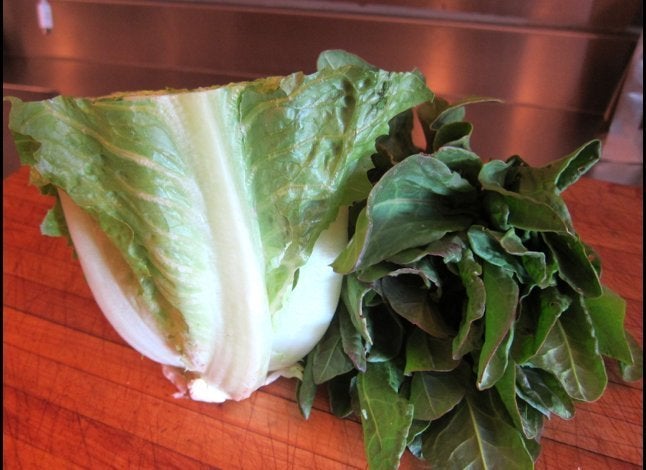 Trying To Be Springlike With Lettuce And Sorrel