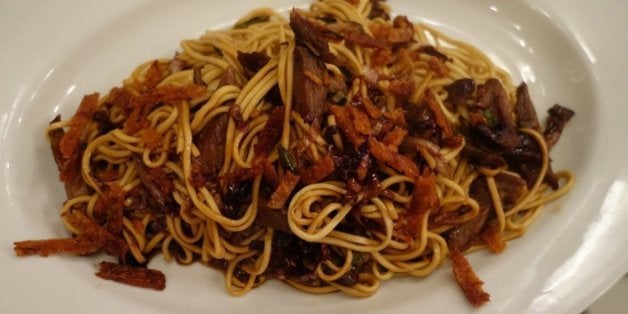 When I was a student, a dinner of roast pork lo mein cost 85 cents at Hong Fat restaurant in New York's Chinatown. Even as the price skyrocketed to over a dollar, it remained one of my favorite meals. The term isn't used everywhere in the world, so I ought to explain that lo mein is a noodle dish in which the name ingredient - most often glazed Cantonese-style roast pork - is stir fried with aromatics and bean sprouts and moistened, most typically, with oyster sauce and soy sauce; springy boiled noodles are then added and tossed to coat thoroughly but not copiously with the sauce.
It's very easy to make at home. For two main-course portions, use around 10 oz (285 g) of fresh Chinese-style egg noodles (more on this in a moment). Sauté a large clove of garlic, chopped, and a couple of tablespoon of chopped fresh ginger in peanut or other oil, then add two or three scallions (white and green parts) cut on the bias, plus as much cooked meat (or slivered shiitake mushrooms) as you like. When this has rendered some fat and the scallions have wilted, add a couple of big handfuls of bean sprouts (see below), toss, and deglaze with dry sherry (to replace Chinese shaoxing wine, which is rarely any good, at least in New York shops); when this has reduced add a generous two tablespoons each of oyster sauce and good soy sauce, plus a drizzle of sesame oil and a few grains of sugar. When it comes to the boil, add the cooked noodles, which were put on to boil as you were hunched over your frying pan or wok (you can do the initial stir-frying a short while in advance and add the liquid just before the noodles), and use a pair of tongs to coat them well. Slide onto a warm serving platter and get out the chopsticks.
The version I made the other day departed from this recipe in a couple of ways, some of them non-Chinese, and the result was delicious - and entirely faithful to the spirit of the dish. First, the noodles: I made my own, using around 200 grams (7 oz or roughly 1-2/3 cup) flour and almost three eggs - two eggs plus some water would have been fine. After the dough had rested for an hour in the fridge, enclosed in plastic wrap, I used a hand-cranked pasta machine to roll it out to the third-thinnest setting - quite thick - and cut it into manageable lengths. At the last minute, when the water was already boiling, I ran each sheet through the fine cutters of the pasta machine, yielding substantial noodles more or less square in cross section - like spaghetti alla chitarra - and immediately plunged them into the water. (This prevents sticking, and the short time lag between sheets of pasta has no discernible impact on the result if you work fairly quickly.)
Secondly, I used a distinctly non-Asian meat: Duck confit, or something like it. I'd used Paula Wolfert's recipe (in the revised edition of her incomparable The Cooking of Southwest France) for a sous-vide approximation of traditional confit. You can also buy confit duck legs vacuum-sealed in plastic bags. I scraped the jellied juices and most of the fat from one leg (and saved them, of course), then carefully peeled off the skin, which I placed into a small but heavy frying pan and set over a low fire to crisp (with a weight on top to keep it flat), turning once or twice. When it was crisp through, I drained it on a paper towel and cut it into little strips for a final garnish.
The meat from the drumstick and thigh I shredded with my fingers, not too fine, and set it aside.
The other departure from tradition related to the bean sprouts. I haven't used these for years, not since that nice Korean family sold the greengrocer across the street and the store stopped carrying them. Also, I'm a little leery of products that sit around in tubs of water for days on end and whose provenance is an urban basement. I've discovered that, of all things, sliced Belgian endive (aka chicory in the UK) is a great alternative: like bean sprouts, it is mostly water and is crunchy. It has a little more flavor than bean sprouts, which isn't such a terrible thing after all. Oddly, my local supermarket was fresh out of Belgian endive, so I bought a small head of radicchio (botanically similar), which has even more flavor and from which all the bitterness has not yet been bred out by growers who think we prefer bland food.
With those substitutions, I proceeded according to the usual recipe, sprinkling the top of the finished dish with batons of crisp duck skin. The result was very ducky (in both senses of the word); the duck fat that found its way into the dish was as much of an enhancement as the pork fat is in the roast-pork version, and the bitterness of the radicchio was an improvement. I know how loopy using these oh-so-Western ingredients in lo mein sounds; if I saw it on a menu, even for 85 cents, I probably wouldn't order it. But believe me: the result was terrific.
The meat from a confit duck leg, shredded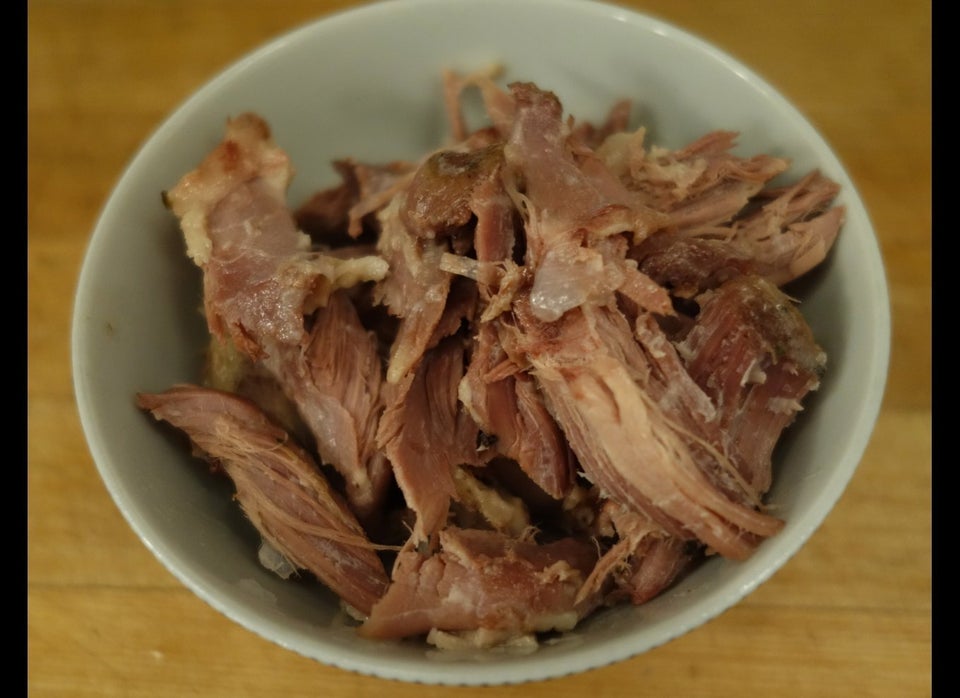 The skin, crisped in a frying pan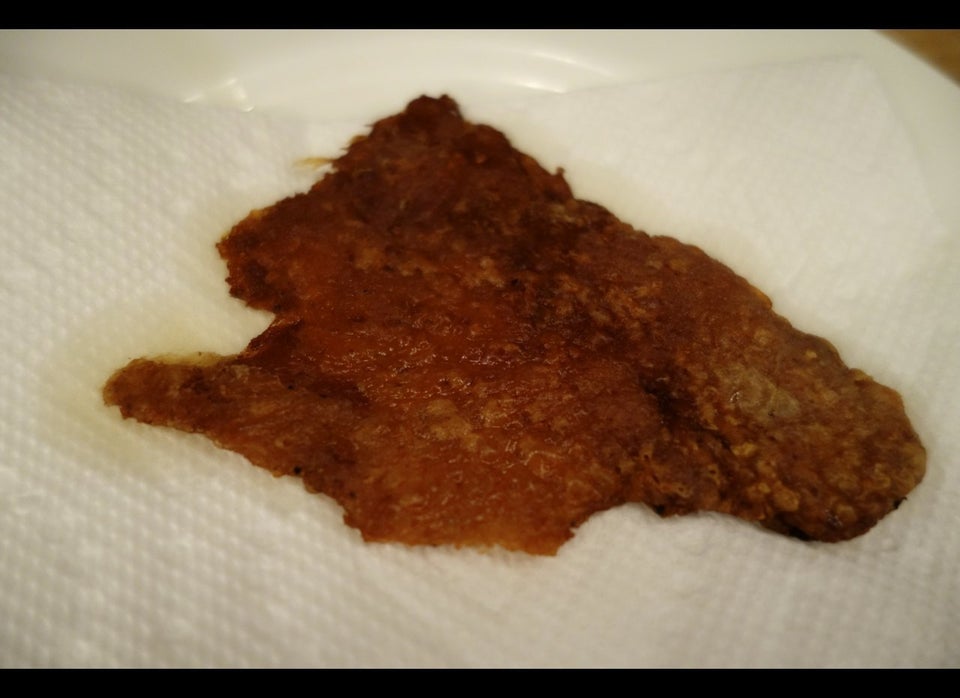 Half a head of radicchio to replace the bean sprouts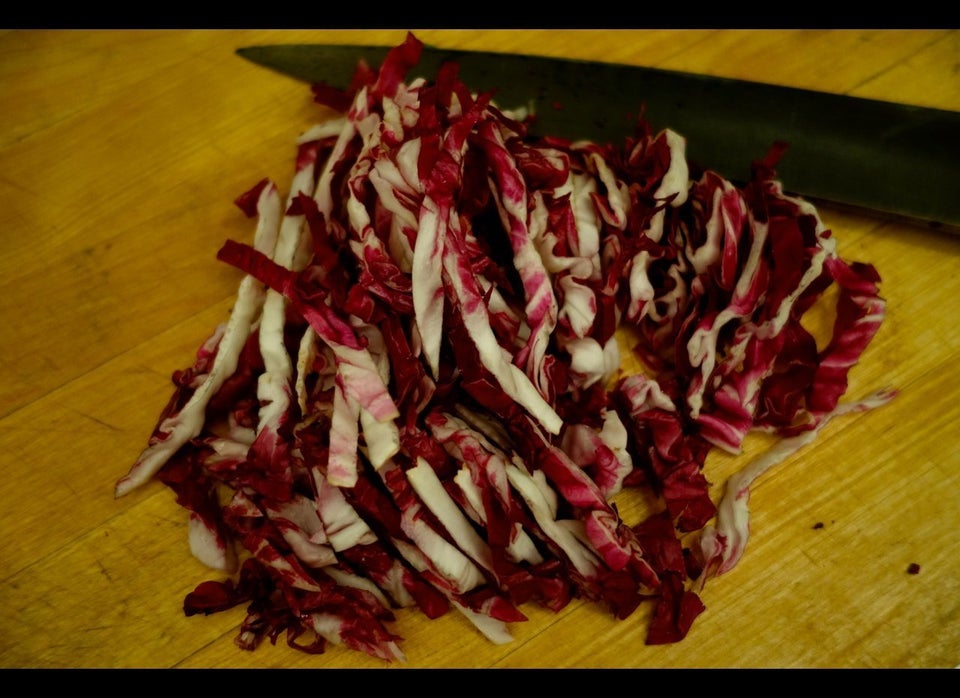 Just before the sauce mixture is added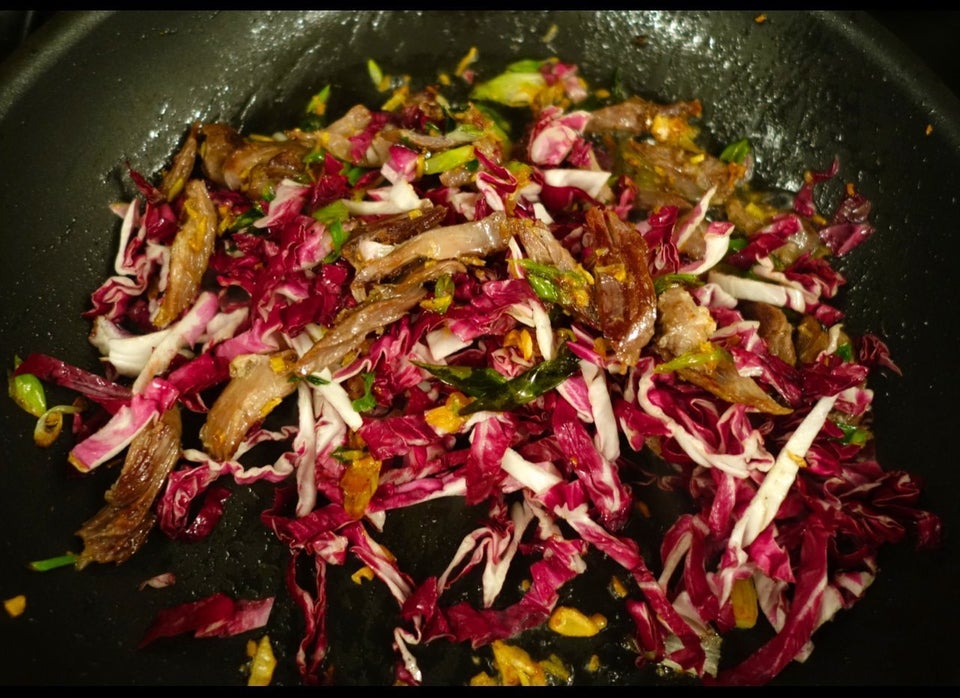 Confit-duck lo mein