Upon returning from a trip, Jackie and I generally have pasta as our first home-cooked meal. It isn't a question of deprivation (it happens even after we've been to Italy) but of a wish to return to cooking at its most domestic.
While we were away in January, I got it into my head that there might be a way to extract some goodness from the bland hydroponically grown tomatoes sold by a lone producer at our local farmers' market, and that this would entail slow-roasting them to intensify what little flavor they had. There was a market the day after our late-night arrival, so I thought our welcome-home meal should be spaghetti with tomato sauce. Hydroponic-tomato sauce.
I often use this technique for summer tomatoes (as in this eggplant dish) but had never tried it with out-of-season fruit. It worked well, and it would also work for tomatoes you find in the supermarket, so long as they have some flavor to start with: I've experimented with truly lousy specimens and they proved irredeemable.
For the two of us, all it involved was cutting a pound (450 g) or so of tomatoes into thickish 3/8-inch (1-cm) slices, tossing them in a bowl with salt, perhaps some thyme or other herb, and enough olive oil to coat, arranging them in a single layer on a baking sheet, and putting them into an oven heated to a gentle 275 degrees F (135º C). After half an hour or forty minutes, I turned them and made sure they weren't caramelizing or getting dry (if your oven thermostat is reasonably accurate, that won't happen), then continued slow-roasting for another 30 minutes or so. The tomatoes should be soft and juicy and should have a good, tomato-y flavor - far better than when they went into the oven.
To turn these improved tomatoes into a sauce, I put them into a saucepan, using a rubber spatula to scrape up all the oil and juice from the baking sheet. I added a clove of garlic, peeled but whole, and simmered over very, very low heat, stirring from time to time, for five minutes or so - longer if there is a great deal of juice. When I'd boiled the thick spaghetti (spaghettoni - or use other pasta), I added it to the tomatoes in the pan with some butter - say, a very generous tablespoon (about 20 g). I also needed to add a splash of the pasta cooking water, so keep some aside in case the dish needs moistening. The tomatoes we'd bought were rather tart (a pleasant surprise in this age of too-sweet produce), so it was important to add enough salt and butter to balance the flavors - taste carefully as you go.
Served with grated parmesan, our January spaghetti with tomato sauce was a lovely way to return to the kitchen - and it wasn't much of a compromise in flavor compared with canned tomatoes or any but exceptionally good summer produce.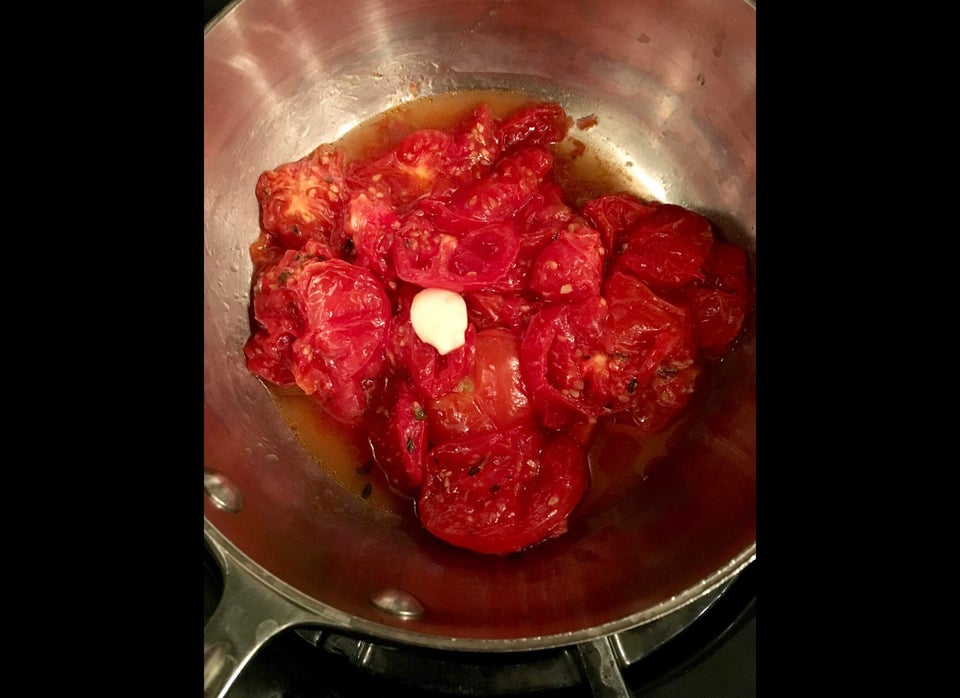 Making the Most of Winter Tomatoes
Related