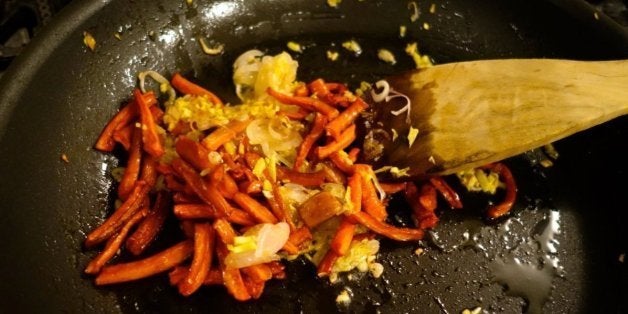 Vegetable fried rice is all very well, but most versions lack certain qualities that a handful of diced roast pork or duck - or something like ham or bacon - will add: points of intense flavor and chewiness as a contrast to the milder, softer rice and eggs. And, if you're using Chinese-style glazed roast meat, there will be a hit of salty sweetness too.
But if you feel like no-meat fried rice for dinner, as Jackie and I did the other night, there's a way to overcome this problem (at least I think it's a problem): cook a few carrots in such a way that they'll have that chew, that intensity and that sweetness. This is a cinch to do, but it takes long cooking, most of it unattended. The technique is adapted from a slow-cooked carrot recipe by the late Marcella Hazan; it will work with parsnips too, which are another good option. And it will work even if you're not itching for a platter of fried rice: it yields a great side dish.
To make enough carrots for two big main-course portions of fried rice, take three fairly large carrots, peel them and cut them into chunky julienne, an inch or inch and a half long and a good 1/4 inch broad (say 30 by 6.5 mm): they need to be big enough that when they shrivel in the cooking there'll still be something to gnaw on. Put them into a heavy-bottomed skillet large enough to hold them in one layer (more or less - don't worry if a few carrot pieces don't fit, because they're going to get far smaller) and add a scant tablespoon of oil (peanut is what I used, in keeping with the sort-of Chinese palette), three or four whole pieces of star anise and a piece of fresh ginger, peeled and cut into small chunks. Sprinkle with salt and add enough water to moisten the carrots in a shallow (1/4 inch) pool. Place the skillet over very, very low heat and leave it there for 90 or 120 minutes, stirring the carrots and, especially for the first half hour or so, adding a tablespoon or two of water occasionally. Eventually, assuming the heat is low enough, you will end up with shriveled, lightly caramelized carrot sticks that have attained the sort of chewiness you don't normally associate with root vegetables. Part of the trick here is the cut-up carrots - whole ones taste good when cooked this way, but to reach the chewy stage would take ages and would risk over-caramelizing (i.e. burning) the outsides.
When the carrots were done, I added a teaspoon of good soy sauce and slowly reduced this, glazing the carrots. That was optional, but it did remind me that I was cooking a variation on an Asian dish. I also removed the star anise and the chunks of ginger; their aroma remained.
I made the carrots hours ahead of time, as I did the plain long-grain rice (I used a cup and a half - around 300 g - of Thai jasmine rice, thoroughly rinsed before cooking in unsalted water). When it was dinner time, I beat three eggs with salt, white pepper and a little toasted sesame oil, then cooked them in peanut oil, like a messy omelet or a batch of quick scrambled eggs; they need to be undercooked, because they'll firm up in the hot rice. I held them aside in a bowl until needed.
In a 12-inch (30-cm) non-stick skillet over medium heat (use a big wok if you like), I briefly fried two shallots, sliced (scallions/spring onions would be every bit as good), and an inch (2.5 cm) or so of ginger, peeled and minced, again using peanut oil. I then added the carrots and stir-fried until they'd warmed through. Now, I used my hand and a wooden paddle to break up the cooked rice and add it to the pan, turning and combining it with the carrots. When the rice was hot and lightly coated with oil, I folded in a few leaves of cabbage, cut into strips (there was no lettuce, which would have been more mainstream) and, when this had wilted, the cooked eggs, breaking them up as I mixed them with the rice.
I checked for salt and white pepper (it needed both) and drizzled on a few drops of toasted sesame oil to finish the dish.
As always, we ate our fried rice with spoons, like children. We smiled like children too: this gingery dish, with its sweet, star-anise-scented, chewy carrots and comforting eggs, has a way of making us happy.
Three good-sized carrots and a chunk of ginger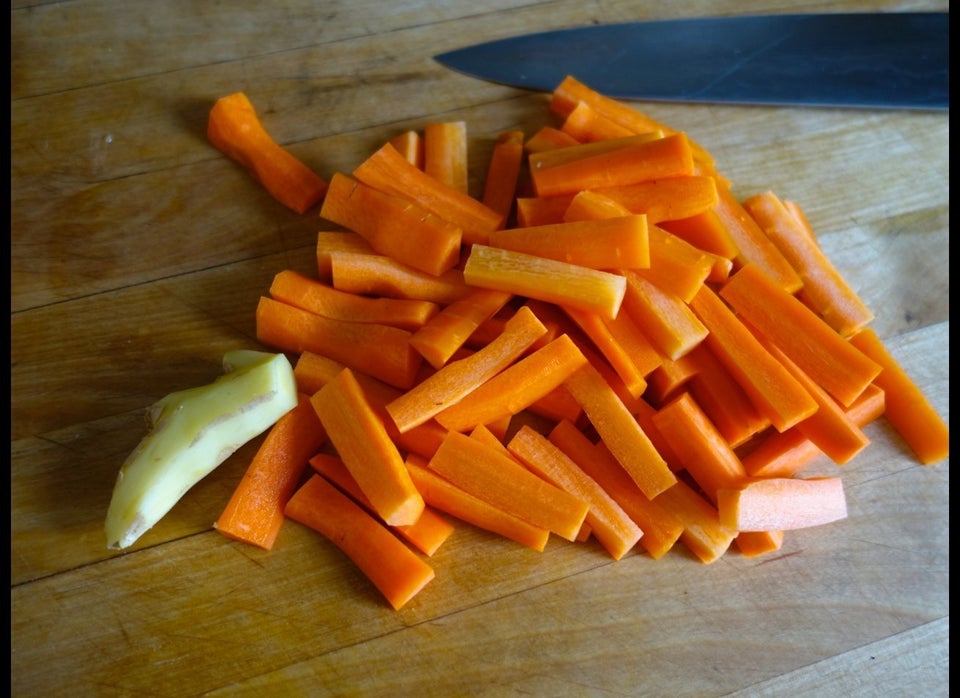 Carrots, ginger, star anise, more or less in one layer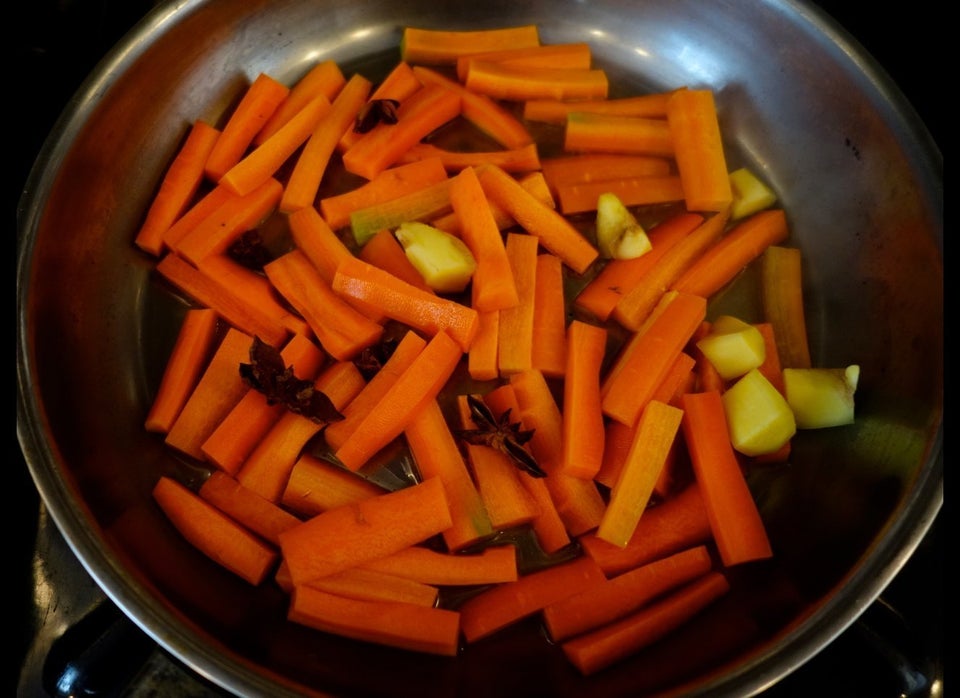 Two thirds done: shrunken, shriveled and full of concentrated flavor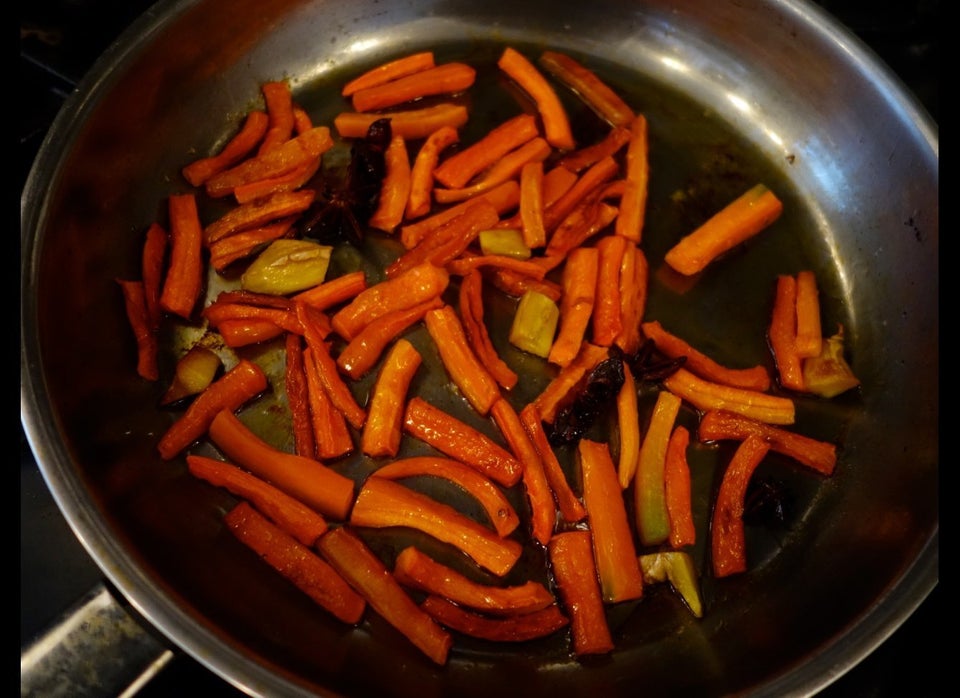 Shrunken to this, and filmed with soy sauce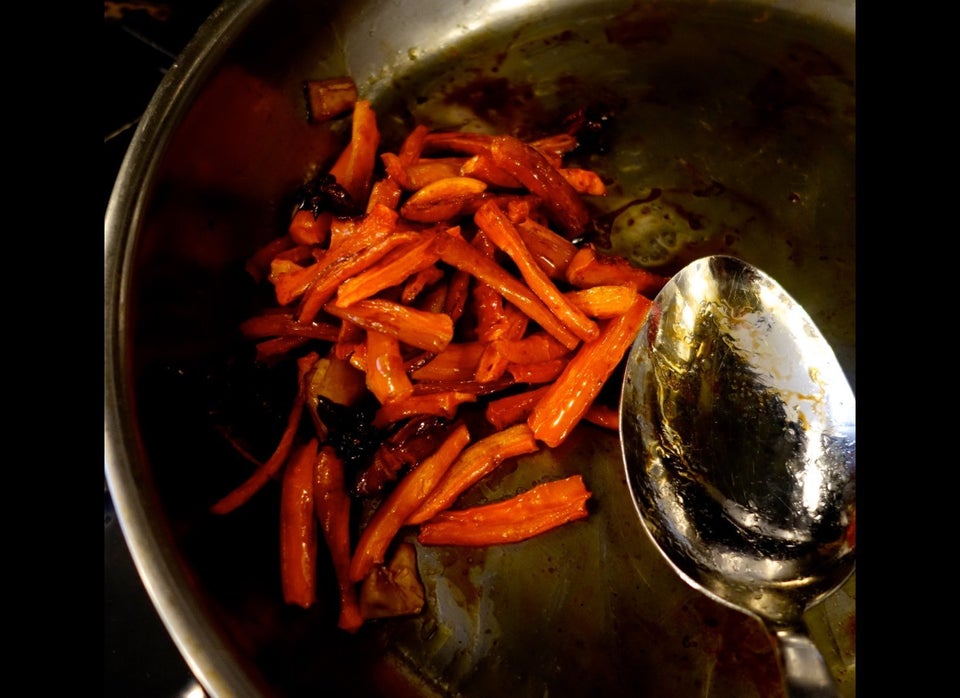 Here's what all those carrots reduced down to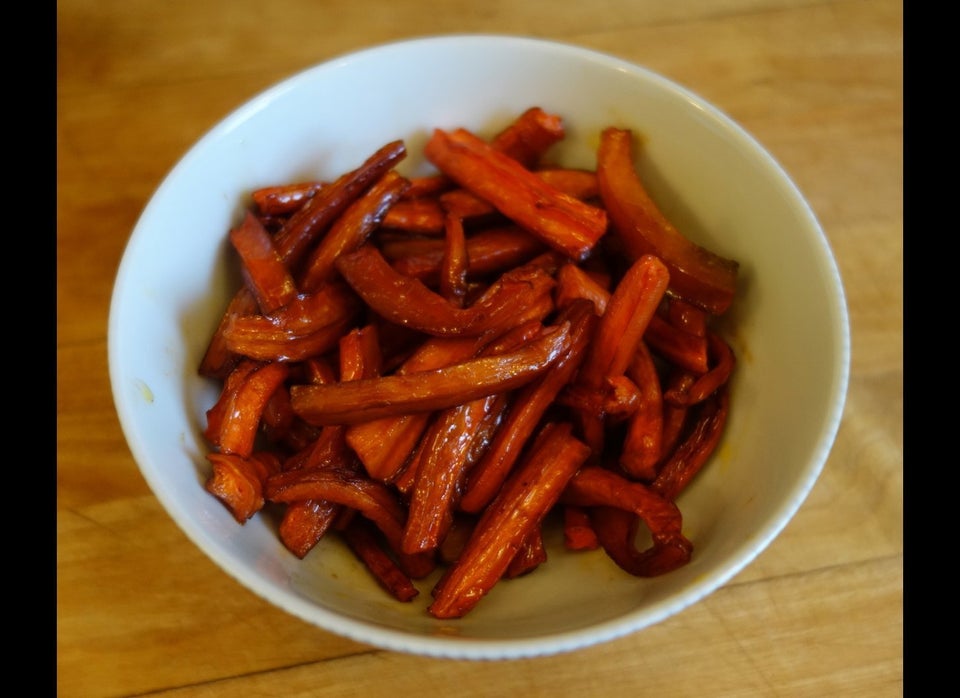 Shallots, ginger and all the carrots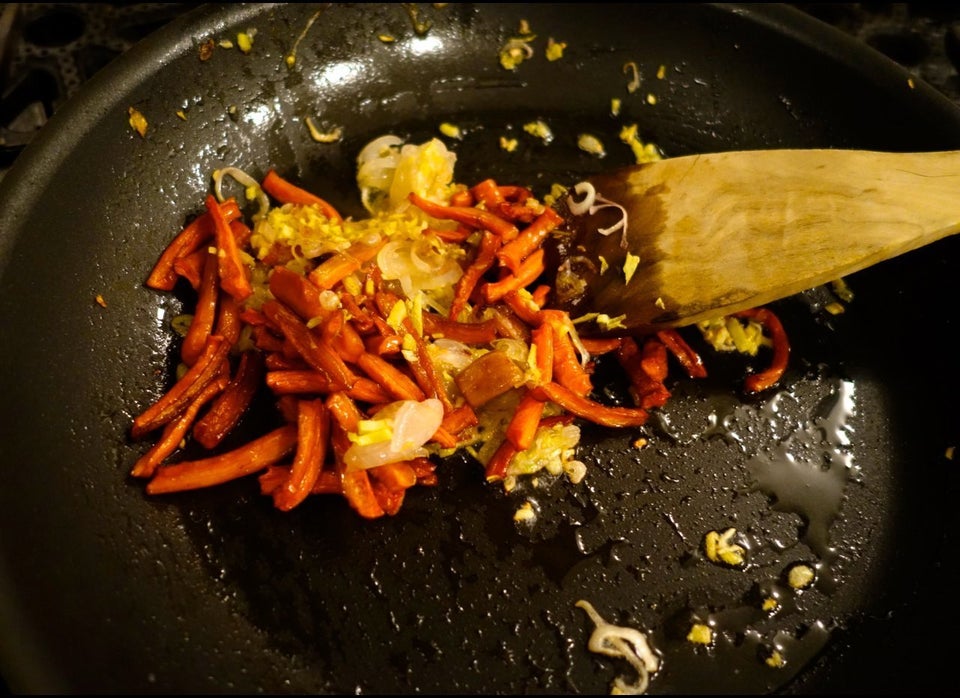 When the rice is hot, fold in some cabbage (or lettuce) to wilt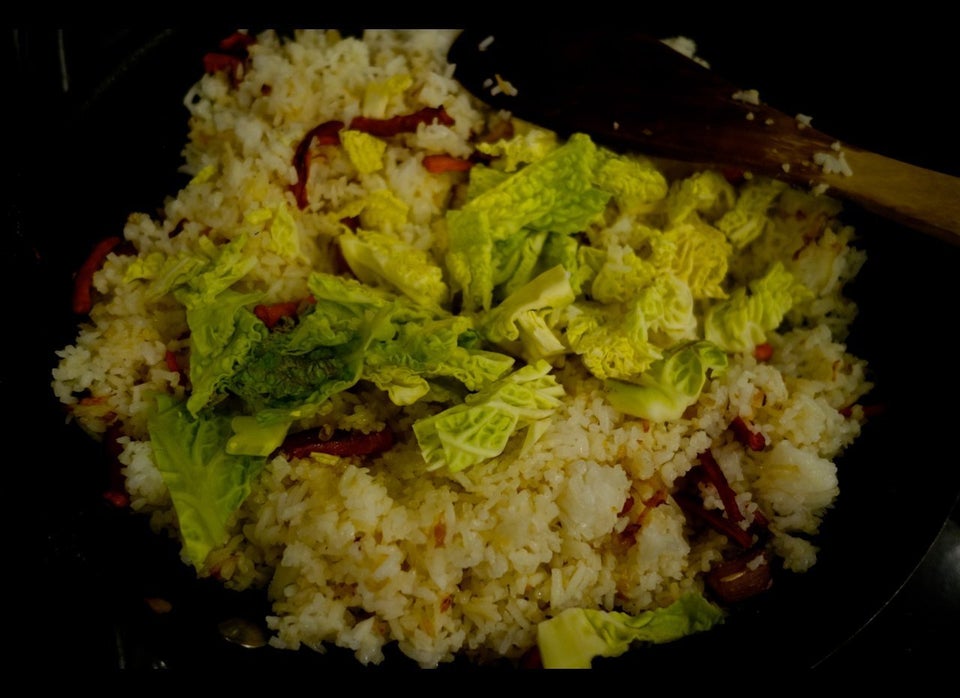 Fold in eggs, check seasoning, open bottle of riesling