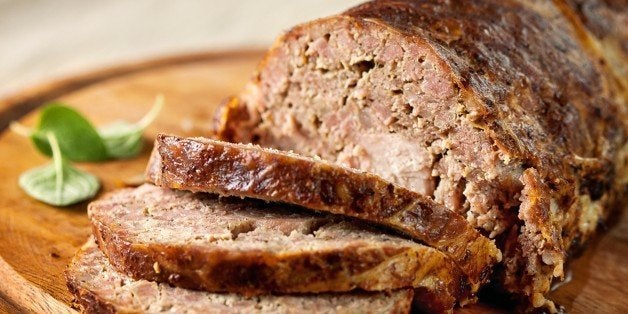 A couple of days before Jackie and I left for a trip (we'll be eating sardines in Sicily by the time this appears), we had a few friends over for dinner. I was determined to use the last of the duck confit I'd made last winter, but there wasn't enough to serve it on its own. At the outset, I thought I'd assemble some sort of pie - maybe using puff pastry to form a pithivier-like disc. I'd grind duck meat and pork or chicken (all from the freezer as part of the pre-vacation clear-out) into a stuffing and stud it with chunks of confit. The freezer also held a container of rich duck stock, so sauce-making would be easy.
As the date approached and I found my travel to-do list largely untouched, the notion of putting together a big pie grew less appealing, so I scaled back the plan to a batch of duck-confit empanadas or turnovers: they'd need a simpler pastry and would be far easier to bake and serve. Even on that, however, I soon lost steam.
Finally, I decided to keep the central idea - a ground-meat mixture enhanced with chunks of confit - and ditch the pastry altogether. I'd make a duck meatloaf. And that's what I did, with a twist that enhanced its flavor and texture and that can be applied to just about any meatloaf-type dish: mushrooms minced in the food processor and cooked down to a paste - a simplified duxelles if you remember your Julia Child vocabulary. Today I'll be describing my more elaborate loaf studded with duck confit and porcini, but the basic meat-mushroom mixture is what I'll be returning to in the future.
A day ahead, I pared the skin but not the fat off a boneless moulard duck breast - a big one, weighing about 1-1/4 pounds (565 g) - and cut it into strips that would fit into the feed tube of the meat grinder attachment for my stand mixer, and I did the same to a small piece of pork belly (12 ounces / 340 g). If I'd had any non-confit duck legs I'd have used the meat from them (carefully trimmed) in place of the leaner breast, but the pork belly had enough fat to make up for the duck's leanness (pork shoulder would have been another good choice). I seasoned the meat with salt, thyme, Espelette chili and a splash of Cognac (the latter two ingredients to echo the South-West French noises the confit was making). I also finely chopped five medium shallots and sweated them in duck fat and, separately, used the food processor to very finely mince a 10-oz (285-g) basket of regular white mushrooms and cooked them in a non-stick skillet with a little more duck fat and half a clove of garlic, crushed, until they'd turned into about 1/2 cup (120 ml) of flavorful paste - which still retained some moisture (mushrooms are something like 90 per cent water, after all).
I also roasted half a dozen fresh porcini, again in duck fat with a sprig of thyme and a clove of garlic in the skillet; this took about ten minutes in a 375-degree F (190 C) oven. (I could have done this on top of the stove, but the oven was on anyway - and I would have used regular white mushrooms if I hadn't been lucky enough to find a few decent porcini at Manhattan's Eataly.)
All of this went into the fridge, the meat to grow flavorful and the other ingredients to chill.
The next day, I ground the meat using the medium-fine die of my grinder; to push out the last scraps of meat I ran a 4-inch (10-cm) length of stale baguette through the grinder. That would be the only bread used in this mixture (and as usual not all of it made it through the grinder - there's always some residuum caught in the mechanism). Using my hands, I incorporated into the meat one egg, 1/4 cup (60 ml) heavy cream, 2 tablespoons Cognac, the cooked shallots and mushrooms (not the porcini), a big handful of chopped parsley, some thyme leaves, and a teaspoon of ground Espelette chili. Blend the ingredients thoroughly and vigorously; you will feel them come together into a fairly tight, homogenous mass as you work. I tasted the mixture for salt; it needs to be vividly seasoned (if you're squeamish about raw meat, you can cook a little piece, but do taste it one way or the other).
I placed the mixture into the refrigerator, tightly covered, to continue to come together for a couple of hours. Then, an hour before cooking I heated the oven to 375 F. I spread a bit more than a third of the meat mixture into a lightly greased loaf pan (about 11 inches / 28 cm long), then added the trimmed, cubed meat from two confit legs of duck and the roasted porcini, also cut into cubes. I sprinkled this with parsley and worked more of the meat mixture down in between the chunks of porcini and confit, then finished with the remaining meatloaf mixture, patting it down firmly to remove as many air pockets as I could. I sealed the loaf pan with a double layer of aluminum foil. When the loaf had come closer to room temperature and the oven was hot, I placed the pan onto a folded sheet of newspaper (as insulation) set into a larger vessel, then poured boiling water about a third of the way up around the loaf pan to form a bain-marie.
After 80 minutes, the loaf's internal temperature was coming up to 165 degrees F (74 C) and I took it out of the oven and left it to rest for 40 minutes (its temperature continued to rise for a while, and it remained hot after the resting period). Once I'd taken off the aluminum foil, I poured off the considerable amount of fat that had accumulated before removing the loaf to a cutting board. I cut it into slices a good inch (2.5 cm) thick and served it with sauce.
A note on the sauce: It started with a shallot and half a clove of garlic chopped and softened in duck fat, deglazed with port and moistened with rich duck stock mixed half-and-half with vegetable stock, then reduced slowly with a sprig of thyme and two teaspoons of good soy sauce (plus gelled juices I retrieved from the confit's vacuum-sealed bags) until it turned from broth to sauce. If I hadn't had a container of duck stock in the freezer, I'd have browned trimmings stolen from the duck breast that went into the meatloaf, added chopped vegetables and browned those lightly too. I'd have deglazed with port and simmered with chicken stock, thyme and soy sauce.
There's no denying that the chunks of fresh porcini and duck confit made this into a particularly striking meal, but the pork-duck-mushroom-shallot meatloaf mixture that surrounded them was itself notable for its depth of flavor - it was almost gamey, in fact - and moist, substantial consistency. So, whether or not your fridge is clogged with duck confit and whether or not your local store has a supply of fresh porcini, do not fail to cook down a basket of mushrooms into a paste and add them to your next meatloaf.
Pork belly and duck with southwestern French flavors, to be ground tomorrow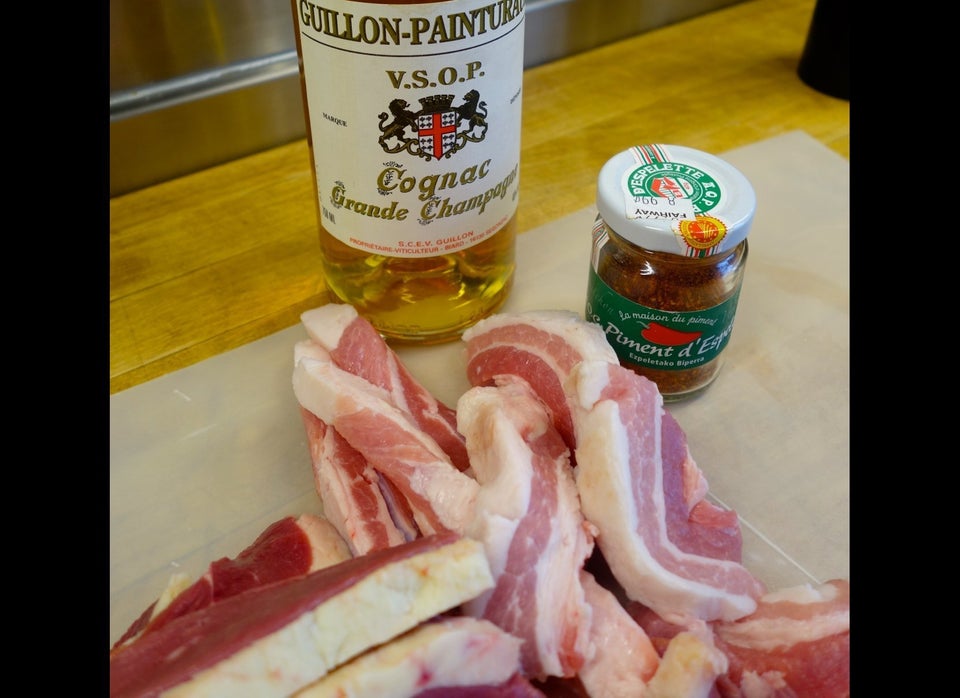 Five shallots sweating in duck fat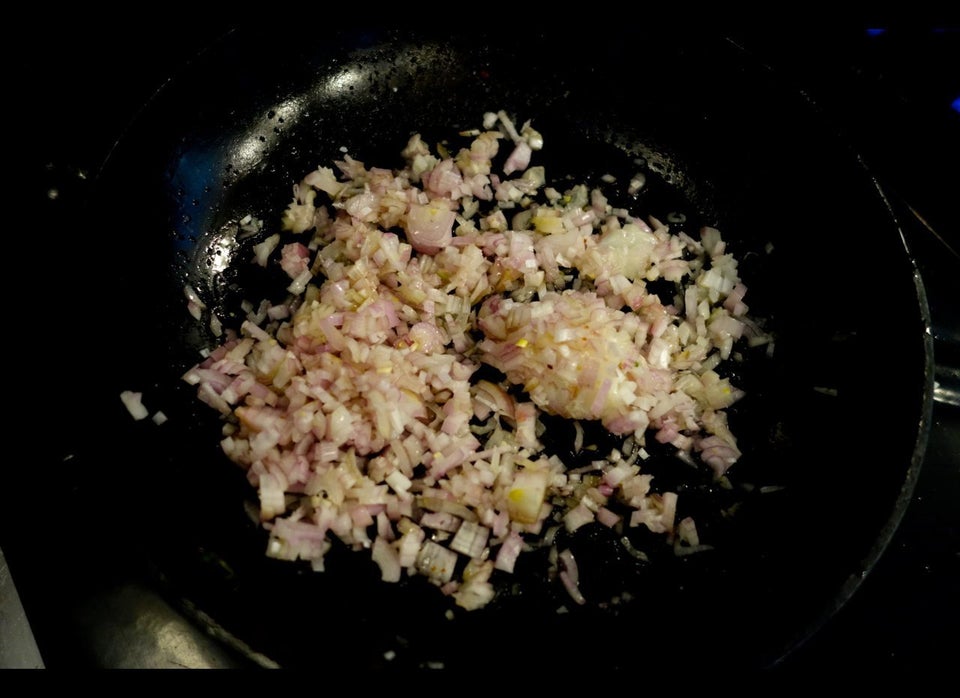 Ten ounces of mushrooms, finely minced and cooking down to a sort-of duxelles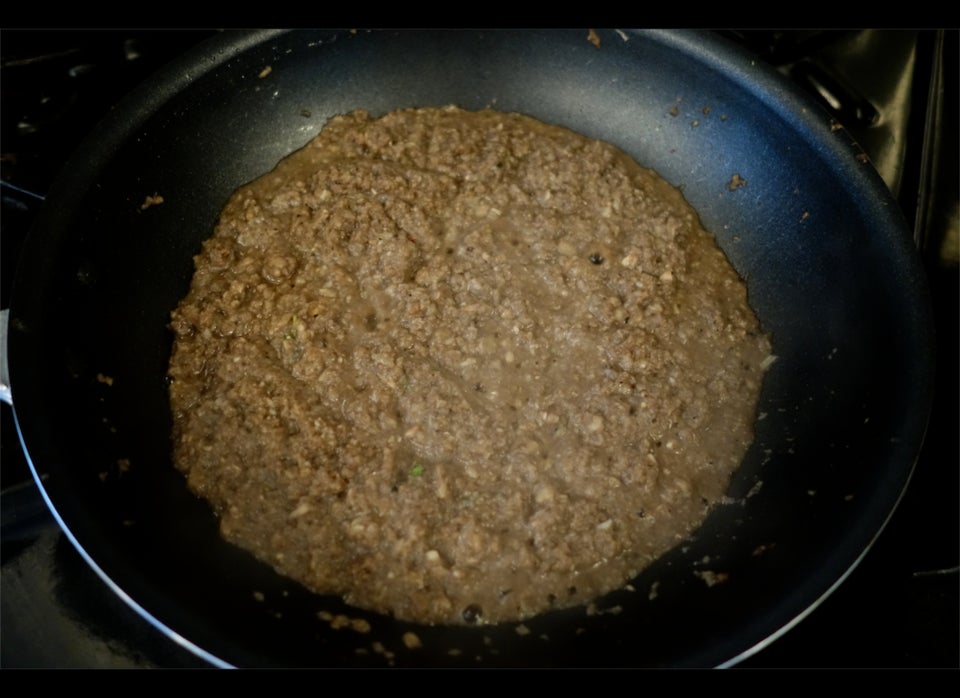 After a few minutes, this is all that's left of the mushrooms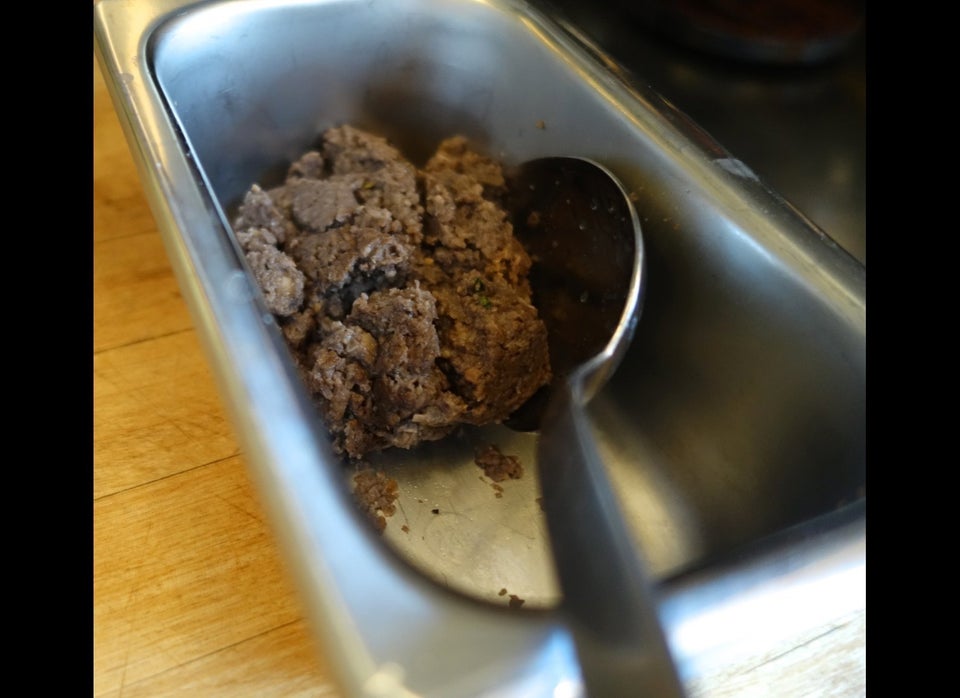 Porcini roasting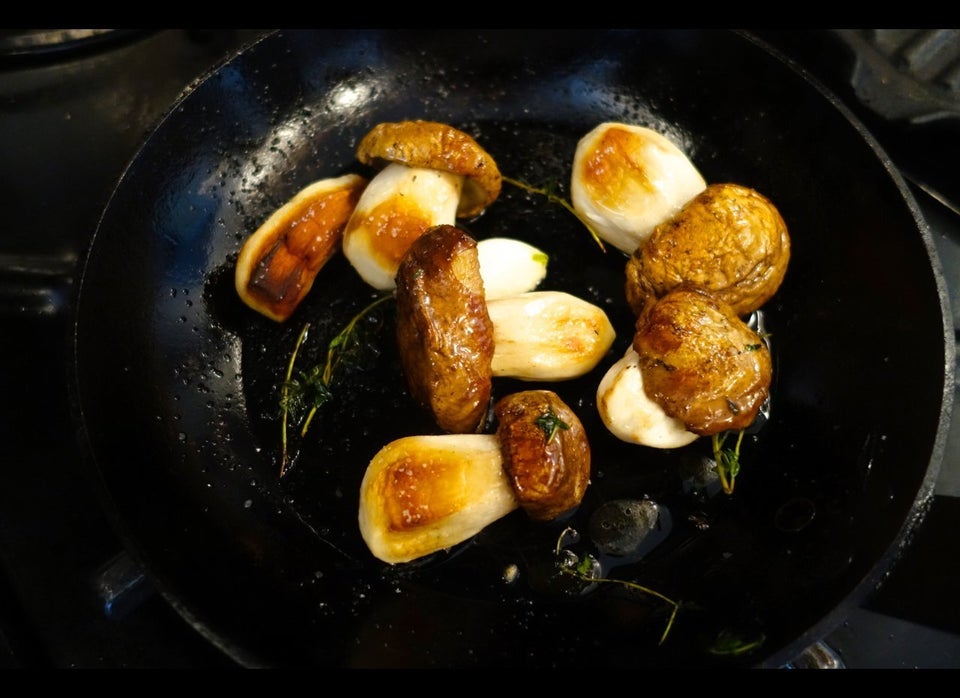 The meatloaf in its pan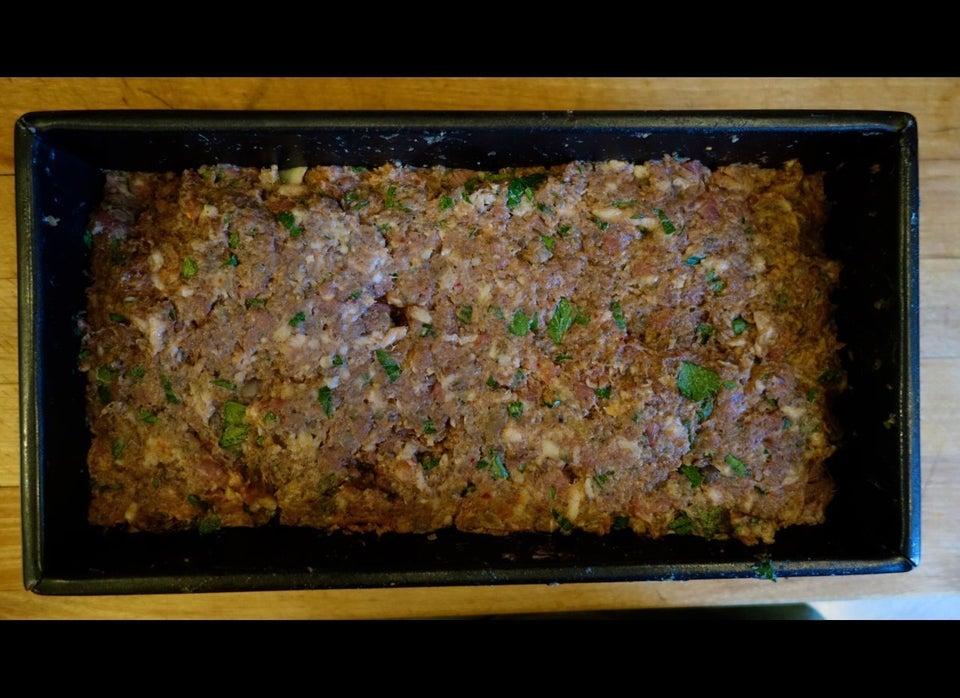 The pan on a folded newspaper in a water bath for gentle baking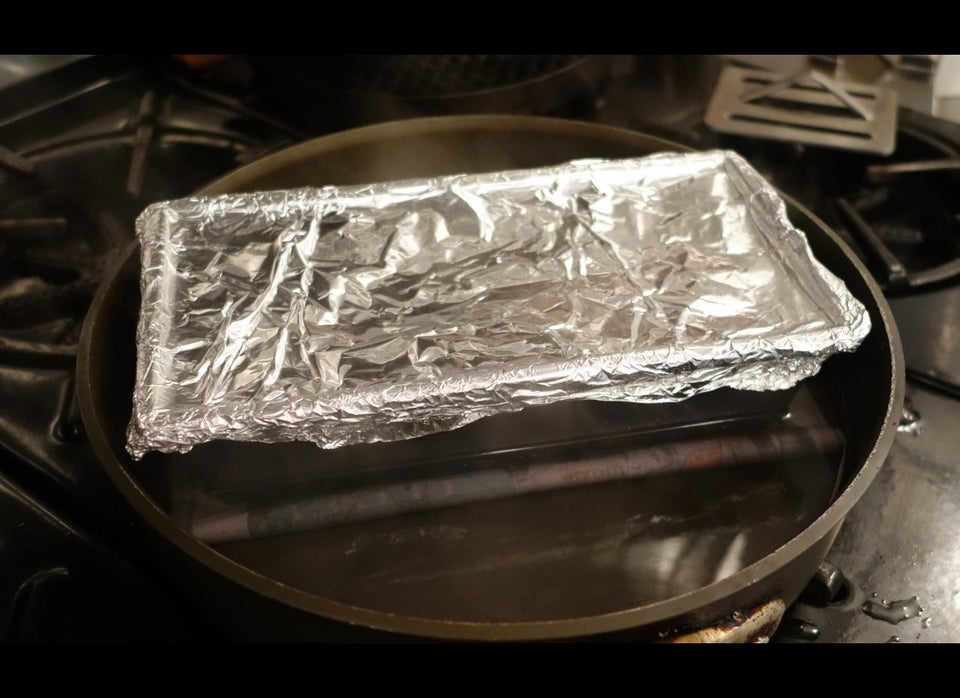 Duck and mushroom meatloaf with duck confit and roasted porcini