"Nice lamb" as in lamb braised as they might braise it in the Franco-Italian city of Nice. The classic meat for Niçois braising is in fact beef, and a classic way of using the leftovers is to chop them up with a leafy vegetable like Swiss chard and turn them into ravioli. I don't know how the inhabitants of Nice feel about it, but for me, the ravioli are what I most look forward to.
Last week, thinking about a dinner party menu, I got it into my head that a fatty, collagen-y cut of lamb would work well cooked in a similar way and turned into similar ravioli. Indeed, lamb seemed more of a natural with the flavorings I had in mind: principally olives, orange zest and rosemary. There are a few options here: shoulder, neck and shanks come to mind. What I chose was a favorite I hadn't used in a couple of years: breast of lamb - or, as many butchers are now calling it, lamb belly.
A couple of days before dinner, the butcher boned two whole breasts of lamb for me; I trimmed them a little more at home, browned the bones and trim and used them to add lamb flavor to the broth in which the meat would be braised (this butcher sells an excellent deep-brown "master stock," as they call it; with the lamb bones I used a mixture of this and my own vegetable stock). After a couple of hours of simmering, I strained, cooled and refrigerated the lamb broth; an impressive layer of fat congealed on top of the lightly gelled liquid. This fat I discarded.
One of the things that draws me to breast of lamb (or of veal) is that, once boned, it is a flat, thin sheet of meat that can be well seasoned - or even stuffed - and rolled: the flavorings are now within the chunk of meat, not just applied to the surface. Of course, they don't magically penetrate the muscle tissue, but by the time the meat is roasted or braised it is pretty well flavored throughout.
What I rolled these two boneless breasts around (the day before dinner) was a mash of black olives, parsley, rosemary, garlic, orange zest, olive oil, salt and pepper - just enough to form a blackish slick across the meat. Once rolled and tied into a compact cylinder, the meat went into a skillet with a drizzle of olive oil to brown on all sides (not that cylinders have sides) over medium-low heat. While it was browning, I roughly chopped aromatics: leek, shallot, celery, garlic, parsley, orange peel, olives and rosemary (I had no celery). When the meat had browned, I placed it into a heavy casserole and added the aromatics to the skillet. When they had softened and browned just a little, I deglazed with white wine, let it reduce, then added the lamb broth. Aromatics and liquid now went into the casserole with the lamb, and this, tightly covered, went into a not-very-hot oven (say, 325º F / 160º C) for the better part of three hours, until the meat was tender enough to be pierced easily - easily - with a skewer. During that time, I turned the meat a couple of times and began checking for tenderness after 90 minutes.
I let the meat cool in the casserole for an hour or so. I tightly wrapped each cylinder in plastic wrap so that when it was chilled it would possess a neat circular cross section.
I strained the braising liquid, pressing on the solids with a sturdy spoon to extract their flavorful juices, let it cool, then refrigerated it. When the fat had congealed, I removed and discarded it, then tinkered with the braising liquid to turn it into a credible sauce. This first entailed boiling it down for a few minutes, then adding ingredients that would improve its balance of flavors: In this instance a teaspoon of sherry vinegar and about the same amount of soy sauce, then a handful of quartered black olives (the same kind used in the meat seasoning).
As with similar dishes I've described in the past, serving was a cinch. I cut thick slices from the lamb rolls and placed them in a single layer into a non-stick skillet just slicked with olive oil; this went into a 350º F (175º C) oven, covered, while we ate our first course. Because the meat has been braised, it takes well to reheating, and precise timing is unimportant (up to a point): just make sure the lamb is hot and has browned on its underside - if you think of it, you can flip it over and let the other side brown a little too.
It was served, more attractive side up, with the olive-enriched sauce and something made exactly like a gratin dauphinois but with a mixture of sliced potatoes and celery root. And early spring's only new vegetable so far: broccoli rabe (cime di rapa, rapini....) parboiled, chilled, then warmed up in olive oil.
A few days later, most of the leftover meat became ravioli or tortelli or whatever you want to call them: the filling was made of around 3/4 pound (350 g) cooked lamb (be sure to discard the strings), a bunch of boiled Swiss chard, parsley and a generous handful of grated parmesan, all finely chopped in the food processor. This was enough for about ten dozen tortelli, but I stopped at 83 (when my batch of pasta - made with 250 g / 9 oz flour - ran out) and used the remains to make cutlets/patties, which Jackie and I ate with the last of the potato-celeriac gratin.
The tortelli are now in the freezer; they will be eaten tonight (if you're reading this on the day I post it) with the same sauce served with the original lamb dish.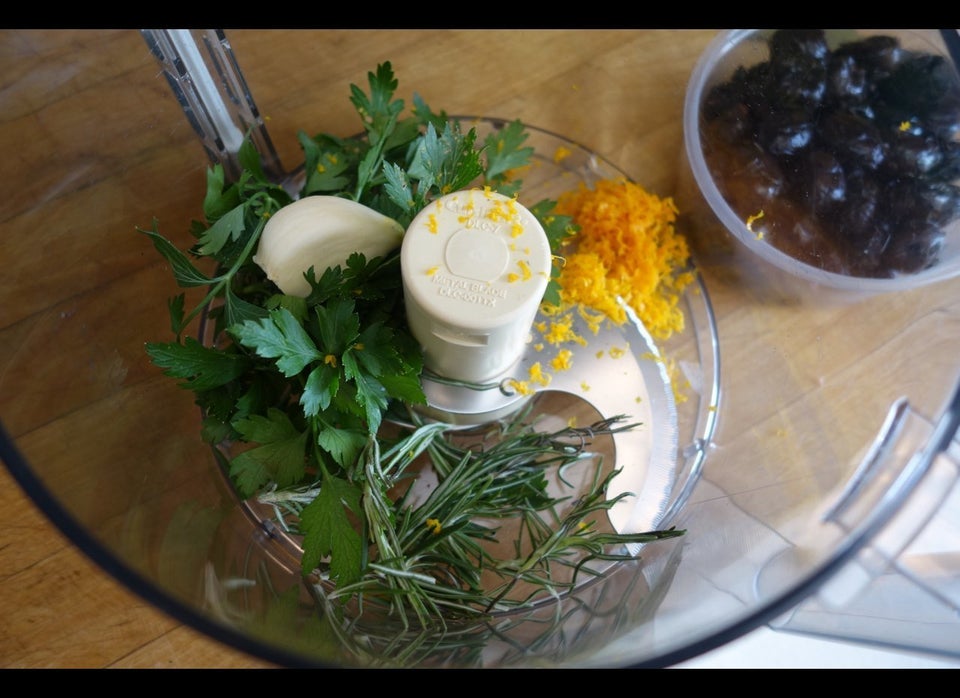 Nice Lamb. Nice ravioli too.