One of the few summer vegetables that Jackie and I eat all year round is eggplant, because we sometimes get such a potent yen for eggplant parmigiana that the calendar and the map must be ignored. What a great dish that is, whether the eggplants come from a local farm or from ... who knows where?
The other day, we got the parmigiana itch. Just about everything needed to scratch it was in the house: Tomato sauce made from good canned tomatoes; a fresh mozzarella; a piece of parmesan cheese to grate. But the supermarket downstairs had no viable eggplants and the chilly rain that was falling on what should have been a sunny spring day was not conducive to a walk down to where there would be nicer produce. Happily, I remembered an eggplant substitute we hadn't used in a while: Bread.
Years ago, I read a recipe for lightly roasted bread layered with mozzarella and tomato sauce then baked until bubbly; I don't remember where. I wish I did, because whoever put that idea down on paper deserves credit.
For the two of us, I cut eight half-inch slices from a loaf of Sullivan Street Bakery's Pugliese bread (I've also made it with good baguette, which works well), laid them out on a sheet pan, brushed them sparingly with olive oil and baked them for 12 minutes at 375 degrees F, turning once. They had just begun to crisp but not to brown, and they remained soft inside. I rubbed each with a garlic clove, then, in a smallish but deepish pan already containing a little tomato sauce, I arranged layers of bread, sauce and mozzarella, with a scattering of parmesan over each tripartite layer. Some slices needed to be torn or broken to fill in the gaps; as I went, I inserted a few sage leaves here and there; basil would have been terrific too. Because of the bread's absorptive qualities, I was more generous with the tomato sauce than I would have been if I'd been using eggplant, and I drizzled a few drops of olive oil over the top, just for added flavor.
This went back into the oven, where it baked for 20 minutes covered and 10 more uncovered. The bread absorbed liquid from the sauce and the mozzarella and developed a French-toast- or bread-pudding-like consistency (though the crusts remained crunchy in places). That almost puffy texture is one of the grand things about this dish; there aren't many main courses that feel anything like it as you chew.
And of course it is delicious. As with its eggplant cousin, the acidity of the tomatoes is softened by the cheeses, and with good bread (you must use good bread) a wheaty, toasty, slightly sour flavor adds more interest than you'd think. (Also, this dish is easier to make: no slicing, optional salting, weighting, drying and frying the eggplant.)
In a few months, we will have locally grown eggplants. But even with those in the market, consider this alternative: it's a great dish in its own right, whether served as the entire meal or even (with the bread's crusts removed before assembly) as a surprisingly elegant first course for a dinner party.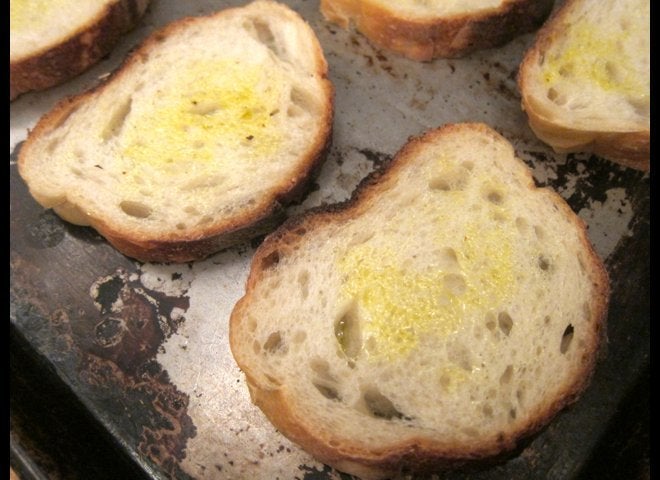 How About Bread Parmigiana?