Jackie and I have been eating quite a lot of rice pudding this summer, partly because it is one of the best things to eat with rhubarb or strawberry-rhubarb compote and partly because it is so easy to make. It just about cooks itself if you follow Mark Bittman's instructions, which I urge you to do. I use exactly his technique, but I always choose a risotto-type rice for a creamy pudding with plump, soft grains of rice (the vialone nano variety, or carnaroli if I've run out of that). Also, I use a little more rice than he does: a level 1/2 cup for his quantities; and for the liquid I've taken to using a 50/50 mixture of whole milk and coconut milk (the Aroy-D brand from Thailand, packed in boxes rather than cans, is particularly good), with a little vanilla extract and (unusually for me) no salt.
One afternoon last week, we had an unsettling moment: Looking ahead to the evening, there was not quite enough leftover rice pudding for both of us as a standalone dessert (one cup, or about 235 ml by volume), and no fruit compote to eke it out. Then a memory of Italy came to the rescue: I got to thinking of those wonderful rice tartlets we've eaten in bars and pastry shops all over the country: risini, risottini and tortini di riso are just some of the names they go by. A larger, flatter version of this would serve six, which meant the two of us could have it that evening, then for breakfast the next day, and for an afternoon snack too. We could even give a (small) slice to a friend.
Considering the filling, I felt that the creamy, gently flavored rice pudding could use a hint of acidity and a few points of contrasting texture, and I thought of the jam often found under the almond-egg filling of a frangipane tart (British readers may think of a Bakewell tart/pudding). For this, I had the remains of a jar of very loose cherry preserves, so loose that they were more like candied cherries in syrup, though I could have used normal jam to pretty good effect.
To begin, a quick whir of the food processor produced a small disc of pastry (mine was made with approximately 4 oz / 115 g flour, 2.5 oz / 70 g butter and a little salt, with moisture provided by a drizzle of the simple syrup I try to keep in the fridge). After it had rested in the refrigerator for 20 minutes, I rolled this out and lined a tart pan measuring 8 inches (20 cm) across and 1 inch (2.5 cm) deep; mine was a fluted, removable-bottom model. I lined the pastry with aluminum foil and put the pan into the freezer while the oven came up to just shy of 400º F (200º C). Clearly, any buttery pie or tart pastry will do, though not puff pastry or anything that will rise substantially when baking.
In the meantime, I added a whole egg and an egg yolk to the one cup of rice pudding. If your pudding seems insufficiently creamy in consistency, you might add a splash of milk too. To keep that Italian theme going, I also stirred in the grated zest of a medium lemon. I left the rice filling on the counter to warm to room temperature.
Next, I baked the foil-lined tart shell, adding dried beans to keep the pastry from bubbling away from the pan or sagging around the rim. After 20 minutes, I lowered the oven temperature to around 375º F (190º C), removed the foil and beans and returned the shell to the oven to bake until browned and cooked through. No: even though fully baked, it will not burn when you later return it to the oven to cook the filling - the rice mixture serves as an insulator.
At this point, I spooned syrup from my cherries onto the base of the tart shell and dotted it with cherries from the jar, then returned it to the oven to dry the fruit and syrup a little: just five minutes. If I hadn't had these super-loose preserves, I'd have warmed a third of a cup (80 ml by volume) of good cherry or raspberry jam to partly liquefy it and used this - in that case I probably would have proceeded directly to the next and final step: lowering the temperature to 350º F (175º C), adding the rice pudding / egg mixture to the tart shell and baking it for another 25 minutes or so until it had set but remained soft. Palpate it with your finger to check that it's custardy and not quite firm to the touch.
Serve tepid or at room temperature; unless your house is very hot, you won't want to refrigerate the remains - and if you have a couple of guests or family members to help, there won't be any.
Note on temperatures: Yes, you can do this whole thing at 375º F (190º C). In dishes like this, I fiddle with the thermostat more out of superstition and habit than out of any firm conviction that a few degrees one way or the other matter all that much. You'll need to adjust timing, though not by a lot.
This worked just as hoped: the rice mixture remained pudding-y, soft and creamy, but the eggs held it together well enough that the tart could be eaten with fork or fingers; because it was thoroughly pre-baked, the pastry remained crisp for the entire 2-1/2-day life of the tart; the lemon zest and cherries did their job of adding another dimension to the dessert's flavor.
The fact is that we'd have eaten that lone cup of rice pudding anyway, but the dessert outlook was much brighter with this tart sitting there on the counter top.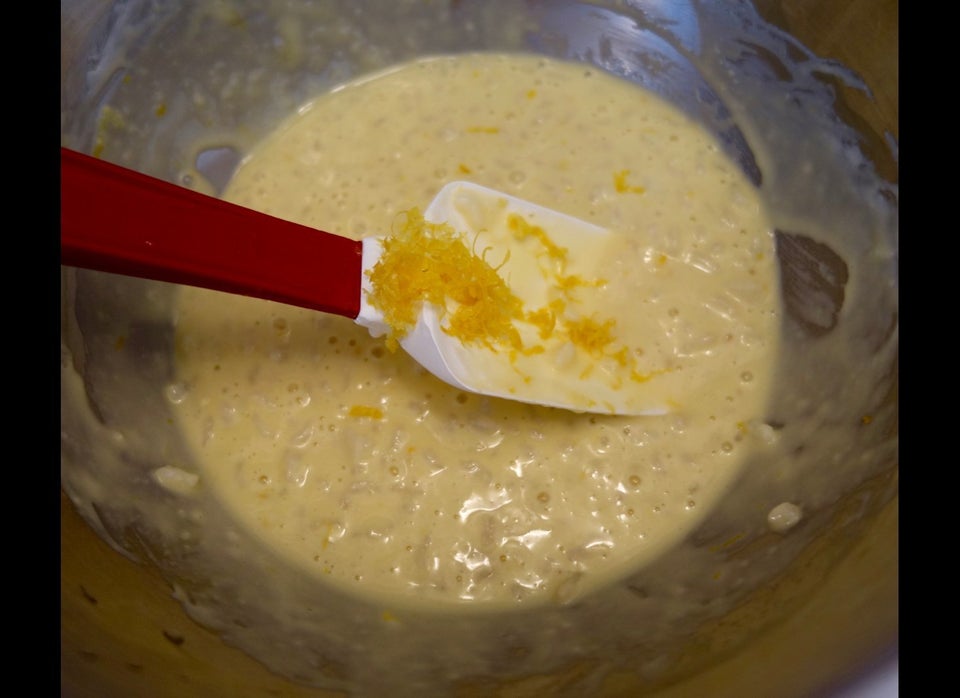 Leftover Rice Pudding For Two Makes a Six-Serving Tart