When a summer tomato is perfect, there's nothing you need to do to it. In fact, tinkering is usually a mistake. What, however, about those ripe, juicy tomatoes that are merely almost perfect? The ones that have fine, balanced flavor, mostly good texture and plenty of moisture but that, once sliced, turn out to be a trifle unyielding here and there. Most of the time, a sprinkle of salt and a ten-minute wait will give them all the help they need for any sandwich, salad or raw-tomato sauce.
There is another approach, though, yielding tomatoes that are of particular visual beauty and intensified flavor, with a new but hardly any less juicy consistency. It is akin to slow-roasting but does not involve turning on the oven: a bonus in the high-summer heat and humidity. Let's call it pan-roasting.
Slice ripe, excellent tomatoes - perfect or slightly imperfect - quite thick: the better part of 3/8 inch (1 cm), place them in a single layer into a lightly olive-oiled skillet, preferably non-stick, and set the skillet over the lowest heat you can muster. For a larger quantity, use two or more skillets or work in batches, though that will take time. Sprinkle the tomatoes with salt and leave them alone for 40 minutes, apart from turning the pan every now and again to ensure even cooking. It will appear that nothing is happening at first, but after a while the tomatoes will feel warm, then hot. They should not sizzle or brown, though if you see their juices gently bubbling after a while, that's a sign of progress.
After 40 minutes, use a thin-bladed spatula and a spoon to turn one slice over. Gently, so as to retain the circular form. The surface should look slick and almost glazed. If it doesn't, turn it back over and leave the pan for another ten minutes. But 40 minutes should be enough. When you're satisfied with the tomatoes' appearance, turn them all, sprinkle again with salt and continue cooking for 20 minutes. Sneak a taste: it'll be like one of those great, simple tomato sauces. Note the texture: it is very soft, but not liquid.
They can now be used in many ways. Jackie and I had them as an accompaniment to a little rib eye steak of a kind we'd never eaten at home: from a mature dairy cow, and dry aged for two months (I was skeptical about this, but it was among the best steaks we've eaten: tender, juicy and of such intense beef flavor that three ounces or so made a satisfying portion). The tomatoes worked simultaneously as vegetable and sauce - and looked spectacular next to the rare beef. In a similar vein, a layer of these tomatoes would be an excellent foundation for a plain piece of grilled or pan-fried fish, something we'll be serving very soon.
I also layered them with mushroom ragù and béchamel in a two-portion pile of lasagne. The danger with tomatoes is that they'll make the lasagne too wet; these tomatoes didn't, and they added a very true tomato flavor to the dish even in competition with the savory mushroom ragù. Just last night, I incorporated them into one of the best-ever eggplant (aubergine) parmigianas; no problem with soupy tomatoes and excess liquid. (As a bonus, I cooked the eggplant slices in the same way, which resulted in excellent flavor and consistency.)
Another night, I arranged some, sparsely, on pizza dough that I'd sprinkled with olive oil and grated parmesan. Once baked, the tomatoes caramelized and changed in texture and flavor: less juicy (but by no means dry or leathery), and more intense. An excellent pizza to cut into pieces for a snack with drinks: the crust remains crisp and easy to eat without the topping dripping onto your shirt.
But we had the most fun on spaghetti night. When the pasta was done, I dressed it with butter and parmesan, then laid slices of tomato (reheated in a low oven, though this could have been in a skillet) on top. With fork and spoon, we tore up the tomatoes and mixed them into the pasta as a do-it-yourself sauce. Yes, we could have added basil or mint, but the purity of the tomato flavor was best left unalloyed. A fancy, super-simple dinner party first course could be made thus: a couple of these tomato slices in a warmed soup plate, topped with a modest portion of buttered (or oiled) pasta (in that context I'd use thinnish egg noodles like tagliarini), then with two or three slices of tomato depending on their size, with parmesan to finish.
Make some of these beautiful tomatoes and use them in place of raw tomatoes on the one hand and tomato sauce on the other. Either way, they're that much closer to perfection.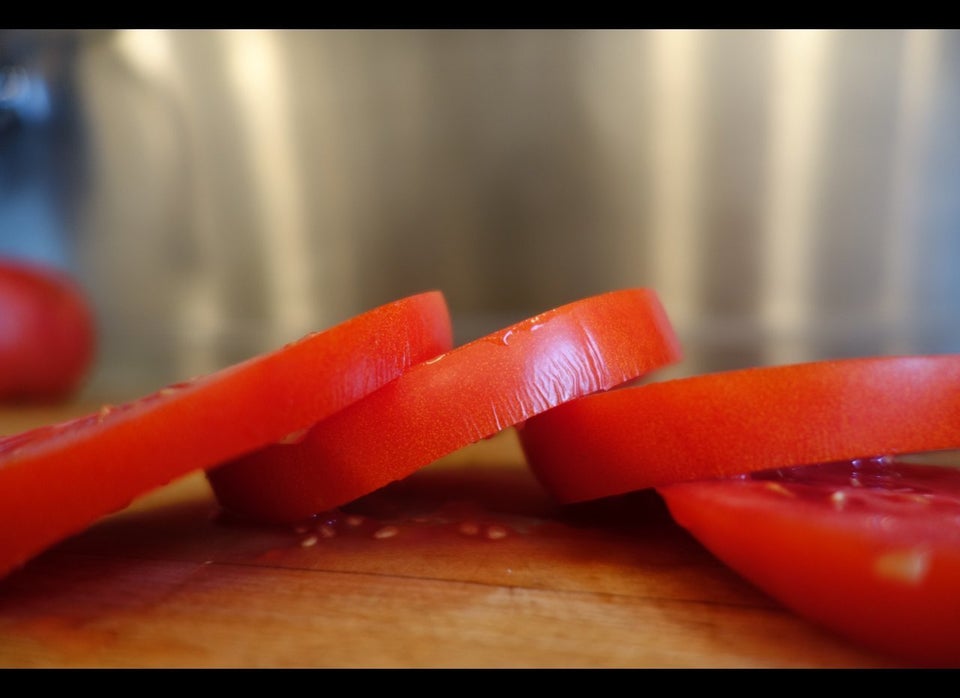 Perfecting the Almost Perfect Summer Tomato