Casting an eye at the calendar, I suppose I should start by saying that you can serve this elegant dish, or one like it, to start off a Christmas dinner. Your guests will love you for it, especially if they're not meat-eaters.
Last Wednesday during my walk back from the farmers' market, I thought about a way to cook winter squash that would keep its fresh, fruity flavor and some of its crunch but wouldn't leave it raw-tasting or leathery. The simple technique, which I described soon after I tried it, worked nicely and involved a mere 90 seconds of cooking time. In that posting, I confessed that I wasn't sure how I'd use this squash, but that the dish would probably involve beans and mushrooms. And so it did.
I'd previously cooked a little pot of cannellini beans, bought in a format new to me: They were this past season's fresh beans, not dried but frozen in one-pound (454-gram) vacuum-sealed bags. They'd been grown and prepared by a favorite farmer (amazing potatoes and strawberries) - Mountain Sweet Berry Farm - and they were delicious. Plus, they cooked quickly - and someone other than Jackie or me had done the work of shelling them.
Also in the market bag were oyster mushrooms and plain old, wonderful white mushroom mushrooms.
Lots of earthy flavors here, ideal for soup and just right for a cold-day dinner party. Thing is, the main course was a big one - braised pork with an intense, pretty complex sauce - and a proper bowl of soup would look too much like the whole dinner, especially if served with bread and butter, as any hearty soup ought to be. So I needed something with the warming qualities of soup but lighter and ... well, without the soup.
As usual, the broth generated by cooking the beans was delicious, and I knew that the mushrooms could be made to yield a flavorful liquid. But, again, this wasn't to be a soup, just, let's say, a vegetable ragout with enough juices that you'd want to eat it with a spoon, not a fork. As I considered how to make this work, what came to mind was one of the dishes that was, I think, on the opening menu of Restaurant Jean-Georges back in 1997 and remains there to this day: Lobster tartine with lemongrass and fenugreek broth. The "tartine" part refers to a slice of bread that lies at the bottom of the bowl and soaks up the broth; it would be the best part of the dish if it weren't for the lobster, and it's what makes me wish I were eating it.
That idea is what turned a few cooked vegetables into a first course of some elegance and great flavor.
A couple of hours in advance, I cooked the mushrooms by cutting the oyster mushrooms off their base and tearing them along the grain - they're fibrous and much more logically torn than sliced - and cutting the white mushrooms into chunky wedges. I chopped a good-sized shallot and sweated it in butter with salt and fresh thyme; when it was soft but not brown, I added the mushrooms, a little more butter and black pepper. When they had softened and exuded some of their liquid (the oyster mushrooms don't exude that much, but the regular ones do), I raised the heat and added just a couple of tablespoons of white wine, which I reduced until it stopped smelling raw, then enough stock (vegetable - but vegetable enriched with mushroom trimmings would have been ideal) for the mushrooms to swim in. In just a few minutes over lower heat, the mushrooms were tender and had lent some of their flavor to the broth.
The beans had been cooked a few days earlier, in the simplest possible way: In lightly salted water (yes, I add salt to my bean pot) with a large peeled clove of garlic and a sprig of rosemary. This would work fine with dried cannellini or other white beans, soaked overnight before cooking.
And of course there was butternut squash cooked using last week's technique.
At dinner time, I added a few big cooking-spoons' worth of beans and broth to the mushrooms and their broth and brought the mixture to the simmer, carefully tasting for seasoning. I then stirred in chopped parsley and butternut squash ribbons, being careful not to break these. I'd previously cut some near-rounds of good, sturdy, tasty bread (this one) from which I'd trimmed the crusts. I put a piece into each soup plate, then spooned over some of the liquid and let it sink into the bread - a matter of moments. This was then topped with the vegetable mixture and a little more liquid.
Because it was of substantial texture, the bread did not turn to mush, but it became very soft as it absorbed the broth. As hoped, this dish was satisfyingly full of earthy flavors, but - thanks in part to the squash and in part to the brothy sauce - it was not heavy. Some people even had room for seconds of braised pork and polenta and roasted celery root.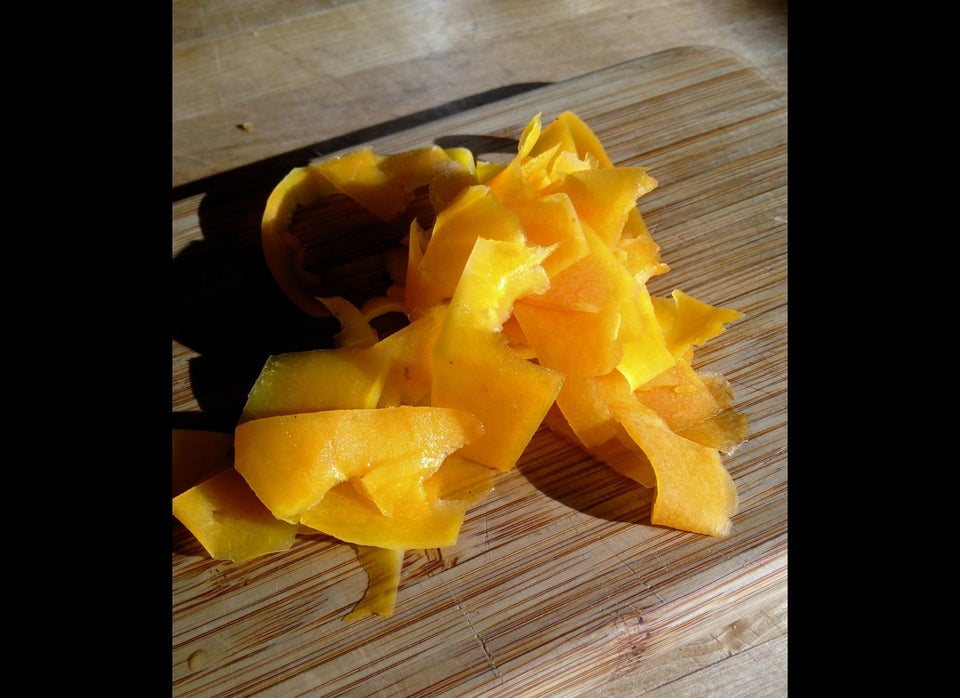 Winter Vegetable Soup Without The Soup