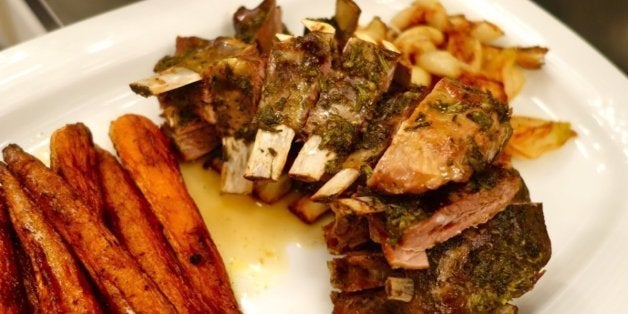 When they get a hankering for ribs, most people dream of pork. And so, as a rule, do I. But when Jackie and I visit the 3-Corner Field Farm stand at the Union Square farmers' market we are often drawn to the bonny little lamb riblets. These are strips up to about a foot (30 cm) long by three or four inches (8 or 10 cm) across, cut from one of the more unctuous and flavorful parts of the creature: the breast (or "belly" as some have taken to calling it). They can be braised or roasted or barbecued or slowly grilled - and they make a great paella-type rice dish too.
It was rice that I had in mind when I bought some not that long ago, but then I remembered that the friends who were coming over had already eaten paella in our house, so I changed gears and adopted another technique that brings out the best in lamb -- or indeed pork -- ribs. It also has the advantage that most of the cooking is unsupervised and can be done beforehand -- even a day or two in advance.
The first step is to season the meat vividly, which I did the day before I started cooking. I used what amounted to an Italian-style salsa verde: Lots of fresh parsley and rosemary, two (or was it three?) anchovies out of a jar, a couple of cloves of garlic, a little Dijon mustard, plenty of salt and pepper and a sprinkle of crushed chilies (I used Aleppo pepper, which has a fruity warmth that I love, but use any pepper that will add a subtle heat), all whizzed up in the food processor with quite a lot of good olive oil. I rubbed this paste on both sides of the meat and piled the four racks into a plastic bag then left them in the fridge overnight.
The next day, I wrapped each in a double layer of aluminum foil, marinade and all, set the foil packages onto a sheet pan and baked them in a slow oven (a little higher than 250 degrees F / a little lower than 125 C). They took two and a half hours to become good and tender -- not quite falling off the bone, but almost -- though I checked after an hour and three quarters just in case. In each bundle was a pool of juices and fat, and I poured it all into a container and put it in the fridge, where the juices gelled and the fat congealed and could be removed with ease.
If I'd been delaying the final cooking, I'd have individually wrapped the racks of riblets in foil and refrigerated them. But it was a matter of a couple of hours, so I set them onto a sheet pan and covered them with plastic wrap to keep them moist. A quarter hour before serving, I put them into a 375-degree F (190 C) oven until they'd browned and crisped (but not dried out). I cut them between the bones into individual riblets, piled them onto a serving platter and doused them with the defatted cooking juices, which I'd brought to the boil in a little pan.
They shared the platter with long-roasted new-season carrots and long-roasted new-season onions, and there was a big bowl of simmered new-season potatoes too.
The riblets tasted clearly of the herbal marinade/rub and they tasted clearly of lamb. They were fun to eat, especially since each bone offered only two or three bites of juicy, properly fatty, tender meat. I'm glad I remembered that not only hogs have ribs.
The marinade: Like a salsa verde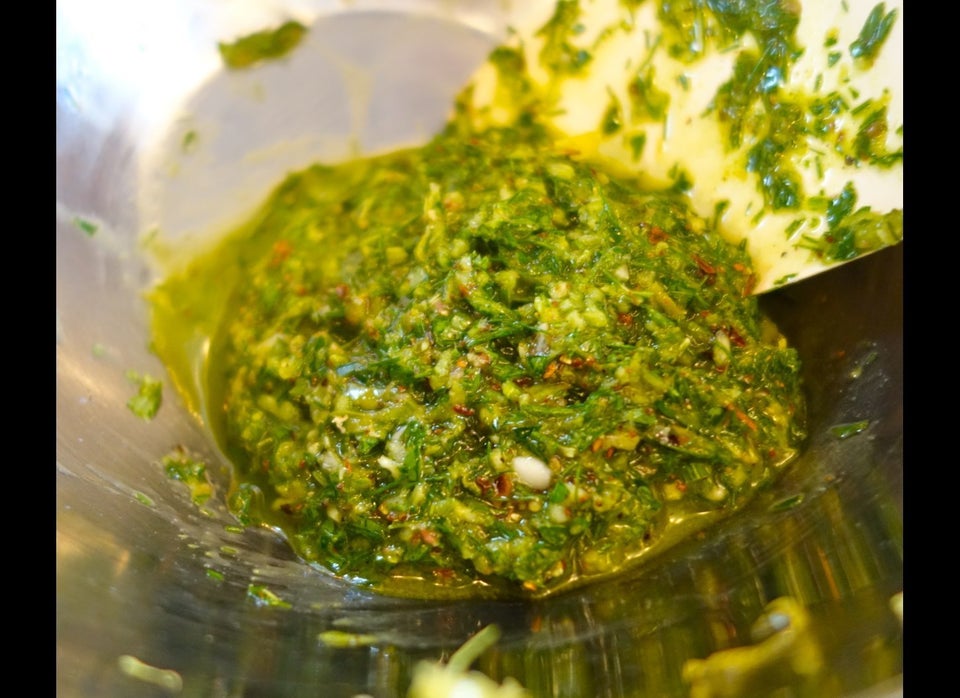 The next day, ready to foil-wrap and slow-roast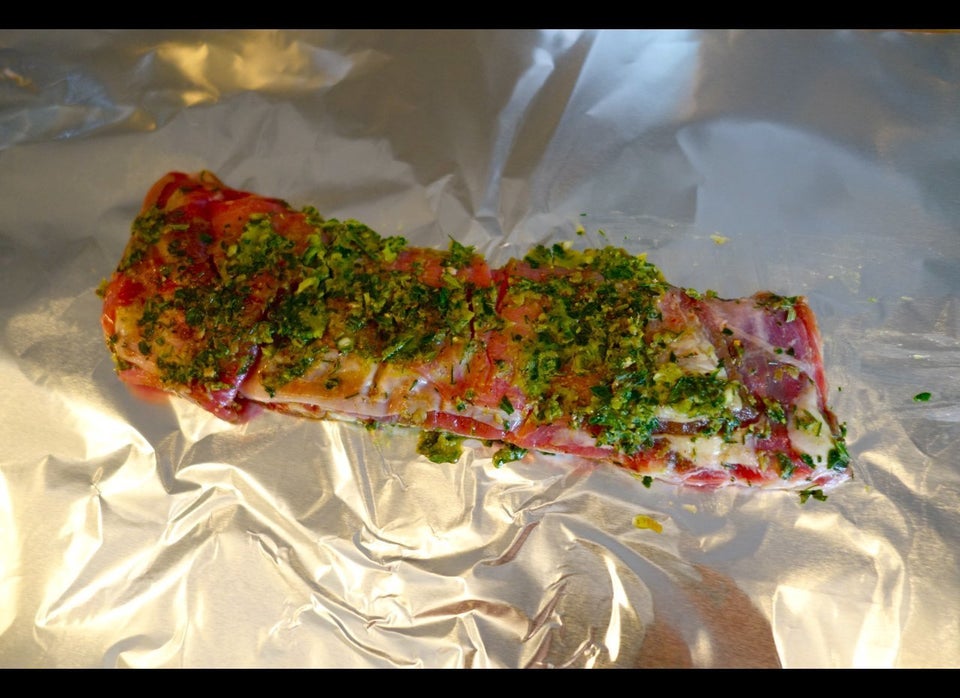 After two and a half hours in a slow oven. Save the juices!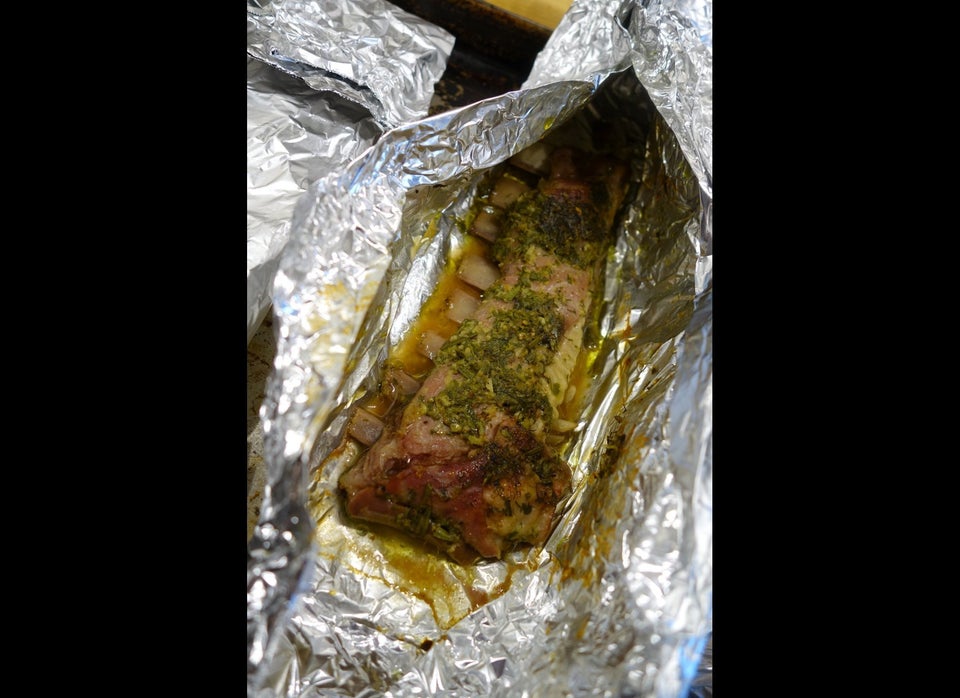 About to go into a hotter oven for 10 to 15 minutes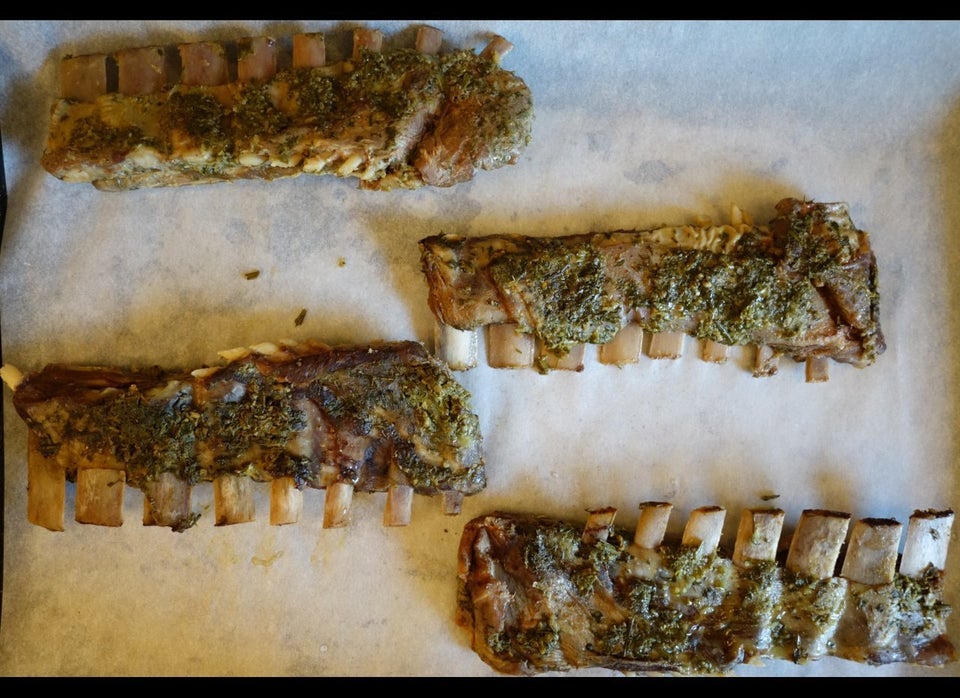 The juices, defatted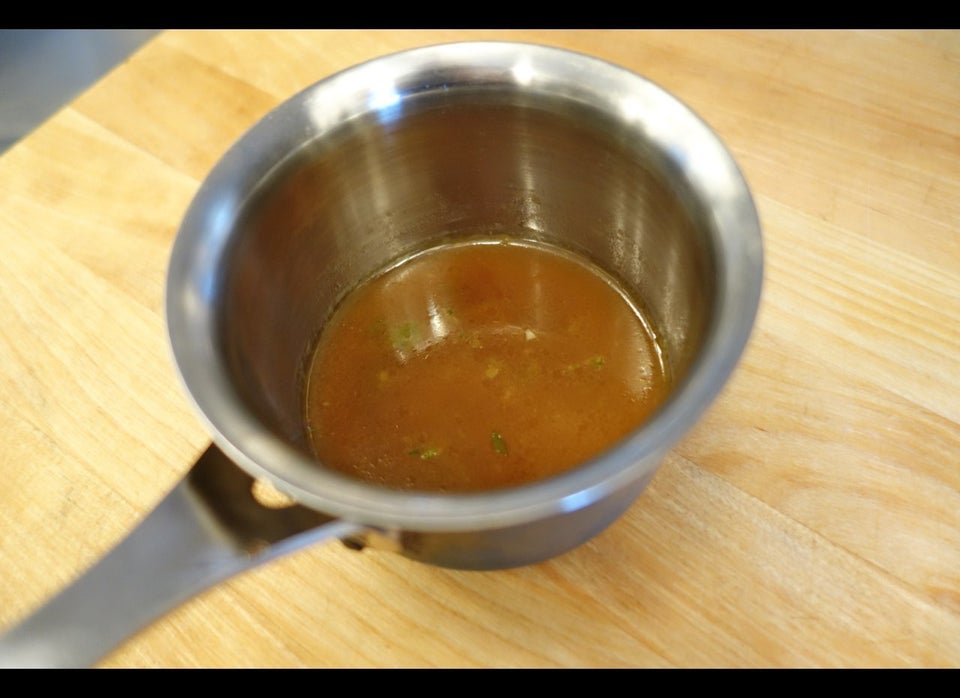 The finished riblets, with "forgotten" carrots and onions