At Wiesenstein, a Berlin restaurant serving traditional dishes from Swabia in south-west Germany, one of the many intriguing menu listings was Linsen und Spätzle. That's lentils with spaetzle, here served with sautéed onions and a couple of slices of grilled schinkenwurst, a big sausage of finely minced pork studded with chunks of ham. It took Jackie and me a moment to process the concept of lentils served with mini-dumplings: it seemed exotic until other pulse-pasta combinations came to mind, most vividly pasta e fagioli.
While no one but a strapping Swabian farmer (or me as a teenager) could ever have finished the generous portion, this proved to be a great combination, and it's something I've now made twice since returning home. The one constant in this dish is the two namesake elements: spaetzle and lentils. You can make spaetzle from any recipe you like; for two portions I use one egg and enough flour to form a too-thick paste, then loosen it with milk to a very thick batter, which I season with salt, pepper and nutmeg, plus occasionally finely chopped parsley. My inexpensive spaetzle-maker turns the forming of the spaetzle into a 15-second pleasure.
And as for the lentils, Swabians sometimes simply cook them in seasoned water and depend on other elements (such as those sautéed onions at Wiesenstein) for moisture. But they often cook the lentils in a way that generates a thickened sauce, and that's what I do.
For two portions, I rinse and drain 2/3 cup (say, 110 g) brown lentils. I've also used the smaller green ones from France; they take longer to grow tender but are just as delicious. Use whatever kind of lentils you prefer. To the lentils I add a small carrot cut into little dice, a bay leaf and a sprig of thyme or marjoram, plus salt and pepper. I simmer all this in 2 cups (500 ml) water, loosely covered, for 15 to 40 minutes, depending on the lentils and on how soft you like them. To my mind, they should be tender but not without slightly chewy integrity.
While the lentils are simmering, I render, over fairly low heat, a strip of thick-cut smoky bacon (or the equivalent amount of slab bacon), also cut into small dice. When its fat begins to flow, I add half a tablespoon of butter and half a medium onion, finely diced, and a small clove of garlic, minced. When the bacon begins to brown and the onion is soft, I stir in a tablespoon of flour and continue to cook it for a minute or two; it's okay if the flour begins to brown - it's good that way, in fact.
The lentils and their liquid now go into the bacon-onion-flour mixture (a roux is what it is) and are stirred to disperse the flour (don't worry about lumps); depending on which of your two pans is of a more convenient size, you can leave the lentils in the pan with the roux or pour everything back into the lentil-simmering pan. Now, tinker with the flavors: remove the thyme or marjoram (if they were on their stems); stir in a squirt of tomato paste (less than a tablespoonful), a teaspoon of vinegar (wine, cider or - incongruously - sherry) and a tiny bit of sugar, less than a quarter teaspoonful. Taste and adjust for salt, pepper, vinegar and sugar. If the liquid is too thick, add more water, but you may want to wait until serving time to do this, as the consistency will change as the lentils sit in the pan.
To serve, sauté the spaetzle in butter (use a non-stick pan); they can have been made in advance, chilled in ice water and drained - in that case, drizzle them with a little oil to stop them from clumping - though I tend to scoop them right from the boiling water into the frying pan. Spoon some lentils onto a plate (or soup plate) alongside a portion of spaetzle. If you want to include sausage, which is typical, you can use something as basic as a good-quality wiener, frankfurter or similar smoked Germanic sausage; if you can find schinkenwurst, slice it and brown the slices in a little oil.
Leftover lentils? Dilute them into a soup, using plain water, and add slices of the same sausage if you like.
In learning about this dish I discovered something fascinating (to me): Traditionally, barley and lentils are grown together in Swabia: the lentils climb the barley stalks. They are threshed together, then separated through a series of screens. A lot of work for those farmers who still do it that way, but the barley gets brewed into the beer you may want to drink with your Linsen und Spätzle.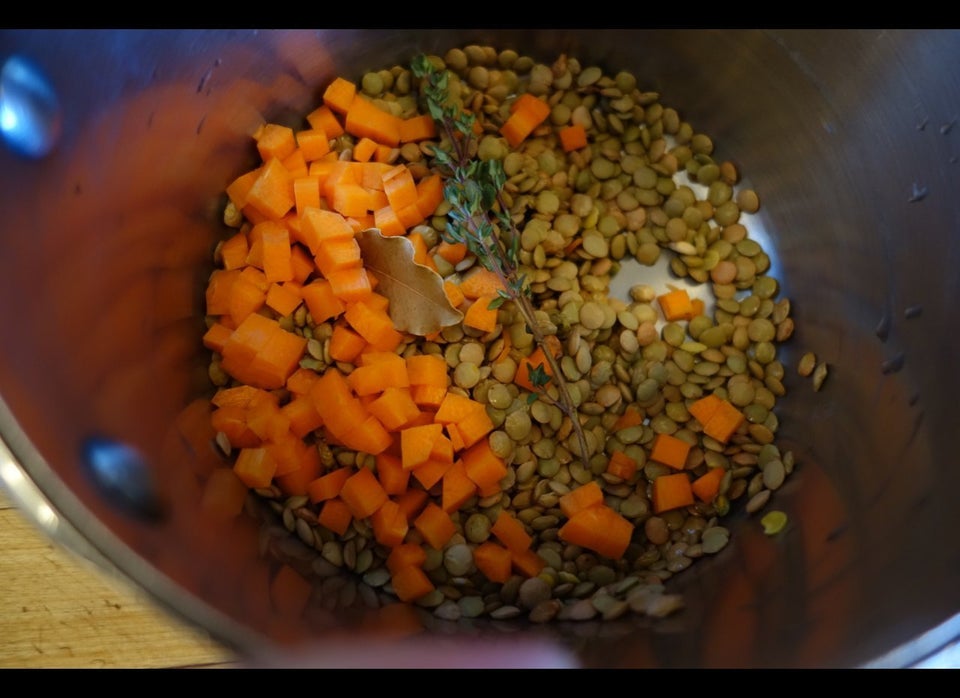 Spaetzle and Lentils? And How!