Seeing excellent shelling beans in the market (in this instance the Sorana variety, an expatriate from Italy) always gets me thinking of ways to use them, especially if I can pay extra and buy them already shelled. And for the rest of the walk through the market I'll be shopping with a view to assembling a bean-centered dish, which last weekend meant buying three quarters of a pound (350 g) of small squid, a bag of tomatoes (still stunning, even in early October) and bright red peppers of various kinds, all to be supplemented with things already in the house.
What this added up to was a very successful variant of a dish that's not particularly unusual: Squid with chorizo and other Spanish flavors. This version has a beautifully red, copious, deeply flavorful sauce that's versatile (and delicious) enough that it can be used with a whole raft of ingredients other than squid; even just with the last-minute addition of pre-cooked beans, it makes a great dinner.
The first thing I did was to simmer the beans in lightly salted (yes, salted) water with a slick of olive oil and a few fresh sage leaves. Mine were fresh and took about 20 minutes; if you're using dried beans, soak them until they've swollen (perhaps overnight) and simmer them until tender, which could take anywhere from 30 to 90 minutes or even more: do this long enough ahead - a few days? - that an unexpectedly long cooking time won't get in the way of putting dinner on the table. Make plenty: you'll have pasta e fagioli soon.
Just before I turned to the sauce/stewing liquid, I dealt with the squid, which didn't take much effort, as the seafood people had peeled off the dark outer membranes, emptied the mantles and trimmed away the eyes, beaks and so forth. I cut the mantles into rough 1-1/2-inch (scant 4-cm) squares and lightly scored the outer surface; I cut each set of tentacles in two, then patted everything dry and refrigerated until needed.
The important part of the dish starts like many other Spanish and Catalan recipes with a sofrito; in fact, you could make more of the basic vegetable-chorizo mixture and save (or freeze) it for a future paella. For two or three portions, slice a couple of shallots or a small onion and a small clove of garlic and sweat them in olive oil until they begin to soften, then add a Spanish-style chorizo sausage quartered lengthwise and then sliced 1/4-inch (6 or 7 mm) thick. Cook this over medium-low heat until the paprika-colored fat begins to run, then add a thin-fleshed red pepper, cut into strips, and a ripe tomato cut into small chunks. I used a mature poblano, which had a nice old-fashioned, not too sweet, flavor, but an elongated frying pepper of some kind would be fine. In fact, there'd be nothing wrong with a small red bell pepper or half a big one, so long as it wasn't an insipid mass-production model. Add salt, a few leaves of rosemary (or another herb such as thyme) and a scant teaspoon of smoked Spanish paprika (pimentón), to strengthen a flavor already present in the chorizo.
When the peppers have softened a bit and the tomato juices have begun to flow, add 1/2 to 2/3 cup (120 to 160 ml) of white wine and let it simmer for a couple of minutes. Next add about 3/4 cup (175 ml) of water, bring to the simmer and taste for seasoning. It will almost certainly need salt.
Add the squares (rectangles, actually, unless you're very lucky in your cutting) of squid mantle, saving the tentacles for a little later. Simmer, covered, for half an hour, then check for tenderness. My squid were small and the squares thin; bigger, thicker-fleshed squid could take up to an hour to attain optimal tenderness. When they're tender, taste the sauce and, if necessary, remove the pan lid and reduce the liquid to intensify its flavor. Add cooked beans. For Jackie and me, I used about a cup (240 ml); more beans would equal more portions.
When you're just about ready to eat, season the squid tentacles with salt, pepper and a little smoked paprika, then give them a 30-second sauté in very hot neutral oil (tentacles from big squid might take 45 or even 60 seconds to just cook through and get a little crisp); drain on paper towels, and set the fried tentacles on top of each portion of bean-squid stew. Serve with grilled bread or with baguette crisped in the oven, to be used to sop up the sauce.
That sauce has everything you could ask of it: Intensity without heaviness, and a certain viscosity from the chorizo and the peppers. As I said, it is very versatile and would be excellent with a fish like cod or hake, or with nothing but the beans and bread. If you are not using squid, simmer the sauce for half an hour at least before adding any quicker-cooking ingredients.
Aromatics, peppers, tomatoes, chorizo: the start of so many dishes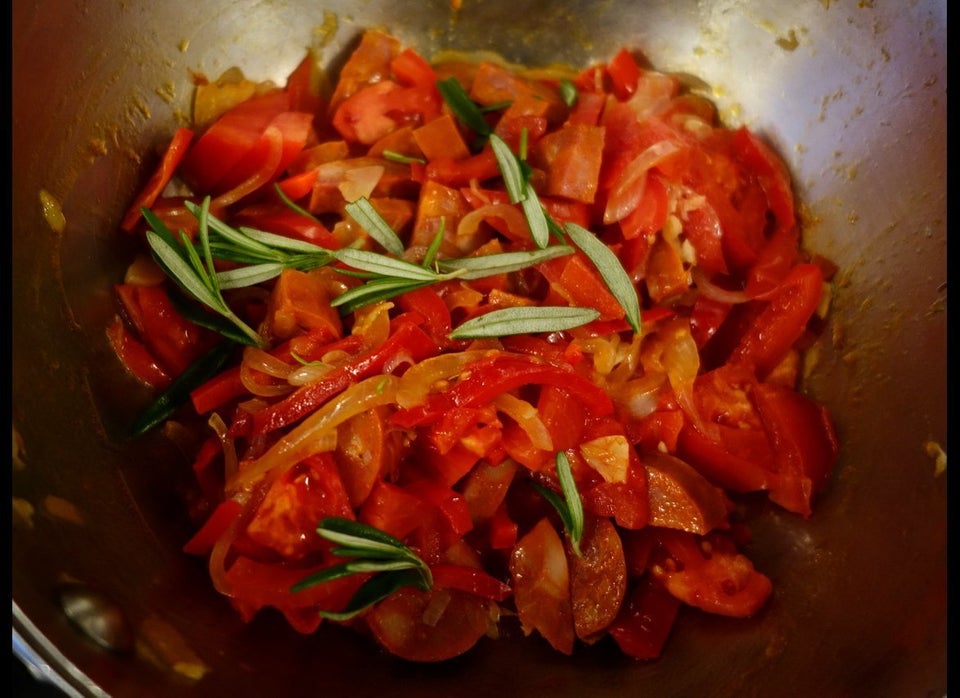 Sofrito cooked down and white wine and water added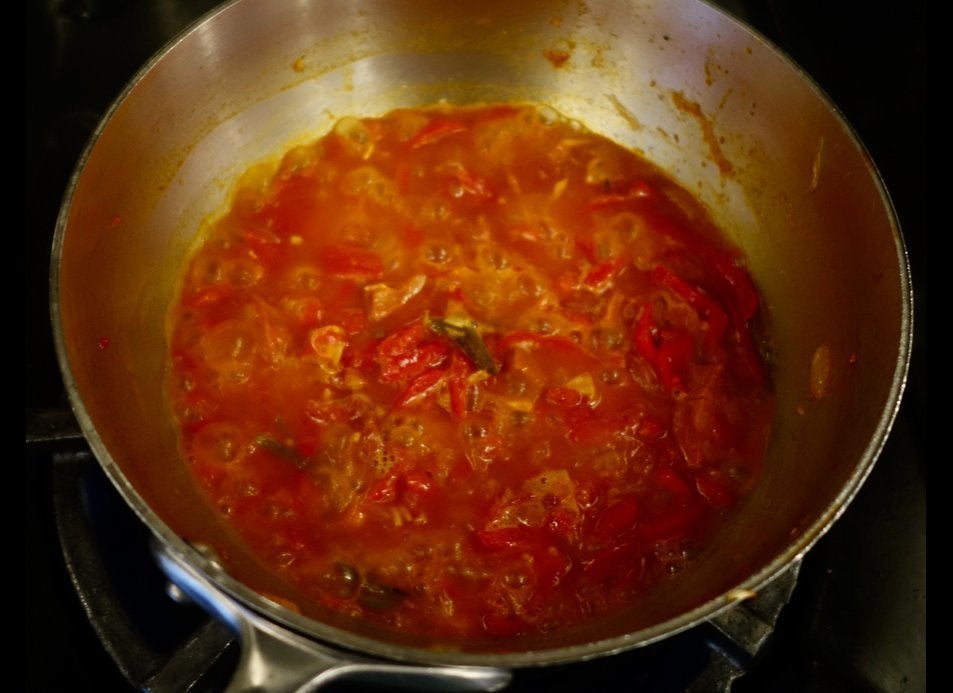 Squid bodies added; these little ones were tender after half an hour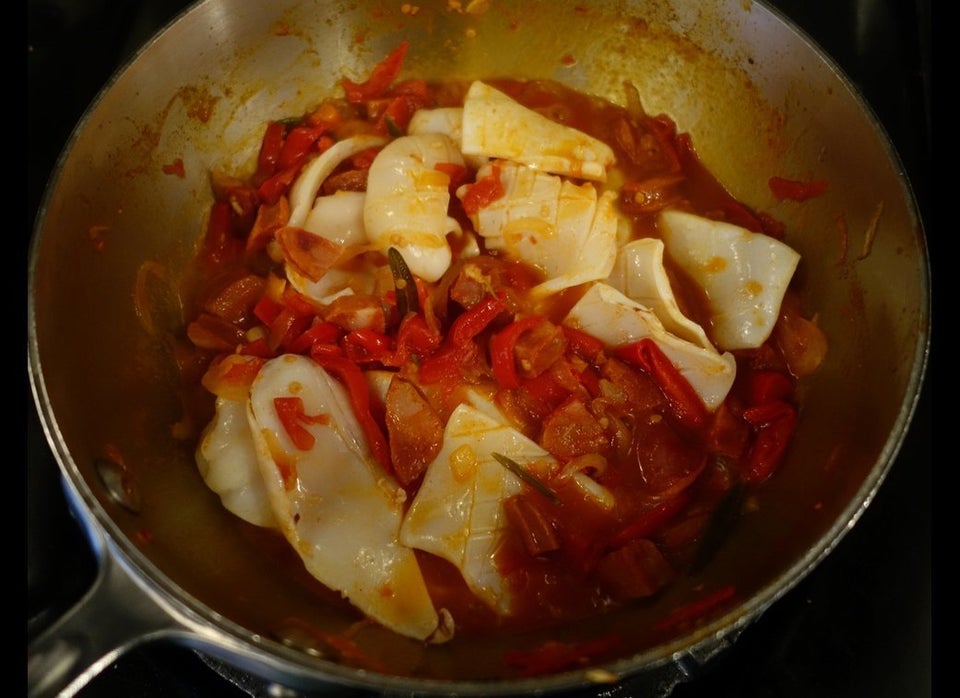 Stirring in beans, previously cooked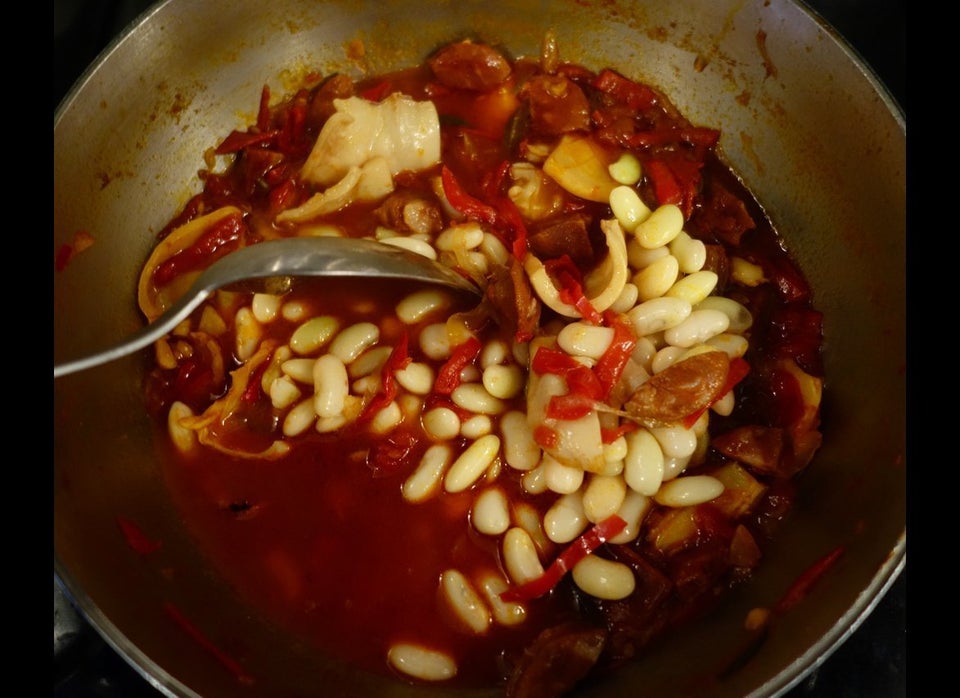 Tentacles: salt, pepper and pimentón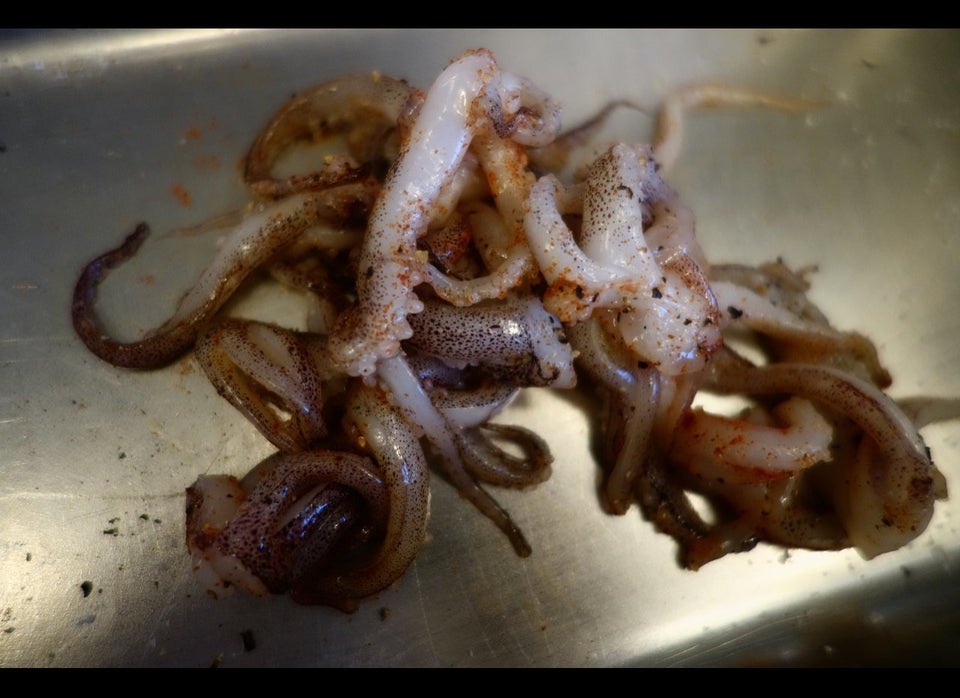 Tentacles fried for just 30 seconds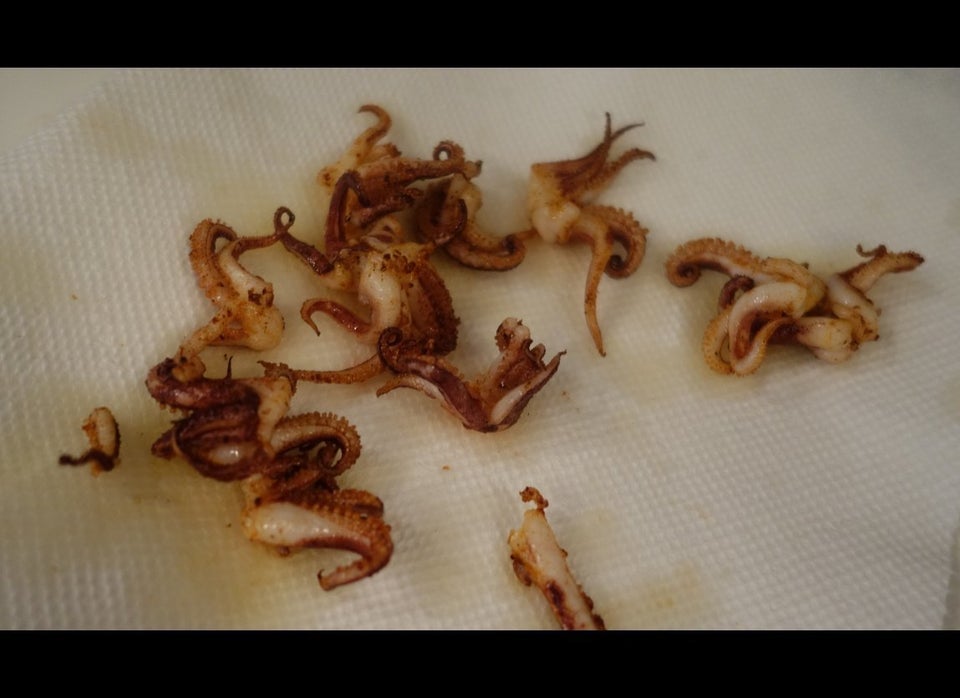 The finished dish. If you don't have (or like) squid, you can use something else - or just add more beans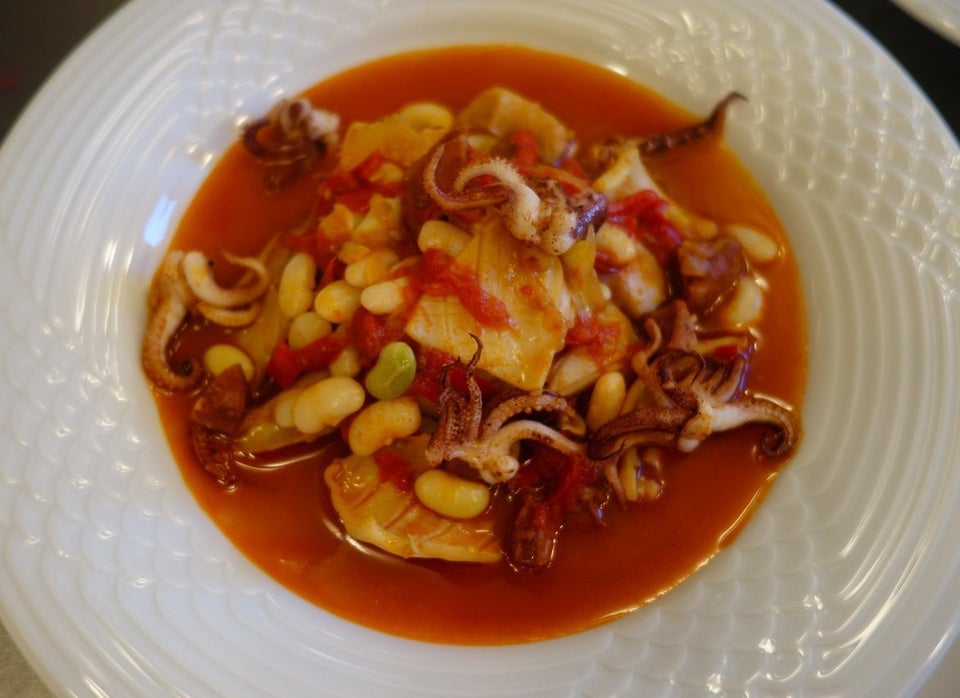 The beans that started it all