Stuffed baked potatoes -- aka stuffed potato skins or twice-baked potatoes -- are typically made with lots of cheese and often with ingredients like bacon or ground meat. They're irresistible that way, but are not something you'd necessarily want to serve as a side dish: they can take over the plate and overwhelm whatever it is they're supposed to be accompanying. No, that kind of stuffed potato is best eaten on its own, as a main dish.
Jackie and I have been staying in a friend's apartment while our place is being beautified. The kitchen in our temporary digs contains a terrific Viking gas range and lots of other excellent stuff, but it isn't our kitchen. I don't know exactly what is where, or whether things are there at all; the pantry is stocked, but not with the same basics I'm used to. So I've been cooking a little differently than usual, which is kind of interesting.
For instance, with plain crisp-skinned chicken -- a particularly big whole breast that was enough to serve three -- I'd have made a potato gratin at home, but somehow I couldn't find my way among our friend's array of pots and pans and bowls and baking dishes, so I thought about alternatives. I'd brought two kinds of mushrooms home from the farmers' market, and there was a bag of Idaho russet potatoes in the house. Potatoes and mushrooms (or, for what it's worth, potatoes and truffles) are one of the great pairings: you get two synergetic kinds of earthiness, plus the mushrooms' savoriness.
Perhaps I'd sauté them together. But the best skillet for that was already spoken for as a roasting pan for the chicken and I didn't feel like searching the cupboards for an alternative. Then I thought about how the roasted skins of baked potatoes had a particular earthiness of their own, and the course became clear: I'd bake the potatoes, scoop out their insides and combine them with cooked mushrooms, refill them and bake them again to reheat and brown.
That about sums the cooking up, but let me fill in the blanks. For six smallish russet potatoes -- 3-1/2 to 4 inches long, though you could certainly use, say, four larger ones -- I sweated a large shallot in butter, then added half a pound of oyster mushrooms and a quarter pound of shiitake caps, all diced, along with some fresh thyme leaves, salt and pepper. When the mushrooms had lost a lot of their moisture and were ready to start browning, I transferred them to a bowl. Meanwhile, I was baking those six potatoes, lightly oiled and salted, in a 375-degree convection oven (had I been at home, without the luxury of convection, I'd have baked them at 400 degrees) until cooked inside and toasty outside.
When they'd cooled enough to handle with the protection of a kitchen towel, I cut off the top 20 percent or so of each potato (the long way) and carefully scooped most of the flesh into the bowl with the mushrooms -- don't scrape right down to the skin, but leave 1/8 to 1/4 inch of potato to maintain structural integrity. To this I added 3 Tablespoons butter and a like amount of crème fraîche (sour cream or ordinary cream would have been fine, but that's what was in our friend's fridge), then roughly crushed the potatoes (with my hand) as the butter melted, added salt, pepper and thyme, and made sure the mushrooms were evenly distributed in the mixture.
I refilled the potato skins with a spoon, mounding the filling (which of course was more voluminous than the original potatoes), and left them until dinner time. The chicken was to cook at just shy of 400 degrees, which was fine for the potatoes too. So when the chicken went in, so did the potatoes, staying behind in the oven while the chicken had its 10-minute post-roasting rest.
The tops were lightly browned; the filling hot; the skins fairly crisp. The earthiness and potato flavor were there, and they were not rich and intrusive, so, as hoped, they were a fine accompaniment to the roasted poultry, and they cohabited very happily with the chicken's sauce too. We didn't eat them all, and - even though they lacked cheese, bacon or any of the other hallmarks of standalone stuffed potatoes - they were destined to be someone's lunch the next day, with the last remaining spoonsful of that sauce.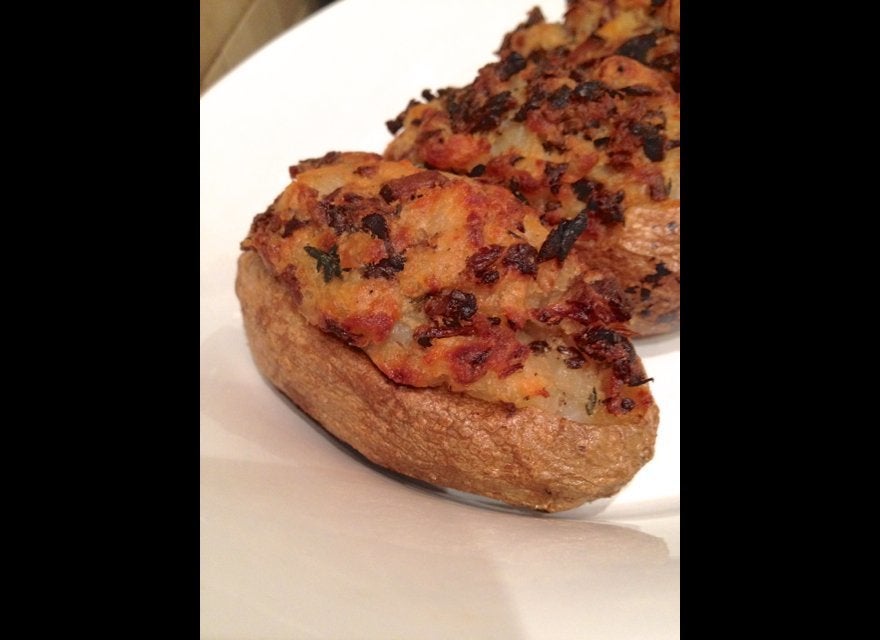 Cooking Off the Cuff: Stuffed Baked Potatoes Without The Gooey Cheese