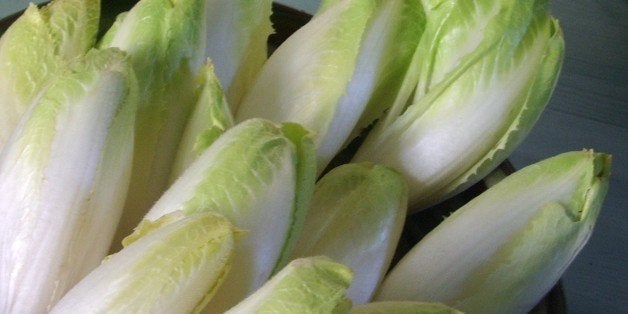 One of the handful of fancy restaurants that Jackie and I really look forward to visiting on our too-infrequent trips to Paris is Arpège, in an unprepossessing building near the Rodin Museum. Some years ago, its chef-proprietor, Alain Passard, made a splash when he stopped serving meat and fish and offered only vegetable and fruit dishes - a first in the world of three-Michelin-star cooking. He's since restored animal flesh to the menu (oh, that lamb!), but his focus remains on the impeccable produce that finds its way to his kitchen - often from the three farms/gardens operated by the restaurant. (Like a lot of other chefs, Mr. Passard spreads the word about his cooking in social media: his must-see Twitter account is a repository of alluring food photographs.)
I recently came across the most delicious-sounding dish of his: apple slices inserted into heads of Belgian endive (chicory in the UK), which are then cooked slowly in butter. Apples and endive are not unknown, raw, as a salad, but this gently caramelized assembly tickled me so much that I immediately got into my shoes and grabbed a Granny Smith from the supermarket - along with two heads of endive. Mr. Passard's dish uses more butter than my slightly stripped-down version, and is given a final aromatizing with grated licorice root and lemon zest. I found that less butter was needed to achieve a beautiful result (and additional butter is added at the end, as you'll see), and also that the sweet/bitter flavor combination of apple and endive was complete in itself.
I removed a couple of outer leaves from my two endives, then cut them in half lengthwise. On a mandoline (the dangerously sharp plastic kind from Japan), I shaved half the apple into slices thin enough to be flexible and translucent. If I'd had the patience to wait for market day and buy local apples, I believe I'd have chosen a Winesap, but the Granny Smith worked perfectly.
Spreading the leaves of the endive halves (gently, so as not to break them), I slipped apple slices between the layers: larger slices toward the outside and smaller ones toward the core. I wasn't particularly systematic about this, but did try to get a reasonably even distribution of apple. Half a medium apple generated more than enough slices to lard four endive halves.
In a heavy-bottomed skillet over the lowest heat - the lowest - I melted around a tablespoon of excellent-quality salted butter. Use a butter that is creamy and delicious to eat on its own: the special-occasion butter you save for home-made scones. When the butter had melted, I laid the endive-apple packages into the pan cut-side down, and lightly weighted them to promote good contact with the surface of the skillet. The butter was bubbling and sizzling, but only barely - the equivalent of a gentle simmer for a pot of water. It should not take on any but the palest color, and preferably none at all.
At this low temperature it took a good 20 minutes for the top surface of the endives to get hot to the touch (they do not get turned over), and another five or 10 minutes for the bottom to turn a beautiful deep golden caramelized brown. When this had happened, I carefully transferred them to a warm plate, browned side up, and stroked the top of each with fresh butter, which melted down into the layers of apple and endive. To finish, I sprinkled them with crunchy salt (I used Malden salt; Mr. Passard uses fleur de sel and also adds licorice root and lemon zest at this point).
I'm very fond of Belgian endive, raw and cooked. I love its moist crunch and I love its perfect degree of bitterness. So I've eaten a lot of it over the years. But I've never, ever come across a way of eating it that beats this one: it's tender but not mushy (as braised endive can be), and the apples and butter pervade the endive as though they'd been injected into it. This can be served as a side dish, but it is best eaten on its own, as a first course or appetizer.
If it's this good at home with a supermarket apple, I can only imagine how fabulous it would be at Arpège. Perhaps we'll find out next time we're in Paris.
The apple slices should be translucent-thin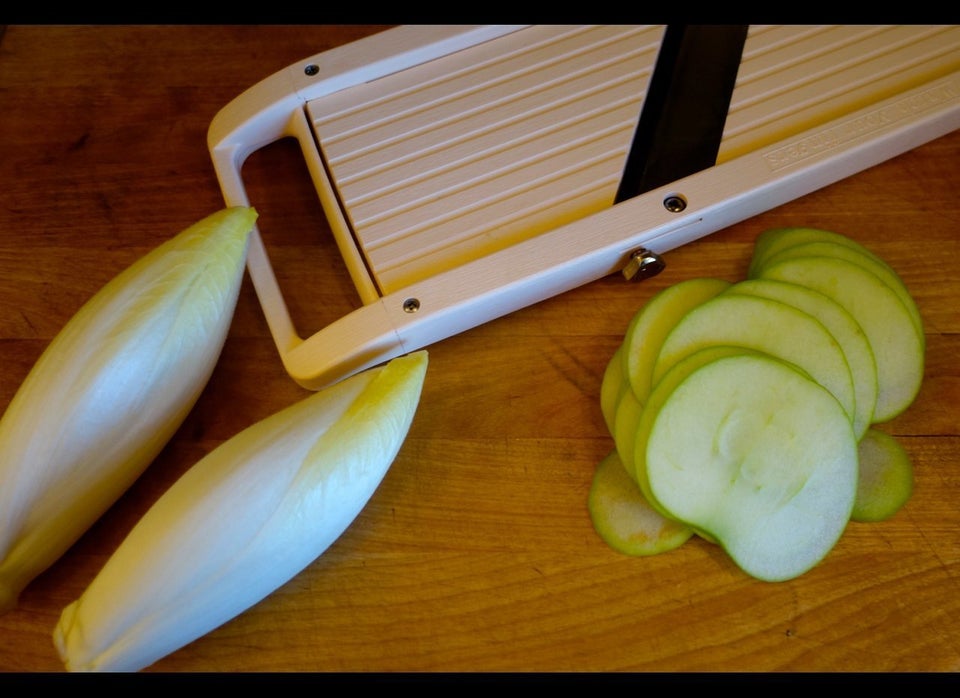 These would be prettier with red-skinned apples, but the color would disappear in the cooking anyway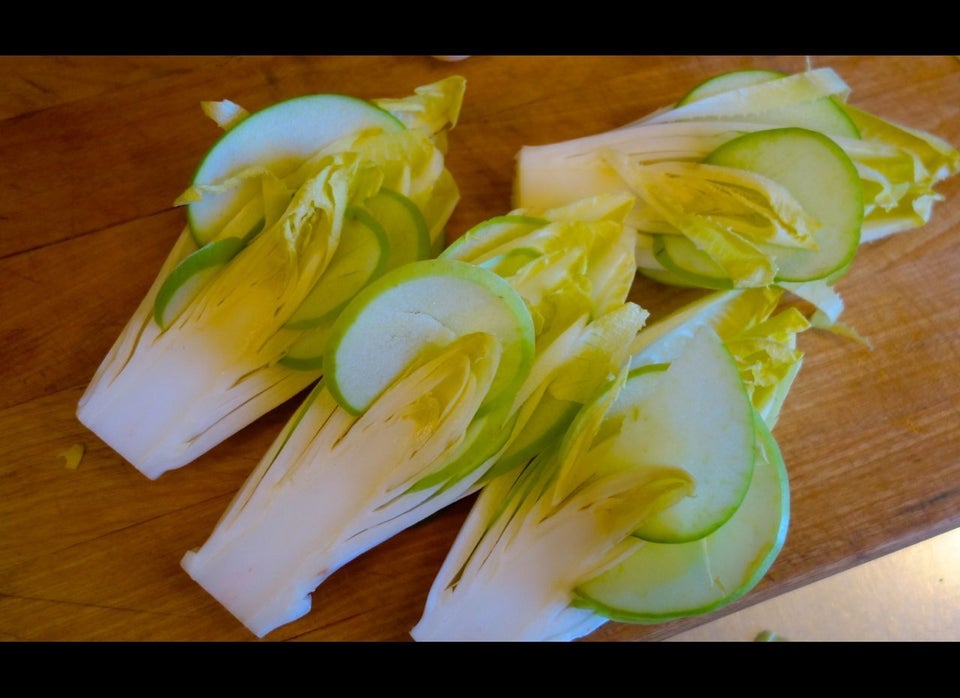 Cut-side down in butter over VERY low heat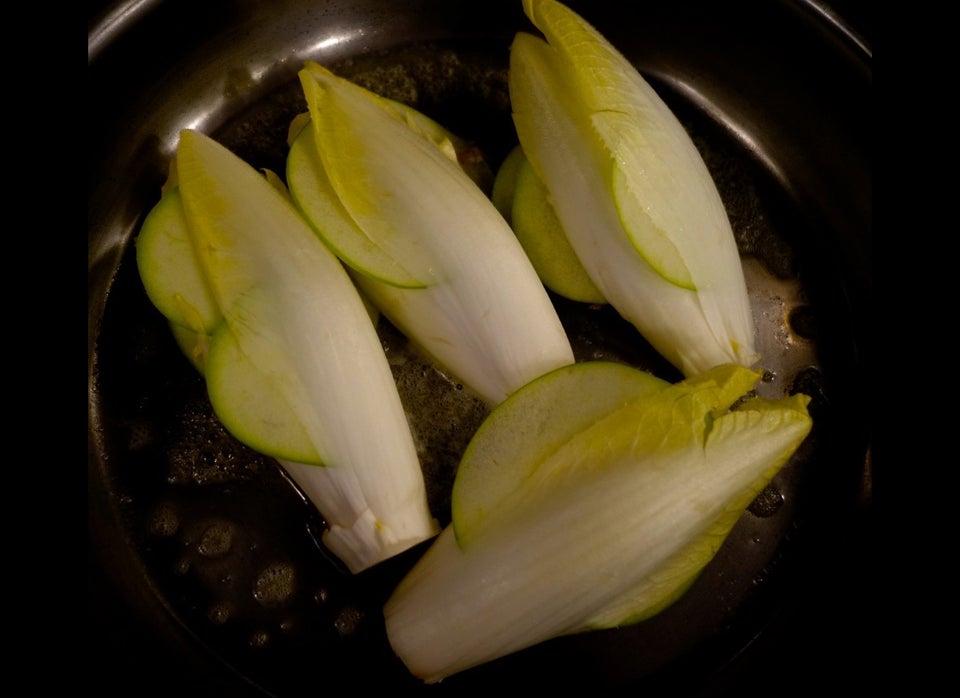 The butter should bubble, but only just, and it shouldn't brown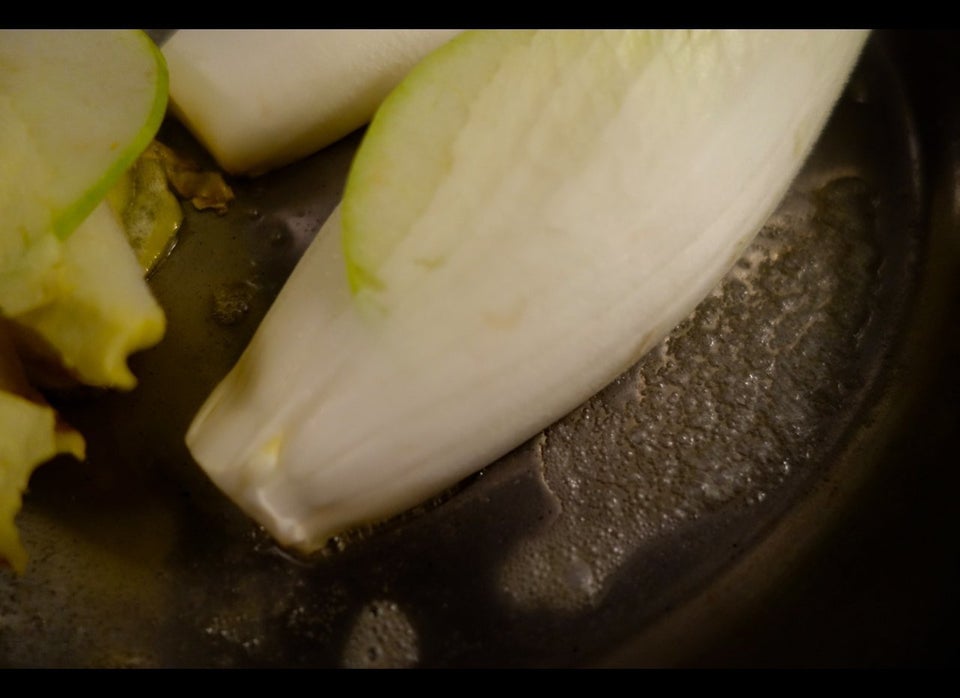 After 20 to 30 minutes, they just need a slick of fresh butter and a sprinkle of salt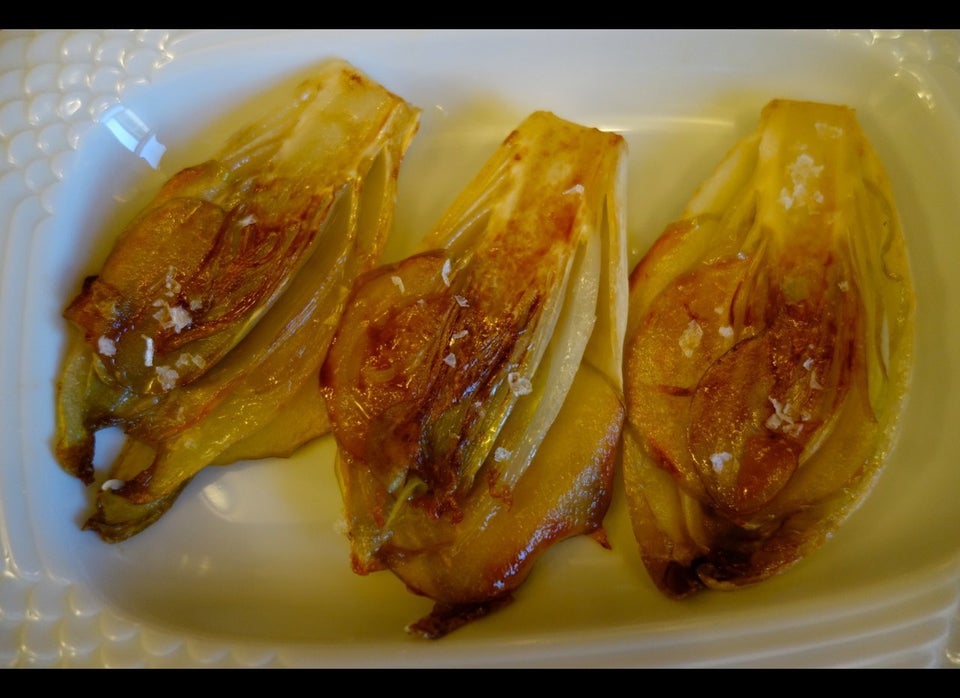 These can be a side dish or - even better - a standalone first course