For a canned-tuna sandwich or for morning toast, the best bread is often not The Best Bread in the sense of a crusty, blistered, chewy loaf of sourdough. It is often white bread baked in a loaf pan: soft with a comparatively tender crust and an even cross-section through which mayonnaise or melted butter will not leak. You can buy it in the supermarket, but - with its two dozen or so ingredients and suspiciously long shelf life - it will give you nightmares. And it won't taste particularly good: It'll be simultaneously bland and sweet, and it will have little structural integrity.
Happily, white sandwich bread is one of the easiest and quickest loaves to make, so long as you cast aside your properly high-minded principles of baking, such as minimal or no store-bought yeast, long kneading (or none, if you belong to the Jim Lahey / Mark Bittman no-knead school) and a lengthy, slow rise to develop flavor and texture. All this one takes is a brief whir in the food processor, an hour or two of rising, another 40 minutes of rising in the pan, and 50 minutes in the oven. And very little thought. The dough is pleasant and easy to handle, and no special skill is needed to shape it.
The only trick is getting hold of the right recipe. After years of winging it with generally good results but with a few disappointments, I've written down the quantities that work well for me and have stuck them onto the refrigerator door. I'm giving it, mostly, in metric measures; it is easy enough to convert these on line to ounces - or to cups, though that would be so inaccurate as to be dangerous. A note on flour: I use a mixture of about 3/4 bread flour and 1/4 pastry flour, but I've had good outcomes using just bread flour or just all purpose flour. You probably have a bag of all purpose in the house; by all means use it.
For one loaf of what our French counterparts would call pain de mie: Soften (at room temperature or, gingerly, in the microwave) 35 grams (something more than 2 Tbsp) unsalted butter. In a food processor (yes, you can use a mixer with a dough hook - or your two hands), pulse together 375 grams flour, a generous half teaspoon of fine salt (or twice that of Diamond Crystal kosher salt) and a scant teaspoon of instant yeast (yes, that's a lot). NB: No sugar. Prepare a mixture of 100 ml whole milk and 150 ml water. This should be tepid, so if your milk is straight out of the fridge, use warm tap water.
With the machine running, add about 3/4 of this liquid to the flour mixture. When it comes together feel it with your fingers and continue to add enough additional liquid to form a soft but not gooey dough. You may indeed need a little more water, though generally 250 ml is correct. When the dough is homogeneous, taste it for salt - insufficient salt makes for failed bread. Now add the soft but not melted butter and continue to run the food processor until this has been kneaded in and the dough is once more homogeneous - it may look a little ropy when the butter is first added. You can work in an extra tablespoon of flour if necessary to form a dough that is smooth and soft and easy to handle.
Form the dough into a smooth ball and let it rise at room temperature in a covered container. After an hour or 90 minutes (with all that yeast) it should have more than doubled and may have popped the lid off the container. If it hasn't, leave it alone until it has. Depending on your schedule, you can re-form the ball and let it rise again in the container, or you can move it to a lightly floured work surface, press and stretch it out into a rectangle a couple of inches longer than your loaf pan; mine is 8 x 4 inches (205 x 100 mm) measured at the bottom, though for a longer but less lofty loaf I use a 9 x 4 pan. Roll it or fold it in on itself, tuck in the ends and press it into the (ungreased) pan. Loosely cover the pan with plastic wrap, and let the dough rise until it has grown beyond the height of the pan. That could take 45 minutes or it could take an hour and a quarter.
While this is happening, heat the oven to 400º F (205º C). Bake the risen loaf for 50 minutes or thereabouts; check it after 40 minutes. I usually turn the oven down to 375º F (190º C) after 20 minutes, but this doesn't make all that much difference except to the baking time. The result should be a light golden brown loaf that is entirely baked through. Tap it to see if you get a hollow sound, or use a probe thermometer to ensure that the internal temperature is at least 205º F (96º C). Now bake it for another four or five minutes: This is a superstition of mine, for any cake, bread or pastry.
Tip it out of the pan, cool it on a rack, and do not slice it until at least two hours have passed. Since you're already breaking most of the rules for Good Bread, you might as well break another one: Keep this loaf, once it is thoroughly cool, in a plastic bag to soften the crust. And, if you're going to use it for toast, stow the bag in the refrigerator to be sliced as needed.
On the first day, have tuna-fish sandwiches, then you're on your own.
Note that the same dough makes excellent hamburger buns. Weigh out three-ounce (85-gram) pieces of dough, form them into smooth balls, press/stretch them into disks about 3-1/2 inches (85 mm) in diameter, and after rising bake them at 375 (190) for about 25 minutes. Let them cool under a kitchen towel to ensure a tender crust. They're soft enough to eat without a struggle and substantial enough not to disintegrate when sodden with hamburger grease.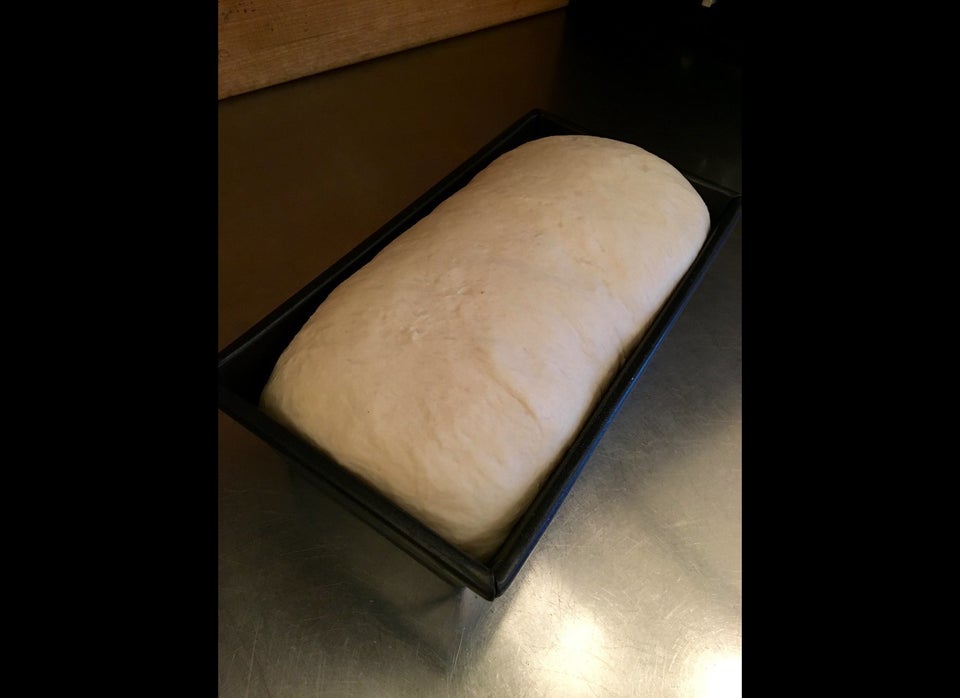 The Best Thing Since Un-sliced Bread