You can get a lot of mileage out of a couple of bunches of asparagus, so long as you don't gobble them up in one sitting - which is what Jackie and I usually do when the first local asparagus arrives in our farmers' market. But this year our timing was off and the scenario was very different. Last Wednesday, people were coming to dinner, and I'd already planned and partially cooked the main dish on the assumption that the market would offer no new-season produce beyond variations on spring onions, broccoli rabe and ramps. The idea was to make a big Spanish-type rice dish - for convenience, let's call it a paella - using chorizo, braised pork and remnants of winter vegetables: beans and celeriac. Still playing the Iberian theme, this would be preceded by an onion-and-potato tortilla (omelette) and a pile of ham croquetas.
Then I stopped by the market and there was this asparagus, which I couldn't very well ignore. I also couldn't ignore the substantial chunks of pork (shoulder and belly) that I'd already braised, so I didn't jettison the original menu but simply tweaked it to accommodate the unexpected advent of spring. What I did jettison were the wintry celeriac and beans; the former would keep in the fridge, and the latter (already cooked in the Spanish-inflected pork-braising liquid) would freeze pretty well. And I replaced them with the tips from both bunches of asparagus, yielding a pork-and-asparagus paella. I also added asparagus (some of the stalks, peeled and sliced) to the tortilla along with the usual onions and potatoes. The croquetas were unaffected (I followed Felicity Cloake's excellent recipe in her "Perfect" series, though not her advice to use panko crumbs to bread them).
I've written about many paellas over the years, and this one didn't depart from the usual practice: For seven portions, in a 13-inch (33-cm) skillet - lacking a big-enough paella pan - I lightly browned a couple of dozen two-bite cubes of braised pork, along with three cut-up Spanish-style chorizos. In the resulting fat I sweated a sliced onion, then added rosemary and a long-cooked sofrito of tomato, peppers, onions, garlic and smoked paprika (pimentón). This is something I make in quantity during the summer and freeze in small plastic-wrapped bundles; lacking this, you could simply add a little garlic and (optionally) a sliced bell pepper to the pan along with the onion and, when these vegetables have softened, squirt in some tomato paste and season with pimentón.
At this point I poured in two quarts (liters) of liquid. In this case, it was about half a quart of rich braising liquid from the pork diluted with water and seasoned with salt. When it came to the boil, I stirred in three cups (about 600 g) of paella rice - Bomba rice from Calasparra - and the asparagus tips, and cooked, uncovered, over medium heat until the liquid had been absorbed and the rice was done and I could hear gentle sizzling, indicating that a nice crust was forming on the bottom. If additional liquid appears to be needed, you can drizzle it in midway through the twenty-minute cooking time. Note that some grains of rice at the surface will seem underdone, but when you've covered the paella with a cloth (or paper towels) and a lid and left it to cool to tepidity, all will be well.
That was the paella. In fact, two of them: A few days later, I made a smaller one using lengths of peeled asparagus stalks (it is this three-portion version that you'll see in most of the photographs).
The tortilla was also made in the usual way, but with peeled, sliced asparagus stalks added to the skillet containing onions and potatoes for the last five minutes before the mixture was combined with the eggs. Besides the two paellas, those same two bunches of asparagus generated one big tortilla for our dinner party and one small one to share with just one friend.
This still left a few healthy stalks, and these became the main topping of a good pizza - or as good a pizza as I can make in a 500-degree F (260º C) oven. Once I'd peeled them, I used the same peeler to shave each stalk into ribbons; these I seasoned with salt and pepper and moistened with olive oil. I spread them onto the stretched dough and baked the pizza (on an oven stone) for five minutes, which semi-cooked the crust and mostly cooked the asparagus. I removed it from the oven, scattered it with truffle-injected pecorino, grated (Moliterno from Sardinia, the same one I've been using for a few months), and returned it to the oven for another five minutes. In a real pizza oven, this would have taken a minute and a half. [Sigh.] Their caramelized edges made the asparagus strips especially delicious, though they were nearly overwhelmed by the truffled cheese. Next time I make this - soon - it will be with a more restrained cheese: parmesan, in fact.
Later today I shall visit the farmers' market. This time, I'll expect to find asparagus so Jackie and I will be ready for our first real asparagus meal of the season: Just whole spears, tepid, topped with chopped egg and drizzled with vinaigrette. And grilled bread with butter.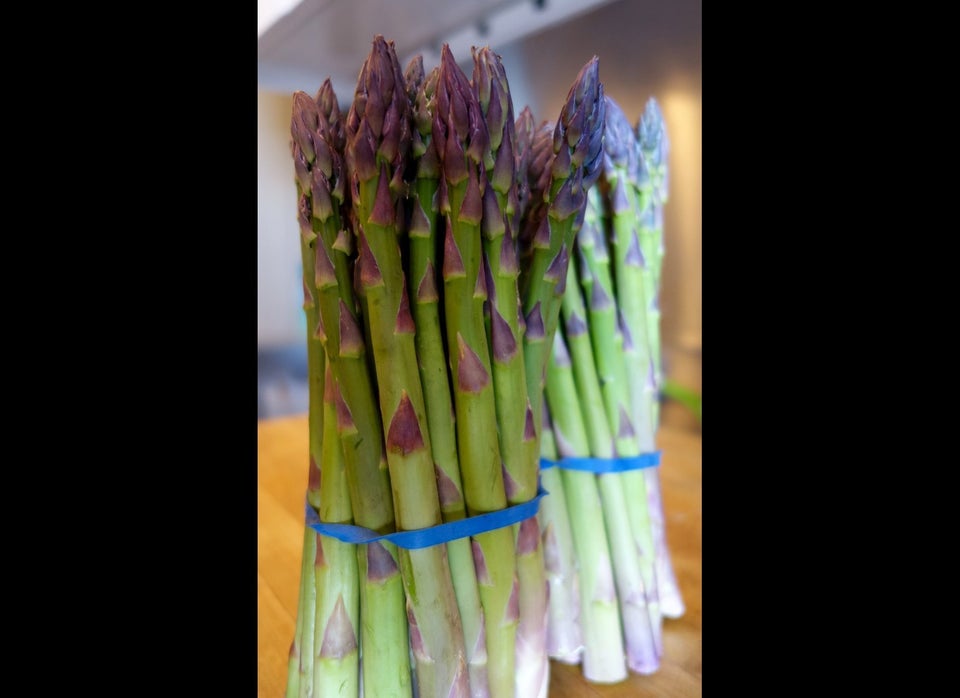 First Asparagus, Several Times Over