In the days when pizza still needed explaining - not too many decades ago in some parts of the country - it was often referred to as tomato pie. Which is not a bad description so long as it is accompanied by a photograph or, even better, a sample. But the tomato pie Jackie and I had for dinner last week bore little resemblance to a pizza; its models were two: A memorable tomato tartelette eaten in Paris at Joël Robuchon's restaurant Jamin in the late 1980s or early '90s, and the Italian-French Riviera variation on pissaladière. In its purest form, as often served in Nice, pissaladière (a word that ought to derive from "pizza" but evidently doesn't) is built on bread dough and topped with cooked onions, olives and anchovies, but further along the coast toward Italy, similar dishes do indeed include tomatoes.
Those were what came to mind when I remembered that I needed to find a worthy use for an open pie's worth of pastry from a few days before.
The success of today's tomato pie - let's call it a tart, now that we've gone all French - depends on intense flavors and innately salty ingredients; the latter can be adjusted to taste and to whether the tart will be eaten in meal-sized portions or served in smaller nibble-sized slices with a pre-dinner drink.
It all begins with pastry, so make some. Any buttery tart dough will do; I used 6 ounces (170 g) flour, 4 ounces (115 g) butter, salt and just enough cold water to bring everything together, and I did it a food processor. Pat it into a disc, wrap it up and put it in the fridge to firm up (as I said, mine had been refrigerated for a few days), then roll it out and line an 8-inch (20-cm) tart pan with a removable bottom. Line the dough with aluminum foil and freeze it, at least for the time it takes to slow-roast the tomatoes and onions/garlic.
Heat the oven to a mild 300º F (150º C). I used two biggish red tomatoes, ripe but not liquefying. Halve them and slice them about 1/8 inch (3 mm) thick, then lay them onto a sheet pan onto which you've drizzled olive oil and sprinkled salt and thyme leaves; top them with more of the same, then put them in the oven for a good hour, until they've shrunk but have not dried out: they should be soft and juicy but not wet. Do the same with a medium onion and a clove of garlic, both sliced, which go into the oven simultaneously with the tomatoes. (The onion you'll see in the picture is of the red torpedo-shaped variety named after Tropea, Italy; any onion will do, or you can use a few shallots.)
When the tomatoes and onions are done, turn the oven up to just shy of 400º F (200º C), and when it has reached that temperature weight the frozen foil-lined tart shell with beans, put it on a baking tray and bake it for 20 minutes; remove the foil and beans and bake it until it is completely done: golden brown and crisp. I suppose this will take another quarter of an hour.
Spread the onions out on the baked shell (it can be baked well in advance, but in this case it wasn't), sprinkle them with just a little grated parmesan, top them with the roasted tomatoes with all their oil and juice, then top these with a handful of pitted and halved black olives (I used Niçoise olives, since I'd been thinking of that coastline) and a few anchovy fillets (the oil-packed kind), then just a little more cheese. The tart goes back in the oven for another 20 or 25 minutes, then is unmolded and left to cool on a rack until just a little warmer than tepid. (No, the pre-cooked pastry, while very crisp - even the next day - will not burn: The filling acts as insulation.)
With the olives and especially the anchovies, this is powerful stuff. The oven-intensified tomatoes and alliums alone provide plenty of flavor, so if you are leery of all that savoriness, pre-soak or omit the anchovies and cut down on the olives. A nice mild salad, lightly dressed with just oil and a few drops of lemon juice, will lighten things up, so you'd be missing a treat if you made the olive-and-anchovy-free version. You might try adding these salt-cured garnishes to just half of the tart and see which you like better.
What's striking is how the fresh flavors of the onions, garlic and tomatoes are preserved although all those things have been cooked a very long time. Even mediocre tomatoes start to taste good when slow-roasted as these are, so imagine how good already-delicious ripe summer tomatoes will be, especially when bolstered by all those other Mediterranean flavors.
Tomatoes oiled, seasoned and ready for the slow oven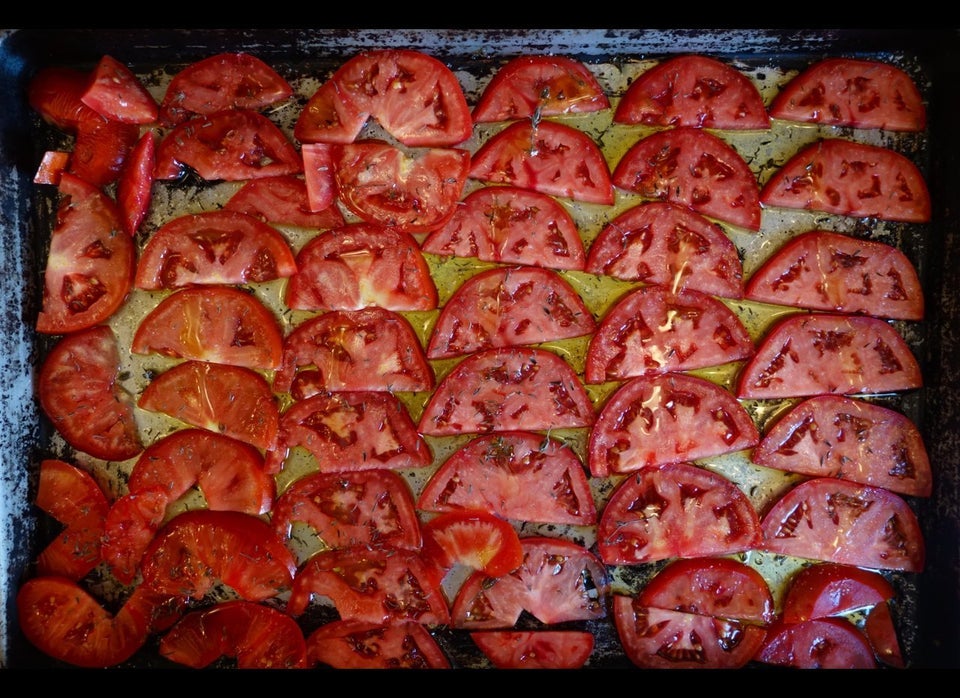 Likewise, Tropea-style onion and garlic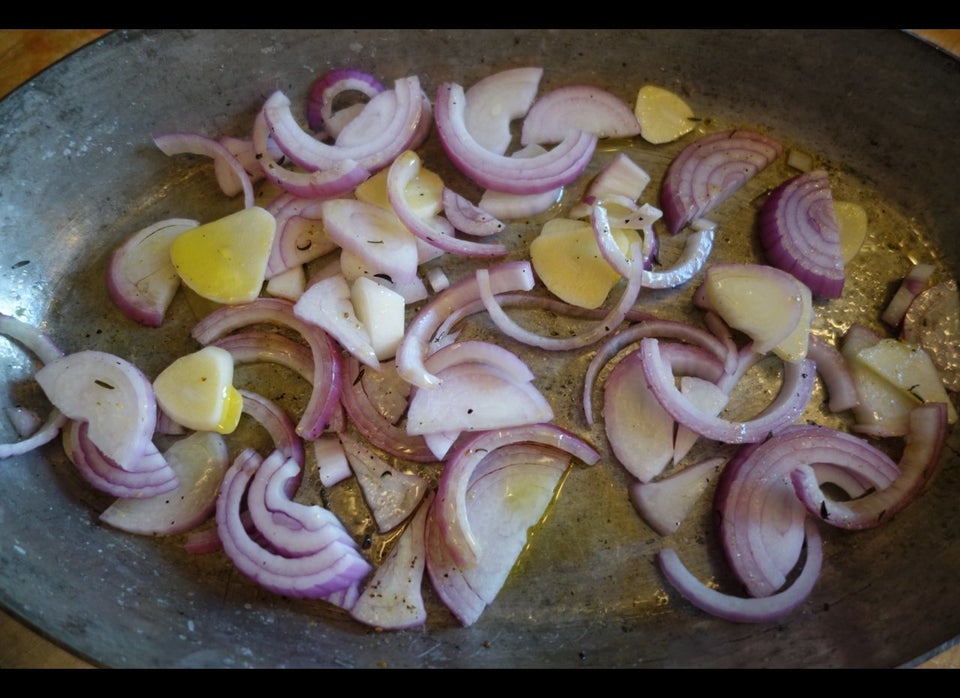 The tomatoes, intense after an hour in the oven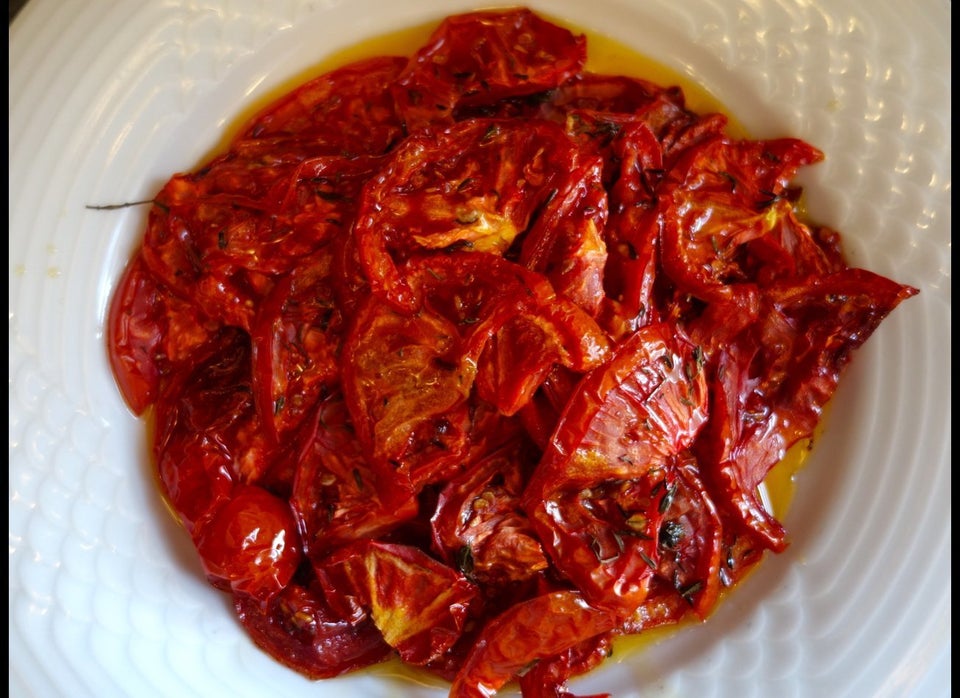 Likewise, the alliums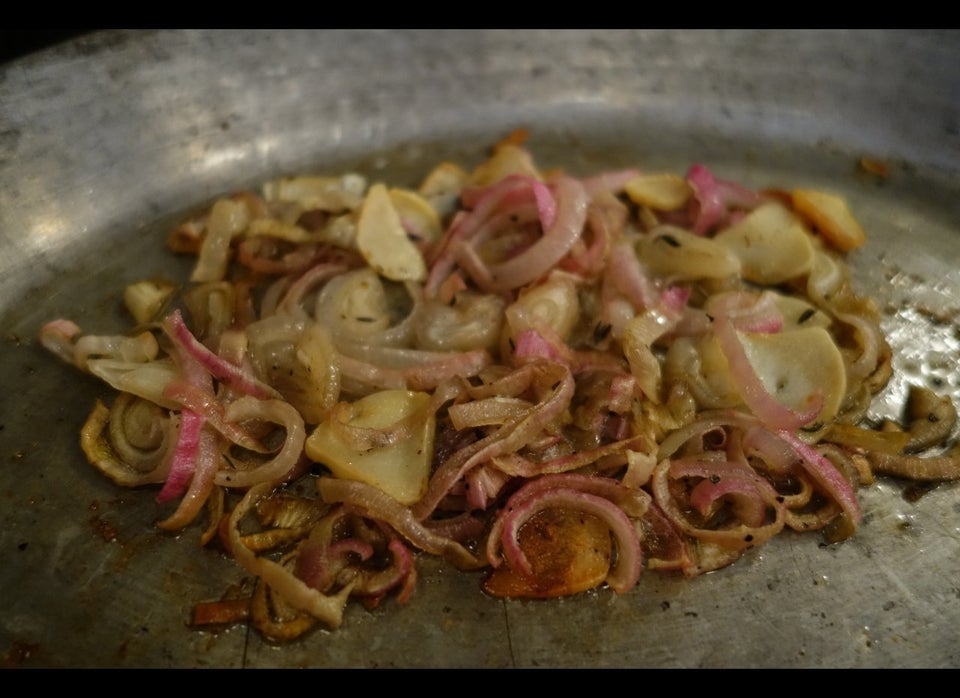 Prebake the pastry shell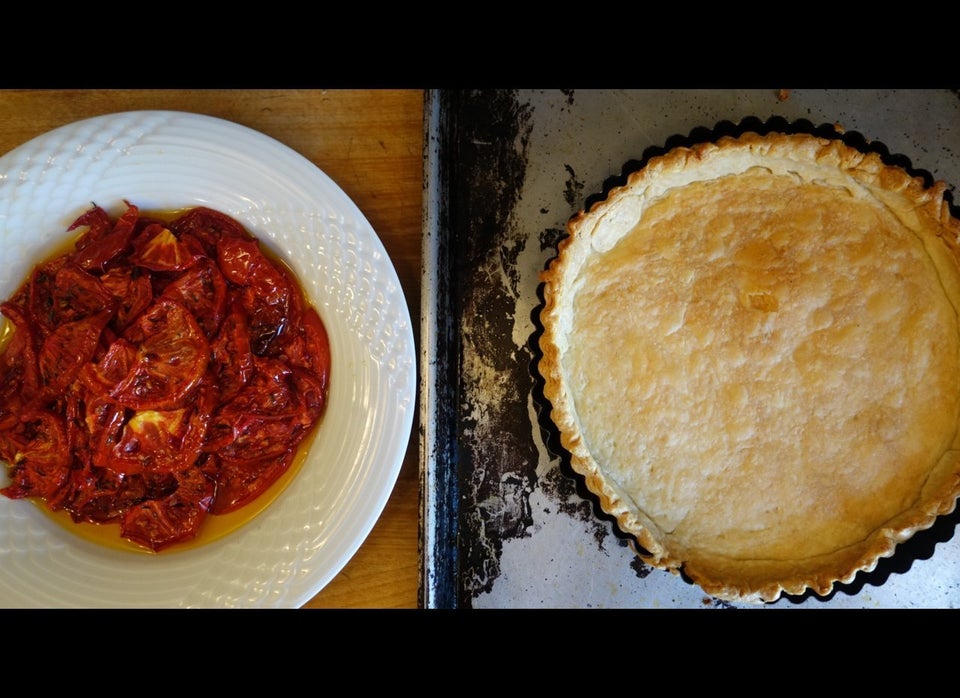 Onions, garlic and a sprinkle of cheese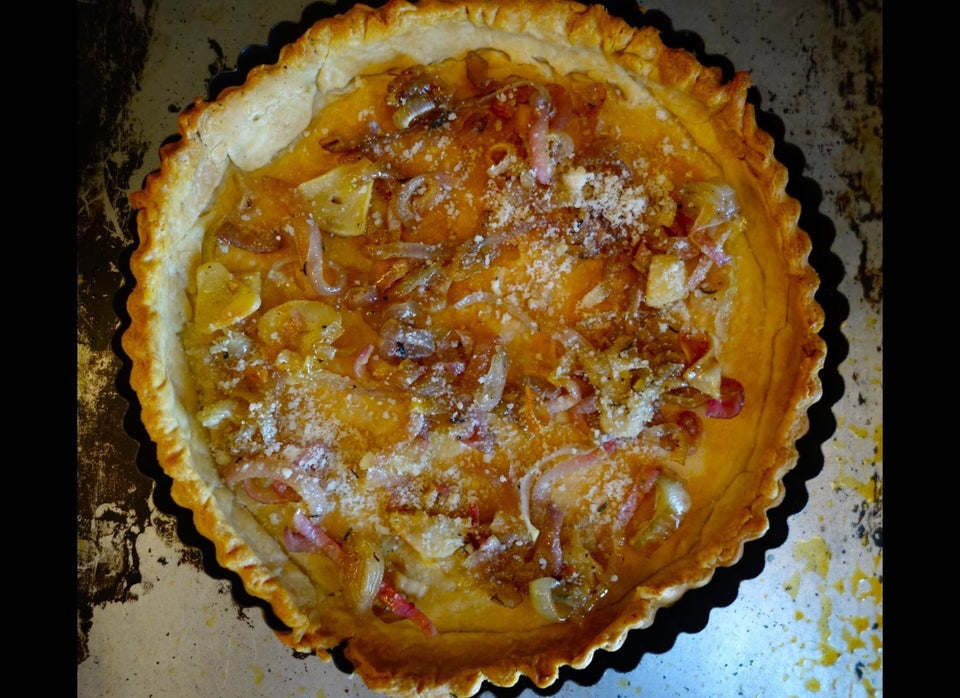 Next, the tomatoes and (optional) olives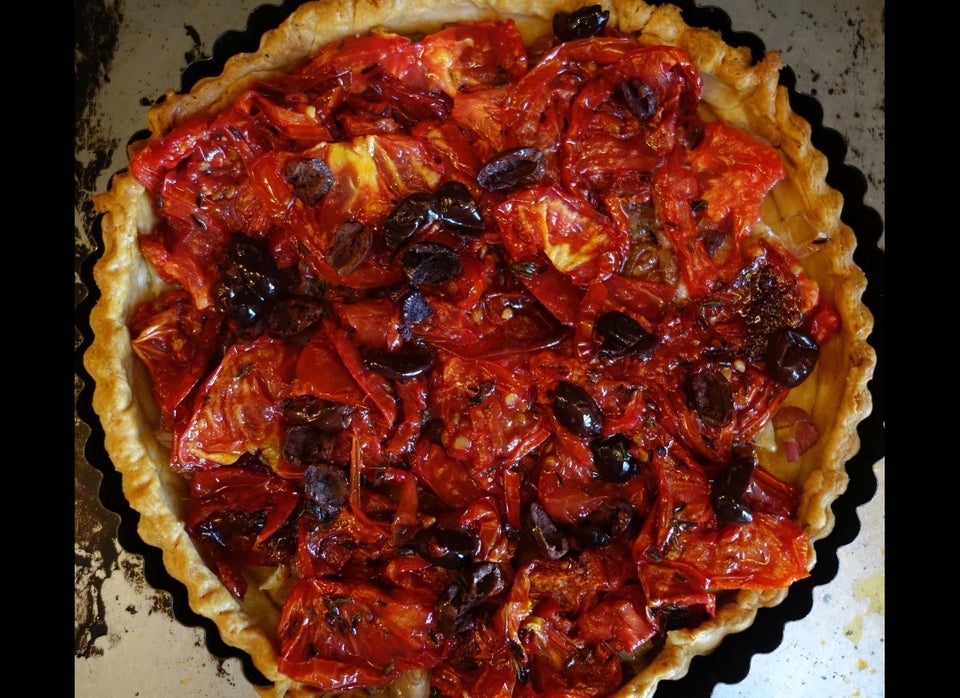 Then anchovies (also optional)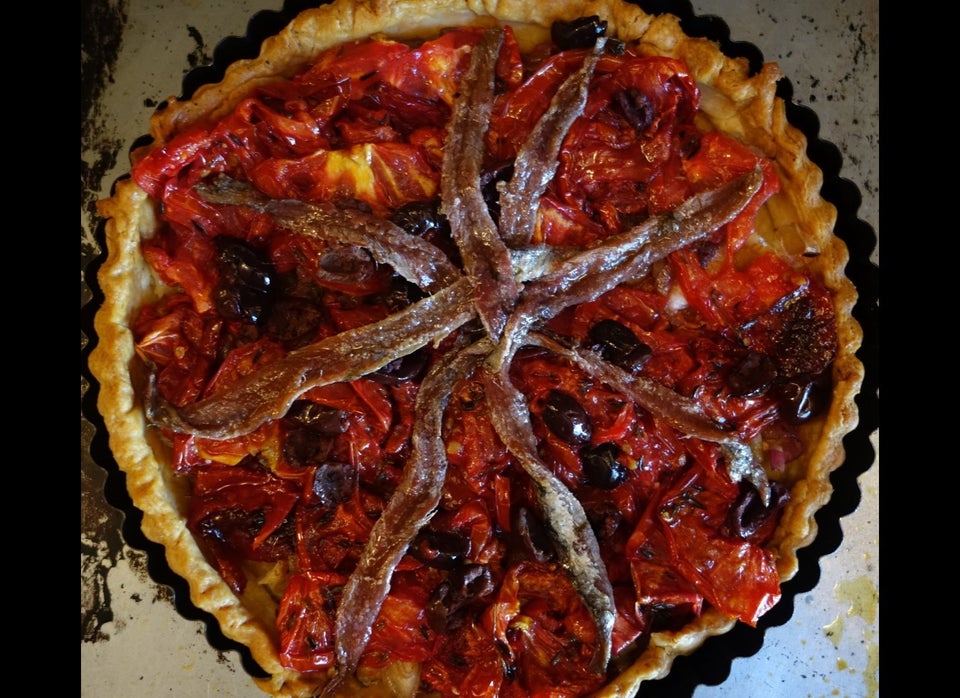 Twenty-five minutes later, with a little more cheese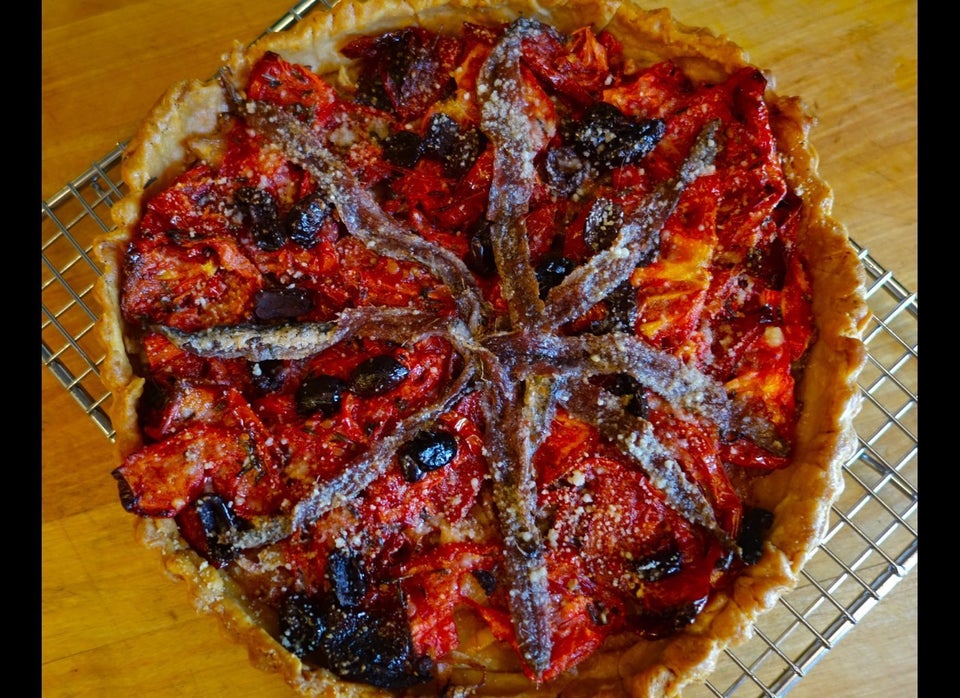 The pre-baked pastry remains crackling crisp