Last week, Jackie and I took an overnight flight to London. As much as we like British Airways, we'd really rather not eat their food (drinking their wine is another story), so we generally have something like a bowl of pasta at home before leaving for the airport. This time, it was a dish of trenette (like narrow fettuccine but dried, not fresh) with a powerful dressing made with the olive-caper-anchovy tapenade we'd been eating smeared on crunchy slices of baguette.
Tapenade is something I used to make all the time, but for no discernable reason I'd been neglecting it. Then I saw a Twitter post from the food writer Daniel Gritzer, which linked to a very good story about this appetizing sludge. I never knew that the word's origin lay in the Provençal word for capers, an etymology that reminds us that tapenade isn't just about the olives. Indeed, Mr. Gritzer unearths a recipe specifying one part olives to one part capers to one part preserved fish (a mixture of anchovies and canned tuna).
While I didn't use those proportions, I took the concept very much on board and made a batch of tapenade composed of nearly a cup (240 ml by volume) of pitted olives (mostly black ones from France, rounded out with buttery green Manzanilla olives from Spain); a scant half cup of salt-packed capers, well rinsed and dried; and five or six good-quality Spanish anchovy fillets, the kind packed in olive oil (salt-packed anchovies soaked and boned would have been fine too). Despite the convincing case that Mr. Gritzer makes for mashing everything up in a mortar and pestle, I used the food processor but was careful not to end up with a too-smooth purée. I also worked in enough olive oil to attain the right slushy consistency and a good handful of mint leaves, which provided a fresh contrast to the other uniformly intense ingredients.
A thin smear of this tapenade on oven-crisped bread or some kind of cracker makes a fine snack with drinks, and we used it that way on three occasions, leaving us with about half a cup on the day of departure. Having eaten and cooked many delicious pasta dishes containing olives (this one draws on a similar palette but couldn't be more different), I wanted to use the last of the tapenade in our pre-flight dinner, but because of its intensity and saltiness I needed to thin it out. Water, in fact, would have been a possibility here, but by no means the ideal. Stock would have denatured the tapenade. The most logical option was tomato, and I was lucky to have a couple of the season's last ripe, juicy, reasonably tasty tomatoes in the house. (Actually, it was more like one and a half tomatoes, because half of one of them was overripe and bruised. In the absence of good tomatoes, I'd have used canned, broken up by squeezing with my hand.)
All it took was to quarter the tomatoes and grate them through the large holes of a box grater, leaving the skin behind; combine the tomatoes and their juices with the tapenade; and simmer the mixture for a couple of minutes to reduce the tomato liquid and allow the flavors to mesh. Also in the pan was half a clove of garlic, which I fished out once it had aromatized the sauce.
Then I boiled two portions of pasta, combined it over low heat with the tapenade-tomato mixture plus a splash of the pasta-cooking water, and served without further adornment. I thought it might need more mint because this flavor had faded over the previous few days, but as the sauce grew warm the mint aroma returned and nothing needed to be added. It had everything already: salt, savor and oil, plus the well integrated flavor of tomato.
Once you've got your tapenade (which, with a food processor, is the work of two or three minutes) and some tomatoes, you've got this pasta sauce. It is an intense thing, so keep your portions small - or serve a tiny portion as a first course in a more formal dinner.
A tomato and a half simmered with half a clove of garlic; half a cup of tapenade; pasta sauce!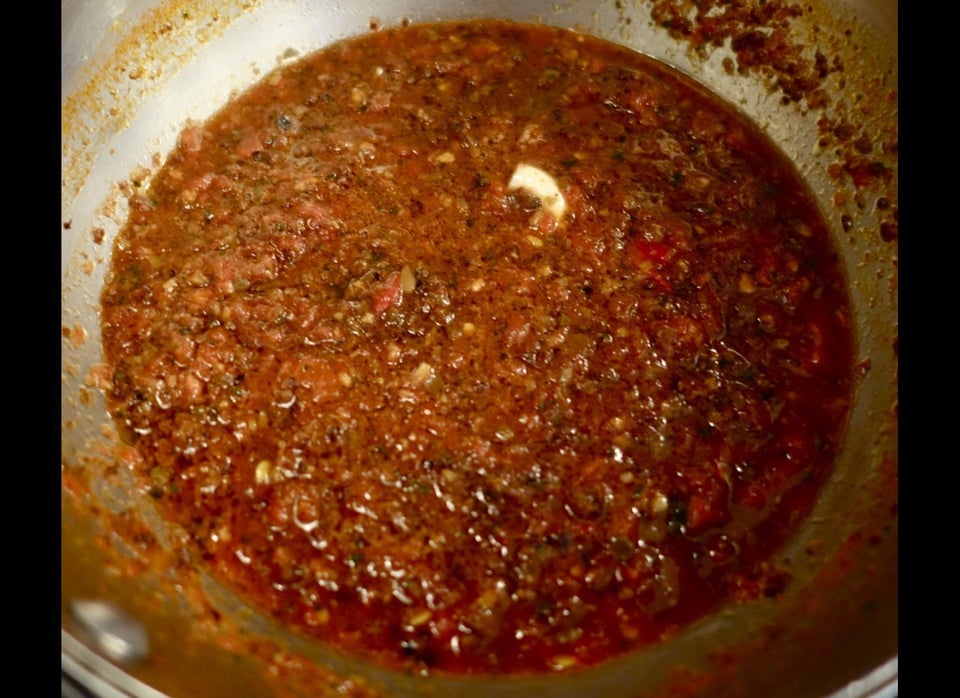 A madly savory dish of pasta with tapenade-tomato sauce