The seasonal gears are changing here in New York: even though there are winter squashes in the market, we're still eating the odd tomato, and I promised I wouldn't write about them for a while. At least not ripe ones: One of the nice things Jackie and I have eaten recently was a savory tart made with green tomatoes. Not tomatillos, but hard, pleasantly acidic tomatoes that haven't ripened - you should find them in the market for a while yet.
Years ago I wrote about using them to top pizza destined to be a drinks snack or a first course, but during my recent savory tart jag I adapted similar flavors to a juicier, slightly more substantial dish, still premised on pre-baking the empty tart shell completely before filling and re-baking it. I made reference to this tart a few weeks ago but didn't describe what it actually was.
Prepare and bake the shell exactly as for last week's potato-leek-mushroom tart. While it's baking, cut a couple of medium-sized green tomatoes (around 2-1/2 inches / 6.5 cm in diameter) into slices a little less than a quarter inch (say, 5 mm) thick, season them with salt and a chopped herb - I tend to use sage for this, but thyme or marjoram would be good - and drizzle them with olive oil. Let them stand at room temperature for a few minutes.
Sprinkle the baked tart shell with grated pecorino cheese and arrange tomato slices over this, along with their herb garnish. Slide your finger across the surface of a tomato slice and taste for seasoning. You may wish to add pepper, though I didn't. Now, sparingly top the tomatoes with a not-too-old sheep's milk cheese; I use a very lightly smoked one from 3-Corner Field Farm, but another good, supple eating cheese in the Manchego family will do very nicely. Alternatively, you could swap parmesan for the pecorino and a favorite cow's milk cheese for the Manchego-type cheese.
Bake it for half an hour or so at around 350º F (175º C), and let it cool for ten minutes before eating (or serve tepid). You can serve a salad alongside, or not.
The acidic green tomatoes automatically create a balanced flavor with the cheeses and olive oil, and they lack the sweetness of ripe tomatoes, so the outcome is very different from a peak-of-summer red tomato dish.
A low border is all you need for this tart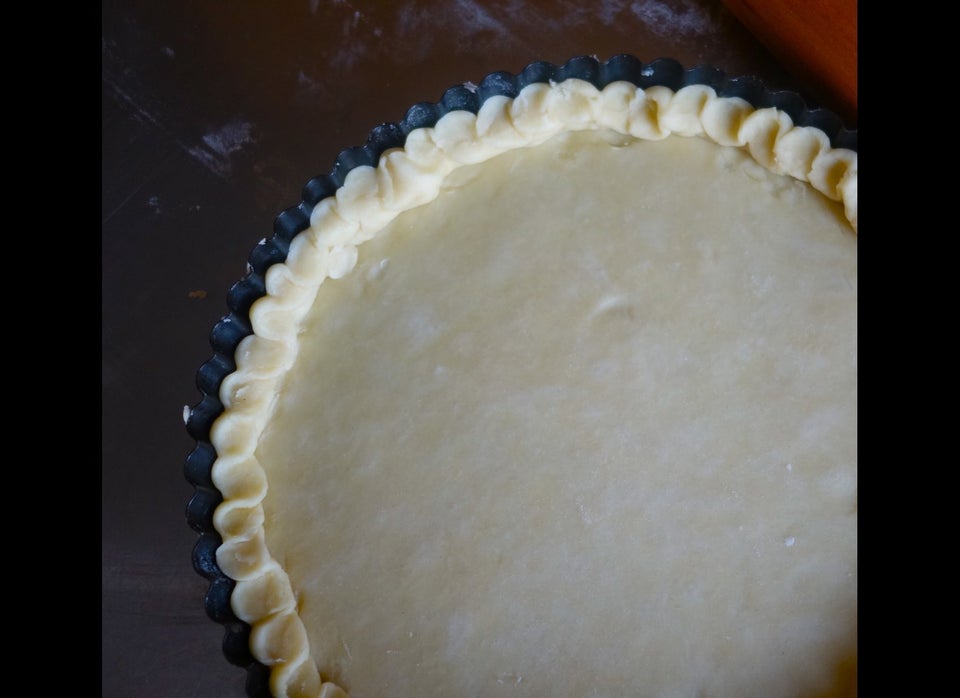 Green tomatoes marinating; I used sage, as I often do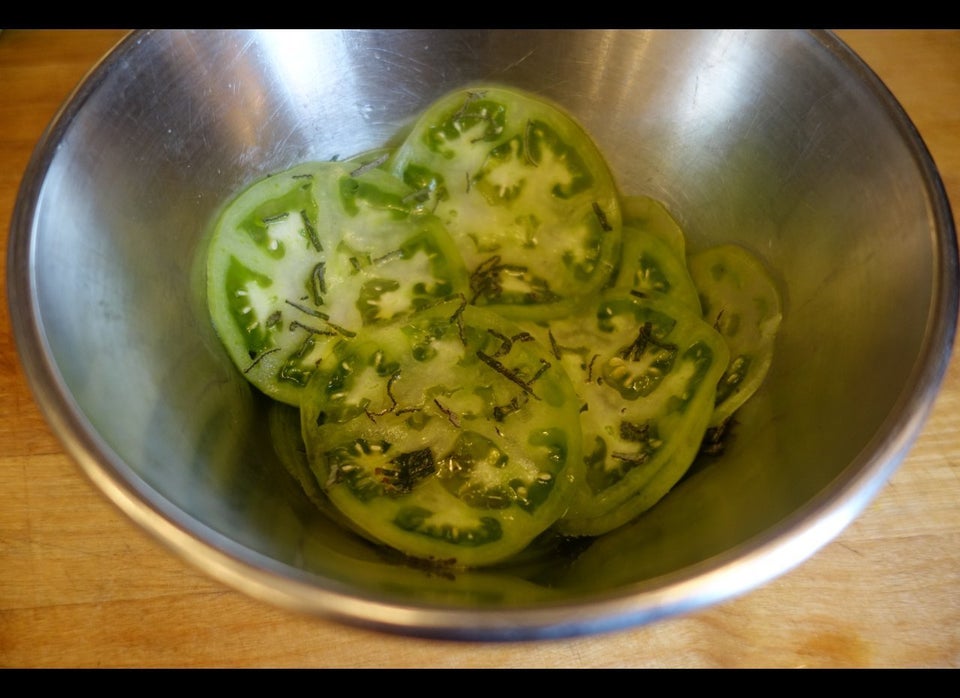 Pecorino on the baked shell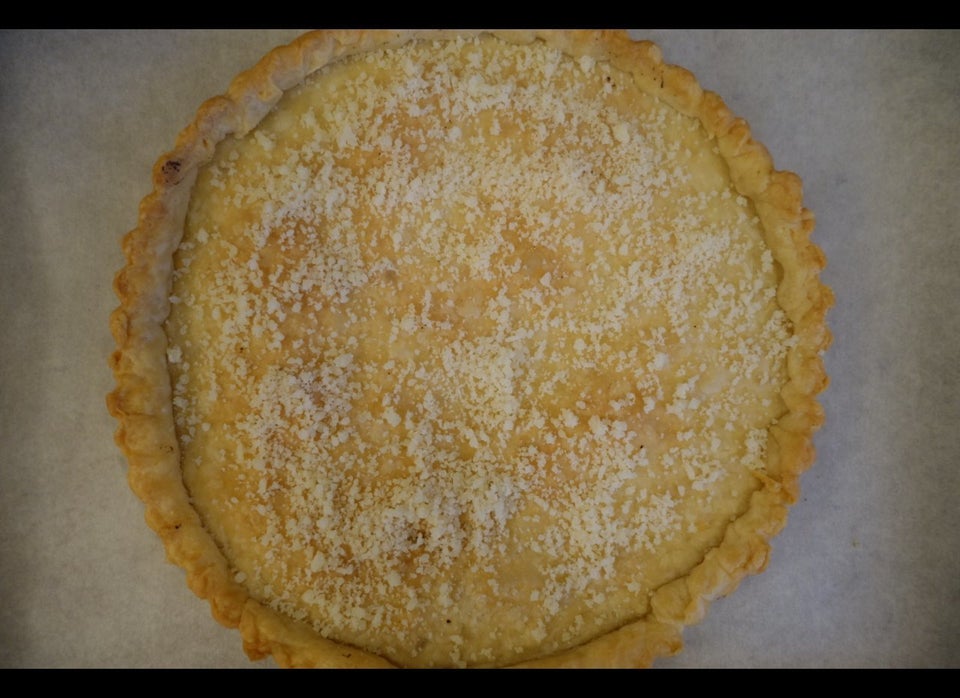 And the tomatoes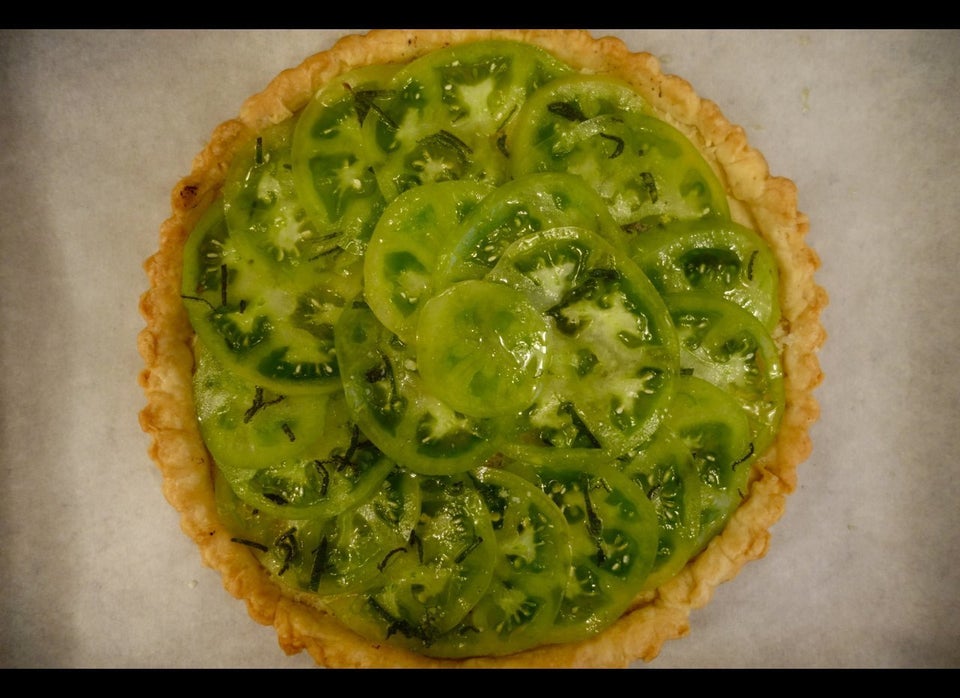 Ready for the oven; the finished tart got eaten before it could be photographed