Twice on our recent trip Jackie and I were served an "other white meat" that had been cooked through until tender, then left to rest and cool; portions were later crisped and heated for service. Once, at Café de Klepel in Amsterdam, it was veal blade and the other time, at Merchants Tavern in London, it was pork butt (a.k.a. shoulder; a.k.a., in Britain, neck fillet). These dishes did not eat like re-heated or braised meat: they both had a good, tight steak-like texture with just the right amount of chew. The London pork was finished on a grill and had a hint of char, while the Amsterdam veal had been given a more even sear on a griddle or in a skillet.
This was ideal for restaurant cooking, because most of the work could be done in advance and each portion could be finished to order -- which are pretty good criteria for home cooking too, especially when the outcome is as strong on flavor and texture as this. The trick is to use a cut that will cook up tender but that won't dry out in the second cooking -- and that won't taste like last week's stew.
Boneless pork butt seemed ideal, but my farmers' market favorite, Flying Pigs Farm, didn't have any, so I opted instead for an adjacent cut: a boneless blade roast from a little further back toward the rib rack. Before cooking it, I brined it for a day and a half in the fridge, but while there are benefits to this, it was dictated mainly by my timeline: a container of salt water was a good place to store the meat until it was needed.
My plan was to pot-roast the pork, which would yield moist meat and enough juices to make a little sauce. After wiping it dry, I seasoned the roast with lots and lots of whole fennel seed and not quite as much coarsely ground black pepper (the brining took care of the salt, so salt generously if you don't brine). Using a little grape-seed oil, I browned it in a smallish casserole over medium heat -- five minutes or so per surface: just golden, not charred. I removed it to a plate, poured out most of the fat and added diced onion, carrot and celery, plus parsley, sage and one clove of garlic. When these had just begun to brown, I returned the meat to the casserole, covered it and put it into the oven at a little under 350 degrees F. After 30 minutes, I turned it over; after another 30 it was done: tender enough to pierce fairly easily with a skewer, but with a little resistance. It was nearly well-done -- quite a bit more thoroughly cooked than I'd have made it for a normal roast.
I removed the meat to a plate and loosely covered it with aluminum foil. (At this point, after a rest, it would have made an excellent dinner without any further intervention.) I strained the vegetables out of the pan juices, then cooled and refrigerated the liquid until the fat had solidified. I removed this (and used some of it to make a porky version of potatoes Anna) and checked the 2/3 cup of defatted juices for seasoning: they needed nothing.
A few minutes before dinner, once the potatoes and the other accompaniment (pumpkin with shallots -- you'll read about it soon, I think) were ready, I cut the central portion of the roast (the eye and tail) into three slices just shy of an inch thick (saving the cap for another meal) and crisped them in a skillet barely slicked with some of the pork fat. I used fairly gentle heat to make sure the pork would heat through as it browned.
One slice per person, with a few spoonfuls of the juices (heated in a little pan), was a nice portion. It had all the advantages of what we'd eaten on vacation: an appetizing seared surface and a substantial, sufficiently tender and succulent interior that differentiated it from the same cut of pork prepared either by braising or by roasting alone.
The next day, Jackie and I had the cap of the roast pan-seared in the same way. Because it was composed of more heavily marbled (i.e. fattier) muscles, it was even better: juicier and more flavorful. So next time I will hold out for my favorite boneless pork butt roast.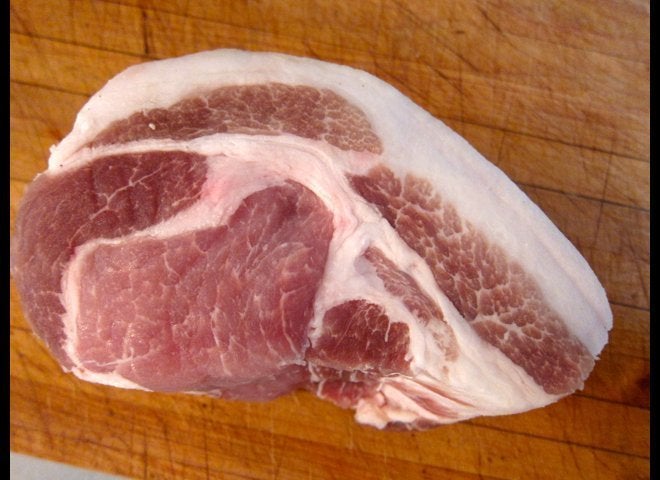 Twice-Cooked Pork, A Vacation Inspiration