The farmers' market sign said simply "Peas" and I was wearing my sunglasses - the ones with the not-quite-right prescription - and couldn't see all that clearly. So I was annoyed at myself when I got home to find that I'd bought a bag of sugar snap peas. I never buy sugar snap peas - or snow peas (mange-tout) come to that. I don't mind eating them if someone else has bought and cooked them, but for me, the unadorned word "peas" means standard-issue peas, the kind that must be removed from their pods: a relaxing and satisfying - though time-consuming - task.
Once I'd recovered from the shock of having snap peas in the house, it took just a couple of minutes to work out a way to eat the peas that Jackie and I love while taking advantage of snap peas' special attribute: tender, eatable pods. The solution was a risotto, the kind that uses a both the vegetable and a puree to reinforce the flavor of the featured ingredient and to ensure a particularly good, fluid consistency.
To start, I podded the peas (a generous pound, say 500 g). They're not as easy to shell as regular peas, and the job isn't as gratifying, but it can be done. I broke the ends off the fleshy pods, along with any strings from along the seams (in snap peas, these are minimal), and washed the pods in plenty of water. I boiled them in salted water for around 90 seconds - long enough for them to be cooked, but not long enough for them to lose their fresh flavor - drained them and cooled them in cold water. I put the pods into the bowl of a food processor, added maybe a quarter of a cup (60 ml) of cream and reduced them to a puree (slightly coarse: it's only a blender that can give you a super-smooth puree). Delicious, once salted.
I also cooked the peas in advance with half a tablespoon (10 g) of butter, salt and a splash of water in a covered pan over medium heat. I checked every 15 seconds to see how they were doing; they didn't take long to grow tender. Off the heat, I added a few tablespoonsful of shredded fresh mint leaves and set the peas aside.
The risotto, I started with a couple of little spring onions (white part only) and a quarter of a cup (60 ml by volume) of slivered Italian speck gently sweated until soft. I love lightly smoked ham with peas, but you can certainly omit the speck or substitute prosciutto or regular cooked ham. From that point, this proceeded like any other risotto: stir the rice into the onion mixture and cook for half a minute (I used carnaroli rice that day but use whatever risotto rice you favor), add and reduce white wine, then start adding light stock (salted) and keep stirring vigorously and more or less continuously. Diluted vegetable stock is ideal here; a mixture of one part chicken stock to two parts water is fine too.
When the rice is nearly done, add most of the pea pod puree and continue to stir energetically, and when it is completely cooked (with a slightly resistant texture but no actual hardness) stir in the cooked peas and mint; when the peas are hot turn off the heat and beat in a scant ounce (25 g) of butter and an optional small handful of grated parmesan. Cover the pan and leave it alone for two or three minutes. Before serving give it final stir and check for seasoning; you may need to add some more puree or stock to retain a fluid consistency. Because the pod puree adds its own dense moisture (even without cream), this can be a vegan dish if you omit the speck, use oil instead of butter and skip the final addition of butter and cheese.
Even though this experience won't change my shopping habits - shelling peas all the way in this house! - it led to one of the better summer risottos Jackie and I have had in a while. So a grudging hat tip to the pea breeders who introduced today's sugar snap variety in the late 1970s.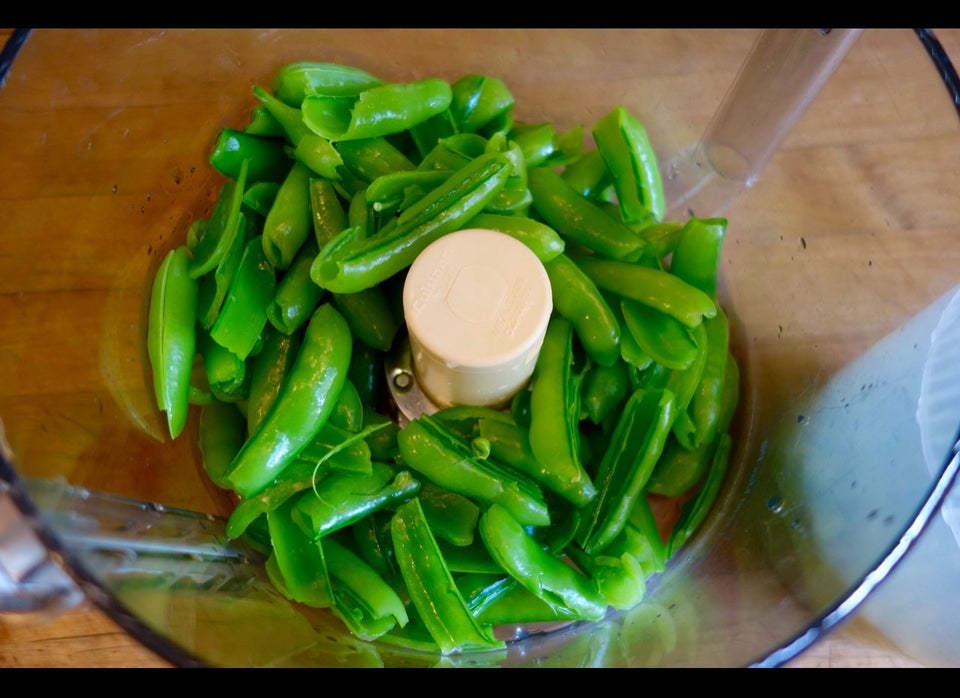 When Life Gives You Sugar Snap Peas, Make Risotto