In our cycle of snacks to serve with drinks, Jackie and I are always returning to old favorites. One of these is grilled cheese sandwiches - the American kind, which are not grilled at all, but cooked in a buttered skillet until the bread is brown and crisp and the cheese melted. Cut into two-bite fingers or triangles, these can take guests by surprise if they think of grilled cheese sandwiches solely in terms of lunch (often with a bowl of soup, most iconically tomato, usually out of a can).
Last time I mentioned this, I noted that a thin slice of ham was a good addition, and I specifically ruled out prosciutto and suchlike dry-cured raw hams. The reason was that teeth often fail to bite through these, meaning that the ham can be dragged out of the sandwich intact and left dangling indecorously from the lips.
The other day, though, I really wanted the slightly sweet, slightly rank savor of dry-cured ham in a plate of grilled cheese snacks and worked out a way to get it while keeping the sandwiches easy and neat to eat. For cooking, I sometimes buy either thicker slices of prosciutto that I cut into whatever form I need or, from time to time, a pack of trimmings or a chunk from the gnarly knuckle end of the ham. In this instance, I had the remains of a slice of Bayonne ham something more than 1/8 inch thick (around 4 mm); any good prosciutto or lightly smoked speck would do the job, even if it's thin-sliced. The rest of the ham had previously gone into a dish of duck confit with beans - a sort of lazy cook's cassoulet.
The remnant weighed about 1-1/2 ounces (40-odd grams). I tore it into a few pieces and chopped it in the food processor, along with less than a tablespoon (say, 10 grams) of butter and a little handful of grated parmesan, and processed until it became a spreadable paste: nearly pureed but still retaining some texture. With all those savory ingredients it needed no seasoning.
To make each sandwich, I cut the crusts off a modest slice of slightly sour part-rye bread (the excellent pain de seigle from New York's Balthazar Bakery) and smeared it with a thin coating of ham spread, then added a layer (also thin) of cheese. Use a tasty but not sharp cheese with good melting qualities; my current favorite is Pawlet from Consider Bardwell Farm in Vermont, but in the past I've used cheeses ranging from Gruyère to Monterey Jack. For aperitif snacks for four people, I made two of these: there were other nibbles too.
Topped with another slice of bread, the sandwiches went into a heavy-bottomed skillet slicked with the tiniest amount of butter and were cooked slowly, over medium-low heat and pressed down with a weight. The idea is for the bread to gradually crisp and brown and the cheese to melt; hence the low heat. The other idea is for the sandwiches not to be greasy; hence the minimal butter. Even so, I patted the sandwiches with paper towels before cutting them crosswise into elongated triangles and serving them on a warmed platter.
The main flavors and textures here are melted cheese and crisp bread, but there's an underlying taste and aroma of long-aged ham and parmesan that adds elegance and complexity to something that you'd think was already just about perfect.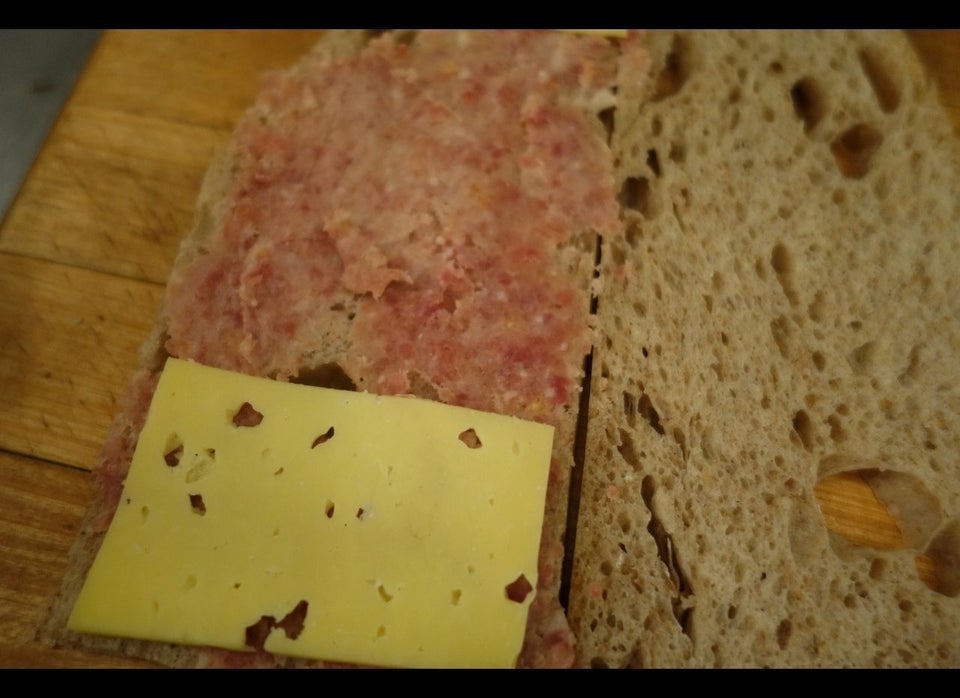 For a better grilled cheese sandwich, get hold of some prosciutto scraps