There are so many things you can eat in the days following a dinner of braised meat. One favorite is ravioli filled with leftover stewed beef and Swiss chard, as it might be served in Nice. Another is crisp patties/cutlets/rissoles made from chopped leftovers, and that's what Jackie and I had the other night, using the remains of a slowly braised pork shoulder roast.
There are several advantages to using braised rather than roasted meat: When reheated it doesn't toughen or taste indefinably wrong, as a roast can; it is full of flavor from its time in the stewpot; and it comes with its own gravy from the braising process.
When chopped up and compressed into patties for frying, even succulent pork shoulder risks being dense and even a trifle dry, and one of the best ways to ensure pleasing texture and moistness (and flavor) is to add mushrooms, which is what I did this time. I started with approximately equal weights of meat and ordinary white mushrooms, for two portions about six ounces (170 g) of each, knowing that by the time they were cooked the mushrooms would amount to a small fraction of their water-filled selves (raw mushrooms are about 90 per cent water). While sweating a finely chopped medium shallot in butter with some salt, I finely minced the mushrooms in a food processor (yes, hand-mincing is an option), then added them to the skillet with the softened shallots. I cooked them over medium heat until they rendered much of their moisture, then lowered the heat and continued to cook until they began to look rather dry and almost crumbly. With something a wet as mushrooms, however, looks deceive: Taste them and you'll find them still very moist. I let them cool until at least tepid.
As the mushrooms cooled, I chopped the meat - also finely and also in the food processor, making sure, however, that it was not reduced to a paste. In a bowl, I combined the meat and the mushrooms. Among the key flavors of the original braise were Spanish smoked paprika (pimentón) and fennel seed, so I added a little of each as reinforcement. I also added salt and pepper, chopped parsley and an egg, and mixed well with a rubber spatula - hands would have been an even better tool, but I needed a clean finger or two with which to take photographs. Finally, I incorporated a small handful of breadcrumbs, then left the mixture in the refrigerator, covered, for a couple of hours; this gave the breadcrumbs time to absorb moisture and become integrated into the mass. (At this point - or before the breadcrumbs had been added - this would have made a good ravioli filling.)
As mealtime approached, I formed the mixture into four discs a little less than an inch (2.5 cm) thick. I floured, egged and breadcrumbed them and left them in the fridge to set on a breadcrumb-dusted plate. I browned them in a mixture of neutral oil and clarified butter (the latter for its flavor; you could use all oil or all clarified butter - or whole butter if you're careful). The browning must proceed slowly to give the patties plenty of time to heat through.
Drained on paper towels, the patties/rissoles/cutlets, thanks to the mushrooms, were light and very savory. I served the first helping with mashed potatoes and whatever remained from the rich sauce generated during the braising; if there hadn't been enough, I could have eked it out with stock or just served the patties with a spritz of lemon juice. I'd never admit it to anyone, but we ate the second with Momofuku Ssäm Sauce, which you can, and should, buy on line.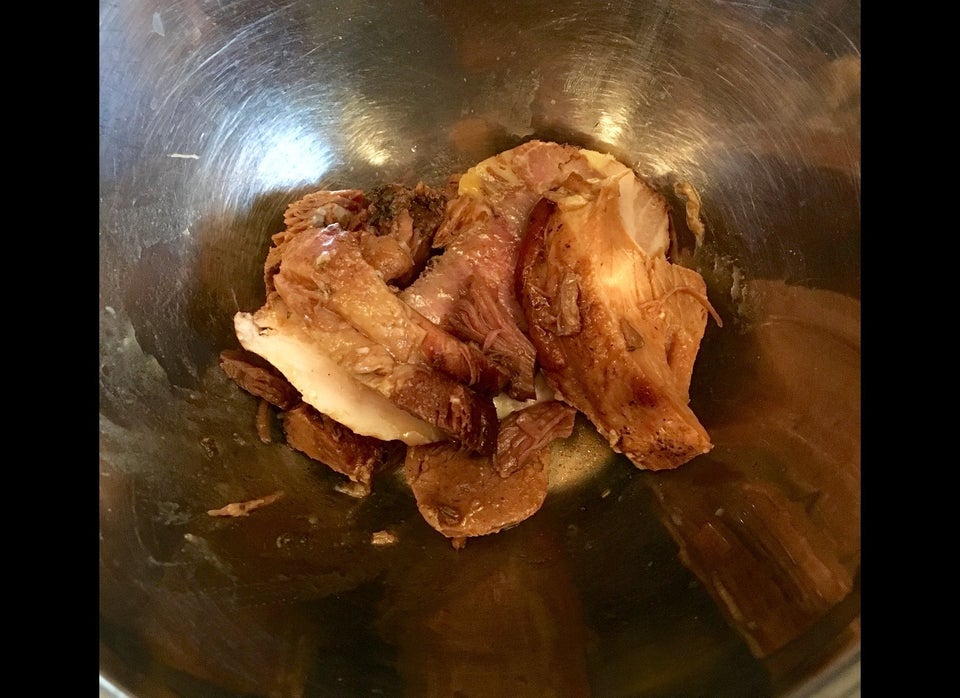 For Leftover-Pork Cutlets, a Key to Success is Mushrooms