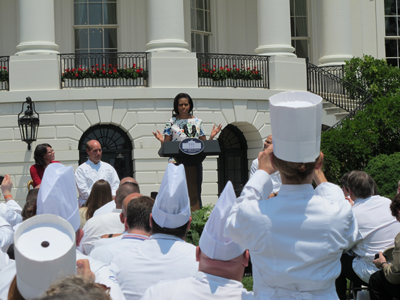 You know what they say - if you can't take the heat, stay out of the kitchen. The motto I came away with today has a slight variation: If you can't take the heat, stay out of the garden. The White House garden that is.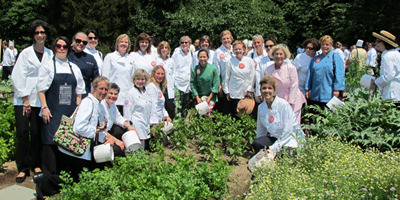 Today marked possibly the largest activist gathering of chefs in recent memory. They (we) came together not to look at new equipment or taste new products, but to join around the 'hot potato' issue of school food and commit to making a change. The event, initiated by First Lady Michelle Obama and publicized by Share our Strength (shareourstrength.org) resulted in close to 1,000 chefs gathering at the White House lawn to launch her initiative 'Let's Move', whose aim it is to end childhood obesity within a generation.

It was a scorching day - cloud free, hi-90's and humid - as we found old friends, made new acquaintances and shared stories about our commitments to being a part of the movement to improve the lives of our nation's children through food and cooking. After a sponsored breakfast with leaders of the healthy school food movement, the chefs converged on the White House for the key part of the day - a conversation with Michelle Obama about her dream of having chefs adopt every school in America.
There were the chef superstars - Marcus Samuelsson, Daniel Boulud, Anne Burrell, but mostly, there were everyday working chefs representing the broad scope of the industry - restaurants (high end and mid-range), corporate foodservice groups (Delaware North Companies, Marriot, Sodexho, Bon Appetit), catering professionals, culinary schools, chef/cookbook authors (Rozanne Gold), food activists (Hilary Baum, Ann Cooper, Lynn Fredricks, April Neujean), food chroniclers (Doug Duda) and many who fit multiple categories (Bill Telepan, Michel Nischan.)

As we gathered on the lawn, beginning at 10:30 AM on Friday, we were welcomed to visit the famous White House garden. It lived up to all expectations, a beautifully manicured, weed-free, lush garden where the cherry tomatoes were ripening, the sweet peas hung tantalizingly, and greens were ready for harvest. Tasteful signs bore the names of the vegetables. And in spite of the presence of hundreds of cooks, no one snuck a taste of an herb or ripe veggie. Photo ops abounded, as it was more exciting to have your picture taken in the garden than with the White House as a background. The veggies were so luscious, it isn't hard to imagine children eating broccoli grown here.

After baking in the sun for over an hour till we were both soggy and crisp, we moved to the south lawn and waited for Michelle Obama (thankfully, there were water stations). WH Executive Chef Sam Kass, who hails from the South Side of Chicago inner circle, talked about her longstanding desire to create a major initiative around health of children as the lynchpin for health of our nation.
As she spoke, the layers of messaging were clear: the health of our children, as influenced by what they eat, impacts how they learn, whether or not they succeed as adults and how we combat the 150 billion dollar tab to treat chronic diseases that are attributed to poor diet. "We must intervene now with children to make a change so the number doesn't grow."
The First Lady spoke of the power of men and women in 'whites', (as chef jackets are called, joking that she and her daughters teased Chef Sam calling them blouses) and spoke to the power of food in our lives. The joy of feeding people and the centrality of food at every important event reinforces the connection between chefs and communities - and in this case - children. "What we put into our bodies influences health", (a simple fact that for some crazy reason, is ignored by our society that allows children and adults to consume vast amounts of unhealthy food and beverage.)
Mrs. Obama's Let's Move initiative has 4 components:
Getting more information to parents so they can make good choices;
Providing access to quality and affordable food for all; addressing the issue of food deserts;
Incorporating physical movement and activity into every day;
Providing healthy meals at school.
She lauded The Child Nutrition Reauthorization Act, which is working its way through congress with bi-partisan support (maybe the only bill of its kind) is designed to expand access to food especially in low-income families, provide more nutritious offerings and simplify the administration of food benefits. But change cannot come from Washington, who lacks the authority to tell people what to eat, stated the First Lady. Her vision brings together food manufacturers, chefs, parents, teachers and leaders with the goal of having every chef adopt a school and become part of its community as a prelude to working together with school foodservice workers to improve the quality of what is served to the children. "No one knows more about food, except Grandmothers. Chefs can make a Salad Bar fun and delicious. They share their passion and it's contagious." She recalled her mother's broccoli, which was so overcooked and mushy, "you could eat it with a spoon, which makes it hard to like." Chefs can teach where food comes from; establish healthy consistent eating habits and - most critically - do it on a school food budget.
It was good to be inspired by the First Lady - and she appealed to the part in us that wants to help. She addressed the basic cooperative and collaborative principles that are essential to the success of this effort:
Don't take over - learn how to interact with the school food professionals; thank them for their hard work; support what they do; they work long hours.
Learn your community; see what equipment is available; what level of change can be sustained; be patient.
Bring the lessons of cooking and food into the classroom as well: Cooking demonstrations, cooking clubs, plant a garden.
Not unlike a President delivering the State of the Union address, she gave shout-outs to chefs in the audience who have been working successfully with local schools, from Washington to Minnesota to Santa Fe. She read quotes from letters children wrote letters after their visits to her garden, one child saying that since her time in the garden, she will think about the choices of what to put in her mouth; or the boy who will recall the garden and now will be gentle to nature, his body and other people.
In her closing thoughts, she said that kids can change overnight, that together we can change their future and that of our nation. "Every school needs a chef partner to make the children believe you care about how they grow up."
Isn't that the simple truth? Our children need to be shown that we care. Lets start by making good food an unconditional part of their lives.

Calling all HuffPost superfans!
Sign up for membership to become a founding member and help shape HuffPost's next chapter