"Cooking with the Bears –- Healthy Recipes by Hairy Men "claims to be the first cookbook in the world dedicated to all of the men who identifying as being a part of the bear community. Created by Angelo Sindaco, the cookbook contains a number of sexy images of bears creating unique Italian meals and all of the book's recipes informed by the different regional dishes throughout Italy.
The Huffington Post chatted with Sindaco this week about "Cooking with the Bears –- Healthy Recipes by Hairy Men" to find out what readers can expect from the cookbook.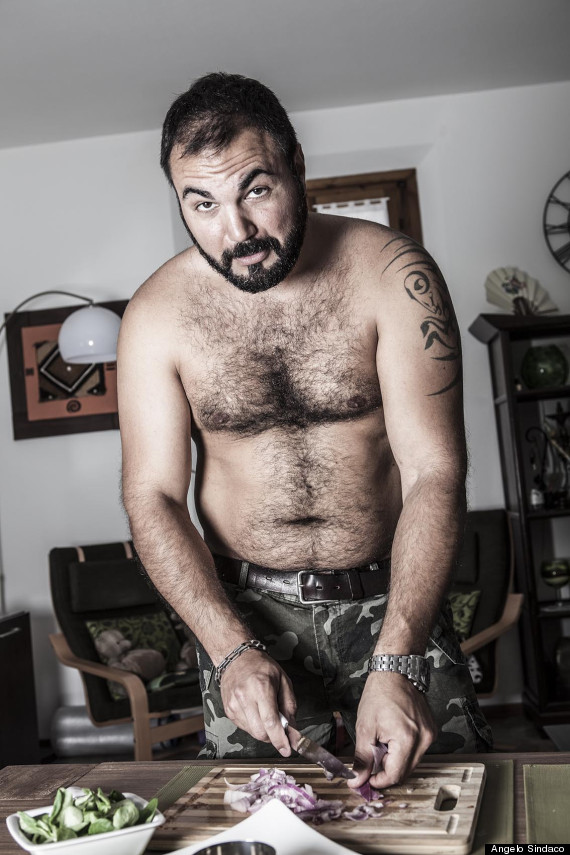 The Huffington Post: Why did you decide to embark on this project? Angelo Sindaco: The idea came to my mind about two years ago. I wanted to explore a world that is mostly still unknown, especially in the straight audience, by using a universal key: food. I didn't want to give an erotic taste to the project. If there's any, you must blame the models. It's very interesting that we're having a lot of women buying the book and supporting enthusiastically the project.
Why is it important to you to have a cookbook that focuses primarily on the bear community? In my own opinion, being a (gay) bear means to accept and enjoy your own body, your hair and not caring about the rules imposed on you by the mainstream. It's a big "fuck you" to the plastic idea of how you should look or act. More or less, it is an iconoclastic thing -- especially in these days.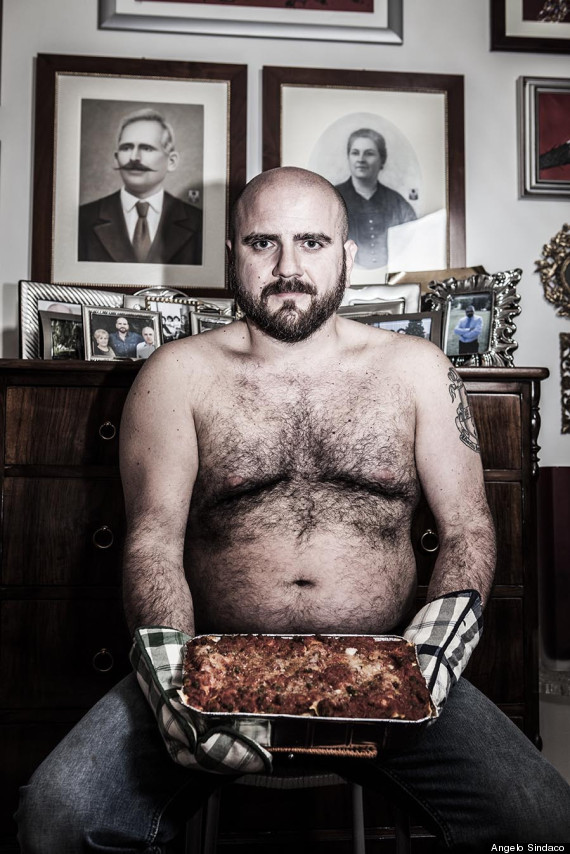 How does this cookbook explore the "extremes of body representation," as noted by Vogue Italia? I guess that at Vogue Italia they consider "extreme" anyone more in shape than the anorexic bodies on the magazine's pages...
What types of recipes can consumers expect? What do you hope they take away from this project? Oh, here comes the hot news: there are more than 30 incredible italian recipes in this book. But -- surprise! -- they're all easy and fun to cook, especially if you are in good company. Plus, there's a bit of our culture [in the project]. Italy is strictly bound with food; each city has a its own dishes. We tried to represent the wider spectrum as possible of our beautiful but complex country trough our charming bear chefs. Bad news: when in Italy don't ask for spaghetti bolognese -- nobody knows what the hell that is there.
Interested in seeing more from the "Cooking with Bears"? Check out the slideshow below and head here for more information.
Calling all HuffPost superfans!
Sign up for membership to become a founding member and help shape HuffPost's next chapter
BEFORE YOU GO
PHOTO GALLERY
Cooking With The Bears -- Healthy Recipes By Hairy Men