Who doesn't love a dish that's to die for? What's better than a meal so good that we'll lick our lips and suck our fingertips in approval? As "foodie" becomes a common adjective people use as garnish to describe themselves, we are starting to take our palettes a bit too seriously. Cooking shows, especially cooking nightmare and disasters programs, are all the rage, and the celebrity of chef is at an all time high.
Spanish filmmaker Roger Gual says of the sensual experience that is a fine meal, "Eating is one of the few universal pleasures, and the only one we can enjoy using the five senses: taste, sight, smell, touch and hearing. As the Brazilian writer Luis Fernando Verissimo once said: 'It's not every day you want to listen to a Bach sonata, or love a woman -- but every day you want to eat.'"
Gual's latest film, Tasting Menu (in theaters in Los Angeles and New York on April 18), takes place the night of the closing of one of the world's greatest restaurants and focuses with a sharp wit how the lives of the guests and staff are affected. The exquisite onscreen menu was designed by Joan Roca, the famed chef at El Celler de Can Roca, which is widely regarded as one of the best restaurants in the world. It's all pleasing eye candy that will leave you ravenous after watching.
While Tasting Menu is reminiscent of other culinary related films such as Babette's Feast, Big Night, Chocolat and What's Cooking?, another acclaimed Spanish chef, José Andrés, serves as culinary consultant to the dark and disturbing "Hannibal" TV series. In this case, the mood is more akin to The Cook, the Thief, His Wife & Her Lover, and Eat the Rich. And in the daring kitchen of Hannibal Lecter (played deliciously by Danish actor Mads Mikkelsen), "nothing here is vegetarian" Lecter proudly declares.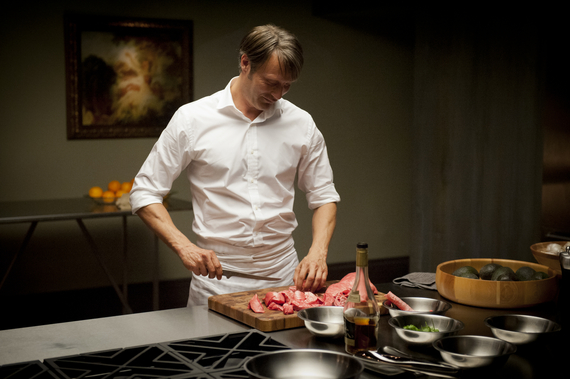 Delectable dishes Hannibal has served this season include Lung and Loin Bourguignonne, Tandoori Liver and most recently, he served Dr. Abel Gideon (played by Eddie Izzard) thigh baked in clay with marrow with tiny Lady Apples on the side. Oh, by the way, the thigh was Gideon's very own, which Hannibal amputated. How does one politely decline eating one's own flesh? You don't if Hannibal the Cannibal is chef.
Credited with bringing the small plates dining concept to America, Chef Andres, who's 20+ tasting menu at Saam at The Bazaar in Los Angeles is an at least once-in-a-lifetime treat, is beloved for his daring, almost scientific approach to cooking. Hannibal couldn't have asked for a better kitchen counterpart. Below, chef talks about Hannibal's fare and the challenges of preparing fine cannibal cuisine.
The cuisine on "Hannibal" is so instrumental to the story of the show, as Culinary Consultant do you work with the producers to come up with the dishes?
Bryan Fuller [the show's creator] and Janice Poon [food stylist and Toronto-based artist] have been really amazing to work with. They are the visionaries of the show and have done an amazing job bringing Hannibal and his character to life. I came on as culinary consultant to help them tell Hannibal's story through a gastronomic lens. When I read the script and learned more about Hannibal I was really amazed to see how he looks at food and ingredients. His meals are simple, elegant and refined, and this is how we as chefs think. The three of us work really well together. Basically, I'll get an email from Bryan while he is in the middle of writing the script for an episode. We will go back and forth between him, Janice and myself and we will brainstorm. What would Hannibal talk about at a dinner party to impress his guests? Which type of animal's flesh would you use that most closely represents a human loin? Sometimes he just wants to get the chef's perspective on a certain subject.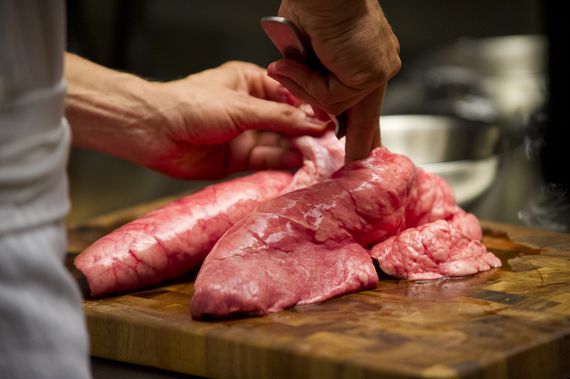 Hannibal the Cannibal, especially on this series, is quite the chef. The meals he prepares are far more elaborate than "liver with fava beans and a nice Chianti." What's the biggest challenge to make Lecter's meals look delectable and yet unsettling knowing he's serving human remains?
This has been a really fun challenge. Hannibal's character is very precise, calculated and methodical so you see this reflected in how he prepares his food. He believes in sophisticated and thoughtful presentation. I love that. Every time I get a script, I read the whole thing and it comes alive. It's changing and complex just like Hannibal's character. My goal is to think of something that captures Hannibal's essence and becomes a metaphor for the greater story.
When all else fails, is there an ingredient to make a dish visually stimulating to make it come across as human?
The ingredients can vary depending on what we are creating. It depends on the scene and the actors too because some may be vegetarians or have allergies so we have a lot to think about in creating the dishes. I remember we came up with an idea for a tongue dish, which Hannibal told his guests was lamb. Real lamb tongue doesn't always look so good so Janice, who is so talented, had the idea to make the tongue out of bulgur. In the end, the dish was something like a kibbeh. So the dishes can be made of anything. The idea is to make it look beautiful and to trick the audience to believe it is something much more dangerous.

Have you ever been unsettled by anything prepared on the show or the by the nature of the show itself?
Of course not! I love the show. Janice Poon has done a really great job styling the food because even though you are watching Hannibal cook a human foot, Hannibal makes it very beautiful and thoughtfully prepared.

Would you ever consider serving an evening of "Hannibal" inspired dishes at one of your restaurants?
Of course! This is fun! But I'd probably have to invite Janice to help me! It would have to be something sexy like veal brain.
Would you like to see Hannibal Lecter get into Molecular gastronomy and cook with liquid nitrogen, even incorporating a syringe for unexpected fillings?
Well, first of all, molecular gastronomy I don't think is the right term. This is a very new term to explain science in cooking, which has been around for centuries -- something as simple as blue cheese has penicillin, but we never call it molecular. My approach to cooking is about combining science and cooking and to the why of things; to explore textures and flavors but this isn't molecular. Hannibal is a Renaissance Man. He loves the history but he also embraces science and technology; kind of like taking history and putting his own new twist on it. I can see him using modern techniques in cooking, however, I love that he embraces the classics.

Before Hannibal gets his comeuppance, what would be his "last meal" (the one to go out with a bang)?
Hannibal's perfect last meal would be a meat sashimi of every edible part of his own body that he would still be able to enjoy without pain.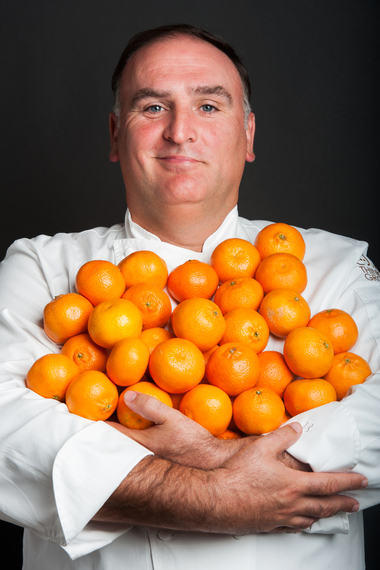 Hannibal airs Friday nights on NBC.
Calling all HuffPost superfans!
Sign up for membership to become a founding member and help shape HuffPost's next chapter