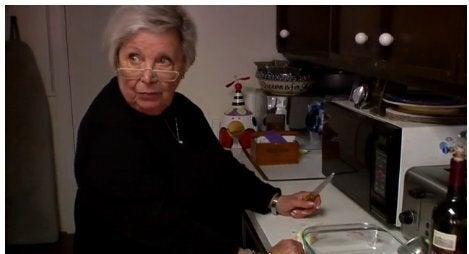 In this extremely special episode, you get to meet my grandma Hilde, an incredible lady and a huge influence on my life and cooking. Grandma Hilde, in fact, was the first person who taught me my way around the kitchen when I was 20 and finally starting to take interest in the world of cooking at home. I completely love and adore her and you will too - the episode is a true family affair and it's absolutely hilarious.
Oh - and the recipe! It's a little out of season - the eating of noodle kugel tends to happen in the fall around the Jewish high-holidays - but regardless of the time of year, it's absolutely a recipe worth knowing. Classic, decadent and filled with tradition and love. Nothing better!
WIthout further ado, straight from her kitchen in Dallas, my grandma. ENJOY!
-1 8 oz package of wide egg noodles
-Preheat oven to 350 degrees
-In a medium size pot, boil water for pasta
-Melt 1 stick of butter in the microwave or on the stove top.
-In a large bowl, combine melted butter, cream cheese and whole milk. Mix together (using mix master or by hand). One by one, add 4 eggs. Mix until fully combined. Set aside
-Cook pasta until al dente, 5 to 7 minutes. When pasta is done, rinse and combine with the cream cheese mixture in a 2 qt casserole dish (small baking dish).
-In a bag, combine cornflakes, sugar and cinnamon. Crush the cornflakes with a rolling pin or with your hands. Top the kugel with the cornflakes. Bake at 350 for 1 hour.
Store in refrigerator for up a week.
Related