At the Taste of the Hawaiian Range agricultural festival on Oct. 4 at the Hilton Waikoloa Village on the Big Island, Chef Hubert Des Marais, of the Fairmont Orchid Hawaii, led a grass-fed beef cooking demonstration. He had all sorts of tricks and tips for cooking the sustainable Hawaiian meat product.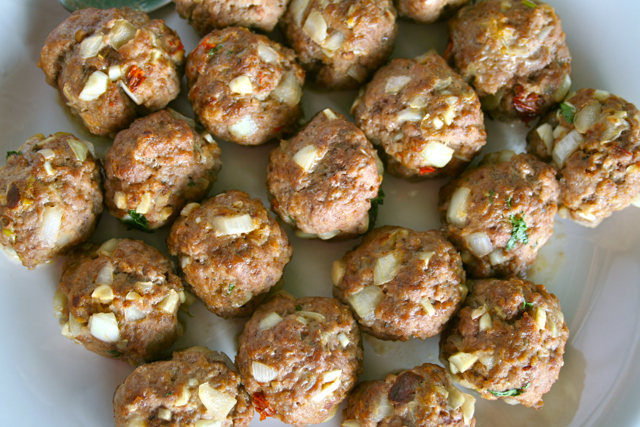 Southwestern Meatballs using grass-fed ground beef, recipe below
Since grass-fed beef tends to have less fat than its feed lot counterparts, it often gets a bad rap for being tougher. While in some ways that may be true, grass-fed beef is far tastier due to its natural source of feed and the general conditions the animal has lived under, making cooking with it well worth a little extra effort. One important distinction to note is the difference between grass-fed and grass-finished cows. Grass-fed cows are often raised on grass within a few months of harvesting, then shipped to the mainland to get fat or "finished" in a feed lot. Grass-finished cows have eaten grass their whole lives. If you are unsure of which you are buying at the store, simply ask someone in the meat department for more information.
Have I convinced you yet? Good. Let's get cooking. First we need to find the beef. Grocery stores like KTA, Island Naturals and Foodland all sell grass-fed beef; look for special labeling or ask the butcher. For a complete list of stores and restaurants that sell grass-fed beef on the Big Island, click here.
If you want to grill your beef like a steak, look for skirt, flank, sirloin, or tenderloin. Chef Des Marais recommends massaging in a spice rub and oil on the meat as a marinade, allowing it absorb the flavors in the fridge for a few hours or overnight. Do not over trim the fat from the steaks, fat is flavor and since the meat does not have a lot of fat in general, you are going to want as much you can get. Also, do not salt the meat until after it is cooking as salt draws moisture out.
A common cut I've seen in the grocery store is top round. This cut definitely needs some tenderizing before cooking. Chef Des Marais highly suggests using the enzymes in papaya to tenderize by throwing a whole papaya in a blender (seeds, skin and all), dipping your top round in the papaya, and allowing it to rest in the fridge for eight hours or until soft to the touch, but not mushy. Keep an eye on it if it is a thin cut, it may take less time to tenderize. Do not soak the meat in the papaya, it's important that you only dip it in. Less is more here. Then season and grill or use in stir-fry.
Other large cuts such as brisket, roasts, or tongue need to be cooked low and slow. A slow cooker, like a Crock Pot, is key for the home cook. Start out by either allowing the meat to sit covered in a dry rub overnight or in a brine for 24 hours in the fridge. A brine usually consists of salt, sugar, garlic, and spices mixed with enough boiling water to cover the meat, allowing the water to cool before adding the meat. When ready to cook, rinse the brine off gently and sear in a heavy skillet, allowing the outside of the meat to brown. Transfer meat to a slow cooker with a little liquid and perhaps some onions, carrots, and celery and cook on low for eight hours. Be careful when carving a brisket, as it has two parts that need to be separated before cutting (the grain travels in opposite directions).
Last but not least, and certainly the easiest cut to work with, is ground beef. Below is a recipe I created using ground grass-fed beef. If you've never tried it before, I suggest you try the ground first, and work your way up to the other cuts. Ready to try some more adventures cuts? Check out my favorite grass-fed beef recipes. I think you'll find that grass-fed certainly is more flavorful than any feed lot beef on the market.
1 lb ground grass-fed beef
1 egg
1/4 cup panko or breadcrumbs
2 cloves garlic, chopped
1/4 cup onion, finely chopped
1 chipotle chili in adobo, chopped
zest of 1 lime
juice from 1/2 lime
salt & pepper
Dipping sauce:
1/2 cup plain or Greek yogurt
2 TBL fresh cilantro
juice from 1/2 lime
salt & pepper
Preheat oven to 400. Oil a rimmed baking sheet or pan. In a large bowl combine beef, egg, panko, garlic, onion, chili, lime zest, juice, and salt & pepper to taste. Roll into golfball size. Place on baking sheet and bake for 15 minutes.
To make dipping sauce combine yogurt, cilantro, lime and salt & pepper to taste in a small bowl. Place meatballs on a platter to serve with dipping sauce on the side as a pupu. Could also be formed into patties and enjoyed as burgers. Enjoy!
Related