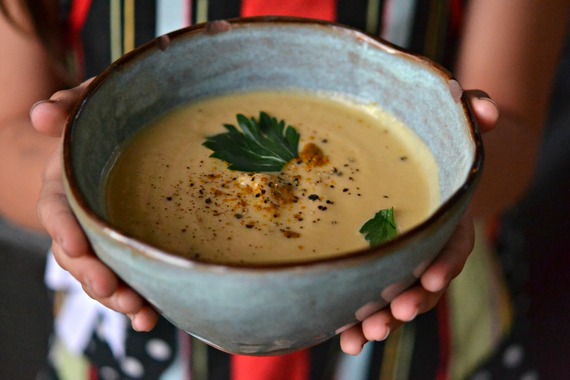 My grand idea for this year's Thanksgiving went to the wayside when several family issues occurred. Being a mother, I had to pay more attention to my children rather than anything else. I had been imagining what to make for Thanksgiving since August, staring out upon my barren backyard and dusty patio, visualizing a table full of feast, family and friends. Plans changed, and this year will be a light lunch served with butternut squash soup -- which I happen to take pleasure in making every year -- and then we're loading into the car to have a proper Thanksgiving at our friends' house later in the afternoon.
When I'm cooking, the world is a peaceful place, and my kitchen is where I want to be. Thanksgiving is my most favorite holiday.
During the week, I've become accustomed to picking up a burrito for myself when my low blood sugar level is sinking, so I pick up more burritos for dinner, because the kids like them, and they're fairly healthy. I actually find them quite satisfying: black beans, brown rice, veggies and, of course, loads of guacamole. I eat avocados almost daily, and my cousin in rainy England reminds me of how lucky we are for all the avocado bounty we have in California. There's a Mexican supermarket close to my house in the valley that shames even the grandest Whole Foods Market display of avocados. The first time I discovered it, I heard angels singing and the mountain of avocados for .59 each (that's two perfectly ripe avocados for a little over a dollar) looked like one of those pot of gold cartoons with the shining visual animation.
The fantasy of taking a vacation drifts along the landscape of my thoughts while I'm waiting for the left turn signal. I have perspective and realize that my toughest days aren't the worst, because I don't like complaining or wallowing in negative thoughts, I still have gratitude.
I thought that I'd have my garden designed and planted by this time, with pretty tableware and plenty of food for the celebration. In my mind, I had a whole spread on the table, better than last year, though it was quite amazing that I churned out nine vegan-inspired dishes for twelve people, in addition, desserts. I found my kitchen notes stashed away in a drawer while I was cleaning, and remembered all that I made: mashed potatoes with a rich mushroom gravy, cornbread stuffing, wild rice pilaf, grilled sweet potatoes and kabocha, my ritual butternut squash soup, mushroom soup, green beans and a colorful kale salad with hazelnuts and lemon. I also made endive with figs and honey chèvre and grapes. I made a pumpkin pie and an apple galette, served with coconut ice cream, as well as caramel sauce, just because caramel sauce makes me feel happy.
Gratitude is written in chalk on the framed chalkboard sign above my stove. I look at this everyday. When I'm cooking or when I'm making tea at night, I contemplate gratitude.
It's easy to feel complete contentment when things are going right, but something in the depth of my soul seeks to push me beyond this place. Perhaps it's the way of a creative spirit. We seek to constantly move beyond ourselves, improve, strive to make things even better. This is good when you are cooking, because the creative act is like meditation, and you can think about how to make food with more love in it. I like to keep a positive mind when cooking. I intentionally think about happy moments, such as the birth of my children, laughter, funny things that have happened, and love itself. You cannot think of your troubles when cooking. Just like the story Like Water For Chocolate, your emotions transfer into the food you prepare, at least that is what I believe. I'm superstitious about this and will not cook when angry, sad, depressed, exhausted or incredibly hungry.
I also find when I haven't cooked or even prepared a meal in a long time (not everything requires heating or cooking by flame), I'm out of sorts. My body hurts, my mind is clouded with things that aren't working, and I can't relax properly. Being creative, I need to paint, write, make love or cook. It comes down to those things that make me the most happy and peaceful. Even the act of giving love to my children in the form of hugs and cooking meals is nourishing to the soul.
Gratitude is the experience of emotion that is rooted in appreciation for what is good. We can show our gratitude, parallel to giving love, by sharing. We all want to feel appreciated.
The world and its news is filled with tragedies, horrors, sadnesses, and, because of the recent Paris attacks, my heart drowns in sorrow. I cannot fathom the losses due to the deaths of those killed in Paris, France, nor any other country and city. Loss and sorrow fill those hearts of many around the world during these holidays. My heart sinks when I imagine what their days and nights are like without those they loved. Mothers lost their children, husbands lost their wives, wives lost their husbands, children lost their parents, lovers lost their beloveds, friends lost their friends. In this world, their have been atrocities, killings, hatred and innocent people forever gone to this world. I try not to imagine, and maybe it's morbid of me, but in my way, it's giving love back to the heart of existence on this planet. I try to put myself in the place of the husband who lost his wife, and feel his pain. The depth of his anguish. The empty space by his bed where she slept. The mother who lost her daughter who was in college abroad. There are no words to give these people, and their every day forward is without that person they loved so entirely. In each meditation, as I am driving in the morning, or if I am standing in line at the supermarket, I stay present, observing each person, trying to understand that we are all here together on this earth, figuring out what life is, how we want to spend it, and forgetting how quickly it all ends, sometimes without warning, due to accident, sickness, terrorism, violence. We cannot know. Practicing gratitude this year, we can remember those who are suffering. We can reach out to people and bring them food. We can serve them at our table and share in the thankfulness. We don't need to be American to have Thanksgiving.
Gratitude isn't an easy one. Genetic researchers have discovered that some people are inclined to appreciate more than others. I've noticed in my three children such variations in their own abilities to appreciate what they have or bemoan what they don't.
I feel gratitude for what I have in this life. I seek love, give love, ask for love and in cooking for those I love, I am giving them my appreciation, compassion, happiness, peaceful thoughts and love as ingredients.
Since I've not had the means to create what I envisioned for this year's Thanksgiving, I have to change my mindset and believe that it is enough, though maybe not how I wanted it to be. Letting go of the perfect Thanksgiving, it becomes the perfect Thanksgiving, though maybe not in the catalogue-beautiful, sunset-picturesque perfection way, or maybe it is.
Just being present in gratitude of life itself is enough. Making food comforts, an act of celebrating something good made out of what ingredients you have.
The cinder block wall in the backyard will eventually be covered with bamboo fencing. The grass removed will be replanted with longer fescue grass, another citrus tree, a Meyer lemon, will be planted, some stone paving, an area to grow vegetables -- those pesky squirrels better not eat them because I'll cover the edible garden with netting, though my poor oranges are plundered the moment they are ripe.
I'll have my youngest daughter set up the table, prepare our Thanksgiving day luncheon, and perhaps next year at this time I'll have more friends over, share more, give more. This year, I needed the giving to, and that also means, giving to myself the patience and gratitude in just being alive and grateful for that. There are those who are not, and there are those who have much harder lives that worrying about their vegetable gardens being eaten by squirrels.
We have much to be thankful for here on earth. Let's celebrate by making something to eat and share with those we love. That act of love and kindness is all that matters, and we can make it better, in small ways, with this chain effect of gratitude and giving.