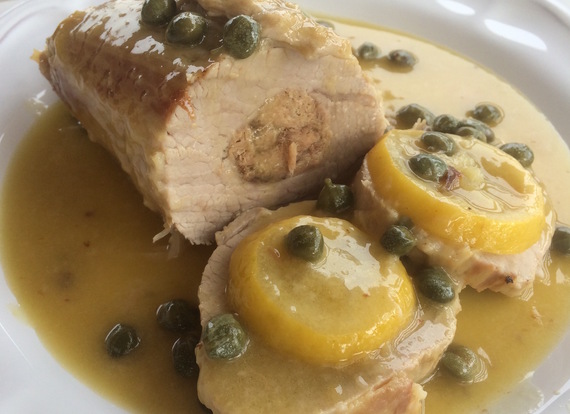 And there we were, food writer Saverio de Luca and I trying to figure out how to cook my great-grandmother's handwritten recipes on a wood stove. I remember her as a tiny and quiet woman, always dressed in black, mysterious and a bit scary. We were removed from her in terms of generations, gender, and upbringing. Nevertheless, we were intrigued by the culinary knowledge she had decided to share with her friends and family, and that somehow had been handed down to me. Saverio's wood stove from the 1940s supported out attempt at recreating her dishes, and to better understand her experience.
We immediately realized that we lacked much of the background knowledge that was necessary to even make sense of the recipes, written in a language hesitating between Italian and her native dialect, and in a telegraphed style that gave a noticeable amount of practical expertise and skills for granted. Here are the recipes.
Toltonné
You take a piece of lean meat, such as a loin, then you stuff it with anchovies and tuna fish. After you stuffed it well, pass it in flour. Then you start cooking it in a pan with water, oil, and white wine. When the meat is cooked, after boiling slowly, you add a sliced lemon. After boiling for a while, you need to strain that sauce. Then you take capers, nicely desalted, and you add them to the sauce, making it simmer all together. Then you cut the meat in slices and put some of the sauce on every slice.
Taralli
Three pounds of flour, one pound of sugar, a glass of wine, one of oil, one of rum.
That was it. It became immediately clear that we needed some guidance, or at least some cultural facilitation. We ended up calling my mother, who as a young girl, during World War II, had lived in my great-grandmother's village, had cooked at the wood stove, and had learned those recipes from her mother and other women. She immediately knew what we were getting ready to make, and helped us interpret the somewhat cryptic texts.
Toltonné is a version of vitello tonnato, a familiar recipe from Piedmont, in Northwestern Italy. Interestingly, my great grandmother called it in a way that echoed vitel tonné, a French-inflected name that reflects the influence of French cuisine on the traditions of that part of Italy. The recipe had presumably been jotted down in the 1920s or 1930s, not that long after the unification of Italy in the 1860s. Nevertheless, a specialty from Piedmont had found its way to the mountains of central Italy, showing how a national culinary tradition was slowly developing by connecting very distinctive techniques, ingredients, as well as cultural values and habits. In fact, vitello tonnato appears in Pellegrino Artusi's 1891 The Science in the Kitchen and the Art of Eating Well, widely considered the first attempt at outlining an Italian cuisine. Maybe adding such dish to her repertoire increased my great-grandmother's sense of being part of a reality that went beyond her village. Tarallo is a more local baked cookie, but nevertheless my mother's explanation was indispensable for us to distinguish it from another dessert with the same name. Just from the ingredients, she knew what her grandmother was referring to. We had no clue.
Once we figured out what we were doing, we had to negotiate cooking on the wood stove. We realized that our hands and bodies were being asked to perform new actions. From the start, you need to know how to choose various kinds of wood pieces to use at specific times, depending on what kind of flame you need. That required buying wood and carrying it upstairs, which we easily did in an elevator but in the past obviously required a great amount of logistics and physical labor. We were also being challenged to materially relate to food preparation in a different way. Heat can be controlled by moving the pot more or less close to the center of the stove, and by removing metal rings that allow more direct contact with the flame. Also, the regulation of the air draft makes the wood burn faster or slower. The oven turned out to be the most difficult to manage, as the heat could only be regulated by the quantity and type of wood burned. In fact, the temperature indicator had only three positions: desserts, roasts, and bread, just giving us the vaguest indication that we were on the right track.
While the toltonné came out gloriously, the arguably simpler taralli were a disaster. The first batch had a scorched surface and a still soft interior, while the second never really cooked, as we may have waited too long for the oven to cool off. I have an all-new admiration and respect for the abilities of those women whose talents were not given enough credit, discounted as what they were supposed to do as wives and daughters. A vast amount of embodied knowledge (and physical endurance) got little recognition, hidden in daily chores or special occasion cooking. At the end of the day, Saverio and I were exhausted, excited about what we had achieved, and in awe of what our female ancestors must have been able to pull off on a daily basis.