With summer winding down it's the perfect time to get creative with your end of summer vacation!
When we were looking at ideas for our next ABC Travel Show we wanted to go beyond the usual summer vacations, where you just sit on the beach and sip cool cocktails, so we came up with the idea to feature some unique and fun Learning Vacations.
I host the ABC Travel Show show and I also work as a correspondent, traveling around the world shooting special spotlight travel features for the show. In the true spirit of doing it all, I take a small camera with me and this way I can give a true insider perspective of what it's like to experience these destinations up close and personal!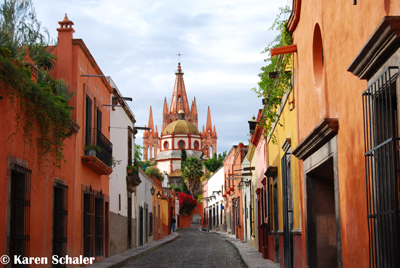 For our Learning Vacation show that's airing right now around the country on ABC News Now and featured on abcnews.com, I decided for my Learning Vacation travel feature to head to a small town in Mexico that my grandparents first visited more than forty years ago, San Miguel de Allende.
My grandparents, Pat and Walter Crane, ended up loving San Miguel so much they bought a home in Mexico and spent twenty years living in Mexico six months out of the year. I've always wondered what made San Miguel so special so figured it was the perfect place for my Learning Vacation. It was just an added bonus that I found a new unique hotel that has just opened , Hotel Matilda, offering some really cool and interesting things to do from margarita making and art classes to organic cooking!
Check it all out in the San Miguel de Allende, Mexico, spotlight I put together for our ABC Travel Show. I'd love to hear what you think!
Karen Schaler Hosts ABC TRAVEL SHOW: Learning Vacations