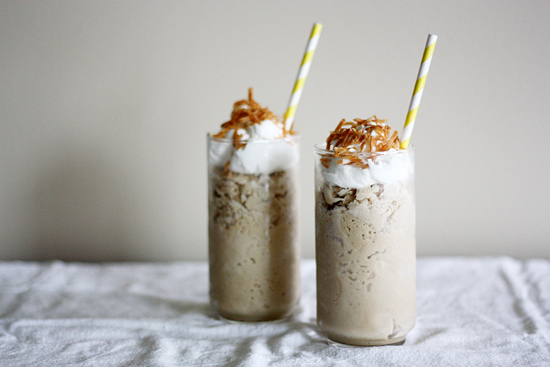 For someone who loves the summertime for all of its outdoor splendor, I am a wimp when it comes to the weather. Nothing will dampen my sunshine-loving mood than a swelteringly hot day (me + heat = not a pretty sight, y'all).
Over the years I've learned to keep on hand a hearty arsenal of cool and refreshing food and drinks, like watermelon, popsicles, sparkling water, etc., for those hairy moments of feeling overheated. But this year? This year is different, because I've found my absolute favorite go-to refreshment -- frozen Thai iced coffee.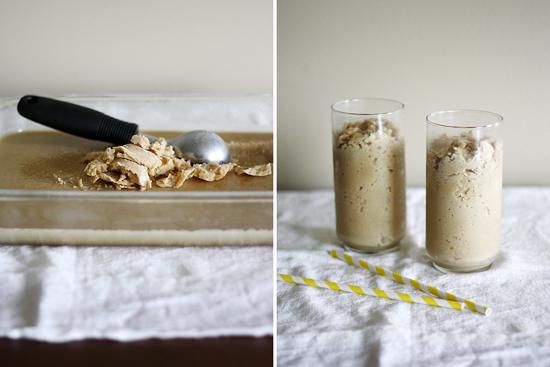 Oh my good gracious, people, this is good. Of course, the strong coffee and sweetened condensed milk (oh, and whipped cream and toasted coconut on top) all contribute to its tastiness. I love making a huge batch of this drink at night and, as the day warms up the next morning and I start getting overheated and cranky (which may or may not happen more often than I care to admit), I put a few scoops into a glass, give it a stir and get to sippin'. And in just a few minutes, I am no longer cursing and shaking my fist at the heat. I'm also quite energized because, hello, coffee! I mean, if that's not the perfect summer pick-me-up, I don't know what is.
If you're a fan of Thai iced tea, you will love this drink. If you love having cool drinks on hot summer days, you will love this drink. If you love coffee, you will love this drink. If you love ice cream, you will love this drink. If you don't love feeling like the melting wicked witch of the West in the summertime, you will love this drink. Basically, it doesn't take much to, well, love this drink.
Happy (calm, cool and refreshing) summer, friends!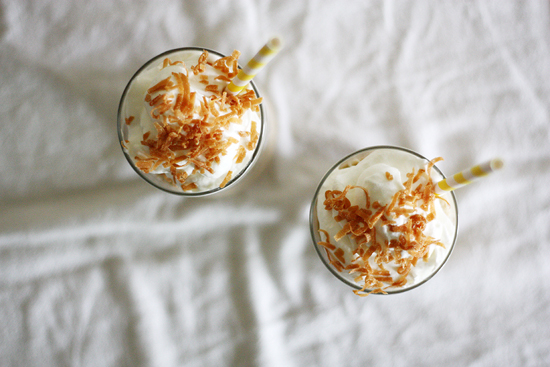 2 cups strong hot coffee
1 can (14 oz) sweetened condensed milk
1 cup 2 percent or whole milk
1 teaspoon vanilla
1 cup heavy whipping cream
1 tablespoon granulated sugar
1/2 cup sweetened coconut flakes
In a large bowl or heatproof pitcher, stir hot coffee, condensed milk, milk and vanilla. Cover and chill at least 8 hours or overnight.
Pour chilled mixture into a shallow pan (I used a 13-by-9-inch baking pan). Freeze until solid, about 4 hours.
Meanwhile, make the whipped cream: Beat heavy cream and sugar on high speed until stiff peaks form, about 2 to 3 minutes. Chill until ready to use.
Toast the coconut: Heat oven to 350 degrees F. Spread coconut flakes on a baking sheet; toast in oven, stirring occasionally, until golden brown, about 7 to 10 minutes.
Scoop frozen coffee mixture into serving glasses; top with whipped cream and toasted coconut.
Recipe adapted from King Arthur Flour.