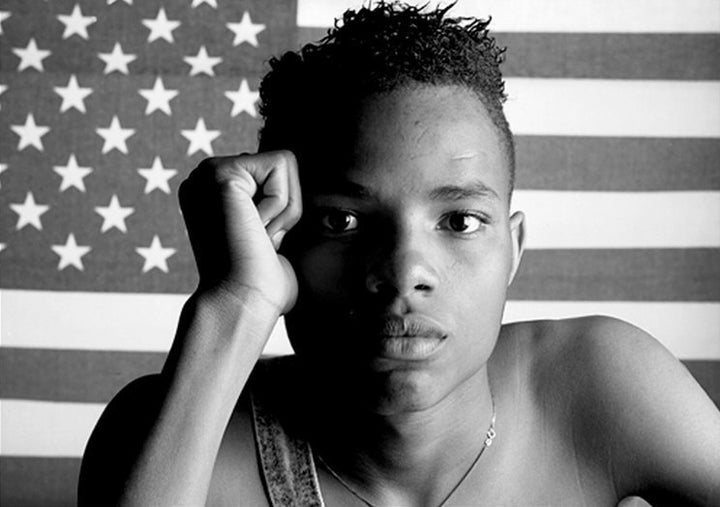 In 1991, Charlie Kelly, Frankie Porter, Donovan Harris and Richard "Poochie" Roderick, collectively known as The Cooler Bandits, went on a crime spree that lasted ten months and included the armed robbery of several Akron, Ohio area restaurants. Filmmaker and photojournalist John Lucas has been working for many years on a compelling documentary film about these young men and their subsequent lives in the prison system. The film is both inspiring and bleak for what it reveals about the state of the American Dream. The film has just received a grant from the John D. and Catherine T. MacArthur Foundation.
The Cooler Bandits, a film by John Lucas
The Justice Department's own statistics indicate that the Unites States has the highest rate of incarceration in the entire world and 70% of the prison population is non-white. The devastating cost of imprisonment is deftly captured in first person accounts from the men as they talk about the impact of their crimes on the victims and on themselves. Whole families are torn apart and entire communities have been ruptured. A permanent underclass is the result of poorly conceived mandatory sentencing laws and rehabilitation is apparently no longer a meaningful goal. These men have little to look forward to when they are released from prison with the felon label attached. $68 billion is being spent annually to keep people in prison. This is disastrous public policy brought about by cynical politicians promising popular mandatory sentencing guidelines to the voters who lack a clear understanding about the social and financial costs involved.
The tale of The Cooler Bandits begins in 1991 when these young men, then in their late teens, began the crime spree that ended with their capture, trial and imprisonment. The crimes were serious and are not treated lightly by Lucas or the former Cooler Bandits. The true story, though, is how these young men were treated so unequally under the law with sentences ranging up to 500 years for crimes during which no one was physically injured. On the low side, Donovan Harris, the only one of the young men able to hire a lawyer, ironically received the shortest sentence -- 16 to 50 years -- when he rejected his attorney's advice to go to trial and accepted a plea bargain. The rest of the young men were represented at trial by public defenders and their sentences ranged all the way up to a shocking 500 years for Frankie Porter. Their stories, rather than being unique, are in fact depressingly typical for many young men from this neighborhood and places like it all over the United States. Some fall into the criminal justice system and never get back out again. Others are able to make the transition back into society but it is difficult and there are many obstacles. Asked about his aspirations for the film, Mr. Lucas said,
This film seeks neither to apologize nor sympathize. It's my hope that this film will take one perpetrator at a time from sterile statistics to a complex humanity. At some point we need to move away from the categories of "perpetrators and victims" or "undeserved and injured" and begin to think about individuals and possibilities -- especially where judgment has already been served.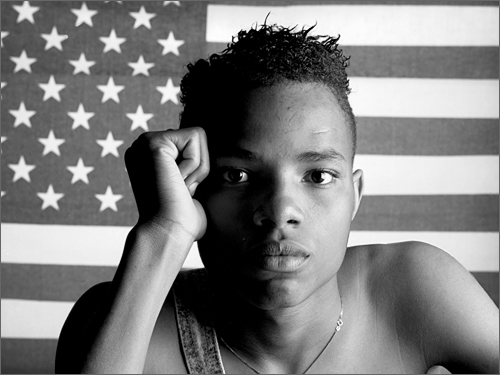 Charles Taylor, from The Flag Series by John Lucas
See the entire Flag Series on Facebook
I have observed Mr. Lucas' career as a photojournalist since he emerged from the Northeast Ohio art scene twenty years ago with a landmark body of work titled The Flag Series, an outgrowth of his Big Brother relationship with Charles Taylor in the Big Brother/Big Sister program of Akron, Ohio. The series was shown in New York City at O.K. Harris Works of Art gallery in Soho, who represents Lucas' work. Among the young boys depicted in The Flag Series was Donovan Harris, who grew up to become one of the Cooler Bandits. Lucas has known the men in this film since they were young boys growing up in Akron's impoverished Northside neighborhood. They displayed an adult awareness of what they were up against in the compositions they wrote that accompanied their portraits in the Flag Series. There was a seething anger building up that culminated in some of the worst rioting in decades that took place in Los Angeles.
Richard "Poochie" Roderick worked hard on getting an education in prison and upon his release enrolled in Pitzer College as a sophomore. He just completed his first semester. Charlie Kelly has just graduated from Barber College in Akron. Donovan Harris, who has been out of prison the longest, has recently opened the North Hill Social Club and, with Charlie, plans to start a youth basketball team and serve as a bulwark against other young men following in their footsteps. Frankie Porter continues to serve a five hundred year sentence without any realistic hope of release short of a pardon from the governor of the State of Ohio. There are many other young men, their friends and relatives, who have fallen by the wayside and died young.
PHOTO GALLERY
The Cooler Bandits: Life in the American Gulag
All photos © John Lucas, used with permission of the artist
Not all of the world's most important stories have great commercial value and this is certainly one of them. There are no chase scenes and nothing is blown up. It requires the support of foundations and generous donors who understand its importance to get it done. What this film has is the vast emotional power of truth behind it and the ability to make people understand the true burden that the criminal justice system places on our most disadvantaged citizens. Crimes committed by the nation's underclass are routinely subject to much longer mandatory sentences than those of the overclass. Bernie Madoff is a rare exception to that rule.
The First Night Ahmad Came Home

By R. Dwayne Betts

He dreams of farina & fried eggs,
& he hungers for the secret
of a sentence that doesn't end,
of how to heft his weight
into a job interview & speak
as if the prison walls themselves
aren't filling his lungs with whispers
& wanting -- he dreamed all this,
he dreamed a room, a little piece
of a world he owns where there's
a wild echo in the way he stretches
his arms in the middle of this first night,
complaining to himself about the softness
of a mattress he doesn't deserve, &
that he can't make more than a memory
of the rugged thin heap that held up
his body at night when his mind refused
Calling all HuffPost superfans!
Sign up for membership to become a founding member and help shape HuffPost's next chapter