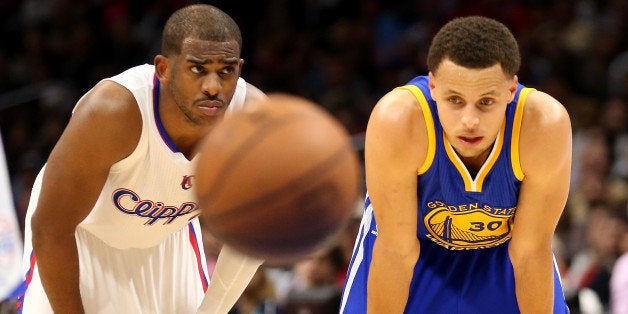 The 2015 NBA Playoffs are here. The Atlanta Hawks locked up the 1 seed in the Eastern Conference weeks ago, as did Golden State out West. Defending champions San Antonio have now made the postseason trip for 25 of the past 26 years. And with their win over the Spurs, Anthony Davis and the New Orleans Pelicans earned their first playoffs berth in four years.
Let's take a look at some plays, people and trends to watch for during the playoffs.
John Wall made a pretty sizable leap in his fifth year, becoming a more consistent perimeter shooter and better offensive weapon. The former No. 1 overall pick posted career highs in both assists (10) and field goal percentage (45 percent). But both he and the Wizards are most lethal playing the transition game.
Another must-watch point guard in the playoffs is Stephen Curry, who has not only become the game's premier point, but might become an MVP as well. What makes Curry's shooting so special is actually his handle. And his rare ability to shoot on the move, even with just the slightest time to get the shot off, is downright spectacular.
If this play draws flagrant in the postseason, we'll all be disappointed.
Tony Parker is scoring the fewest points in the paint this season that he's ever compiled, but that doesn't mean his pick-and-roll combo with Tim Duncan has suffered. The Spurs will lean on Kawhi Leonard for scoring, but the two-man game between Parker and Duncan -- or Manu Ginobili and Duncan -- remains as important as ever to this offense. In fact, in San Antonio's past 25 games, the team has achieved nearly the same offensive efficiency as it did during last year's playoffs, per ESPN Stats & Info.
We could show you a lob, but this dunk is simply too good. One of the question marks in the West is whether the Clippers are a legitimate threat. But what's not up for discussion is the Chris Paul-Blake Griffin pick-and-roll, which is nearly unstoppable -- especially when Doc Rivers can spread the floor with J.J. Redick and Jamal Crawford. It's a big reason the Clips rank second in the league (behind the Warriors) in field goal percentage and rank third in three-point percentage. But Paul has yet to achieve real playoff success, and this might be his best chance to change that.
James Harden had one of the best years from a shooting guard we've seen in quite some time. His splits are downright scary, and with all due respect to Curry, Harden might be the most exciting isolation player in the league. We don't know what to make of Houston, but we can certainly look forward to seeing a lot of this.
As I wrote this week, Anthony Davis led the NBA in player efficiency, and firmly belongs in the MVP discussion. New Orleans is unlikely to mount much of a challenge against the Warriors, so enjoy him while you can. In his third season, the 22-year-old Chicago native has ranked first in blocks -- for the second straight year -- and became a go-to threat from 18-feet and in.
Atlanta's transition game is fueled by two things: the sensational end-to-end speed of All-Star point guard Jeff Teague, and the threat of multiple weapons filling lanes. In this case, All-Star forward Al Horford is rewarded for running the floor.
In these next three clips, we see the benefit of three-point bomber and All-Star Kyle Korver. Not only does Atlanta run offensive sets entirely for him, but his teammates know how to locate him on the floor, either for screens or kick-out threes.
Take your pick with highlights, but this one is pretty good. If the Cavs want to make a run, LeBron has to be on point in the speed game.
Email me at jordan.schultz@huffingtonpost.com or ask me questions about anything sports-related at @Schultz_Report, and follow me on Instagram @Schultz_Report. Also, be sure to catch my NBC Sports Radio show "Kup and Schultz," which airs Sunday mornings from 9 to 12 EST, right here.
REAL LIFE. REAL NEWS. REAL VOICES.
Help us tell more of the stories that matter from voices that too often remain unheard.