NEW YORK -- When George Caffentzis was teaching philosophy in 1976 at the City University of New York system, none of his students had to pay tuition.
"So in order to presumably beat the debt, tuition would have to be charged. So this was the logic that occurred in 1976 and led to a historic change," Caffentzis said, "and eventually led to a decline in enrollments," as well as mass layoffs of non-tenured faculty, including himself.
Caffentzis went on teach in other American colleges -- and in Nigeria for a time -- before landing where he is currently at the University of Southern Maine. But on Saturday afternoon, he was in lower Manhattan to take part in a demonstration against the possible implementation of tuition for the first time at Cooper Union, a small college in the city's East Village with around 1,000 undergraduates.
Cooper Union is one of the last higher education institutions in the U.S. to not charge students tuition -- they're all covered by a full scholarship which is currently valued by the school at more than $38,000. The possibility that Cooper may soon charge tuition for the first time in its history has prompted a week of student protests.
Seandor John, a current CUNY Hunter professor of history, said he worries people could be accustomed to the idea that education is something you always have to pay for. "I think this one school is part of a worldwide phenomenon to privatize education," John said.

John got his master's at National Autonomous University of Mexico, and didn't have to pay tuition. He described a moment a couple of years ago when he mentioned his free education in Mexico, and the fact that no one there had to pay tuition. A couple of students, he said, later asked him on an elevator, "Was there really a university that didn't charge tuition?"
"Cooper Union is a small place. It's also a relatively privileged school," John said. "I think that means for it to really have an impact, it has to be integrated into a broader struggle."
The student occupiers have received more than a dozen letters of support from student unions and professors, from around the U.S. and overseas, who have been involved in their own protests against tuition and privatization measures.

At Saturday's demonstration, student protesters, alumni and faculty members from Cooper, CUNY, New York University and elsewhere, used several symbols of student activism from abroad. They wore a red felt square, which was popularized during the recent Quebec student movement against raising tuition. They also marched while banging pots and pans, a popular feature of the Montreal student protests in May. While pots-and-pans demonstrations have their roots in Chile, the tactic was used by Canadians in response to emergency law Bill 78, which lawmakers pushed to quell an uprising amongst college students upset over tuition increases.
"It's exciting to see students having a much wider scope in the struggle," said Conor Tomas Reed, a CUNY student with his own student debt, "that it's not just one flashpoint, that it's not just a sprint -- it's a marathon."
Around 200 people, mostly students, gathered at Washington Square Park in Manhattan on Saturday to participate in a citywide rally supporting the 11 Cooper Union undergrads who've been in the eighth floor of the school's Foundation Building for the past five days. In the park, and after a march to the Foundation Building, speakers shared why they came: A World War II veteran said he met his wife when she was at Cooper, several students said they wouldn't be able to go to college without Cooper's scholarships, and CUNY students were hoping this may spark a citywide strike among college students.
"I think what's going on at Cooper, speaks to what's going on at CUNY, what's going on at The New School," said Danica Savonick, who studies at the CUNY Graduate Center. "We're trying to get a student union together of all the schools in New York, and part of that is envisioning how the work being done at different campuses connects to one another. So things like governance issues, tuition hikes, all these kind of things we can resist them if we join together and realize they're all connected."
Mariya Abramenko, a 19-year-old CUNY student, pointed out the students' banner draped outside of the Cooper Union Foundation Building doesn't say, "We want free education for ourselves."
"Free Education For All" is what the banner reads, and she argued that shows a desire to make things better for the next generation of students. Students barricaded earlier in the week inside the Foundation Building will not have their scholarships affected, no matter what the administration decides about charging tuition.
"We recognize education itself is an expensive proposition," Caffentzis said. "The question is who should pay for it? Should it be students who go into debt? Or should it be the larger community especially those who have tremendous financial resources?"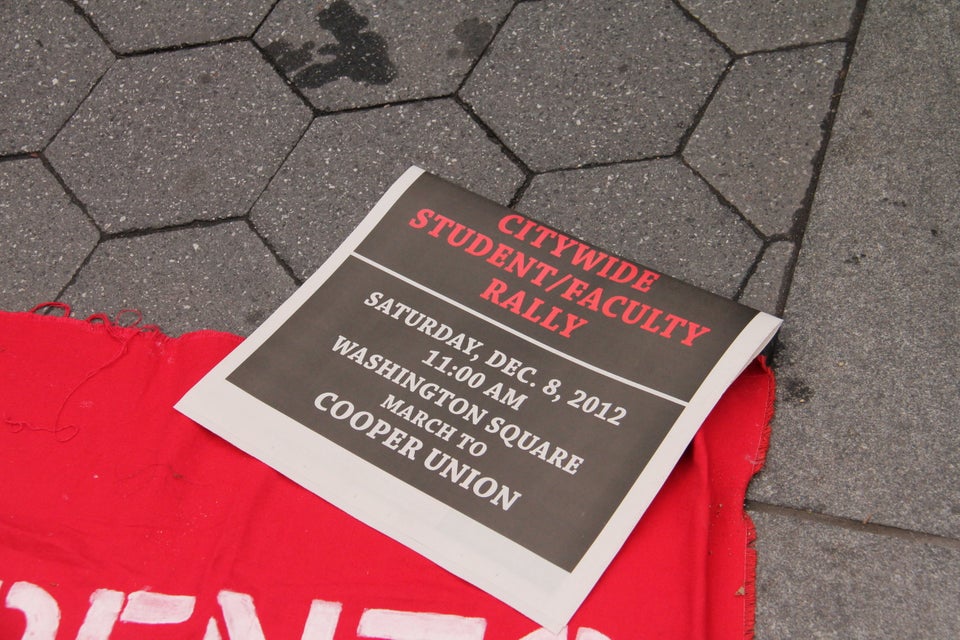 Scenes From The Dec. 8 Rally And March In Support Of The Cooper Union Protest
Related
Popular in the Community