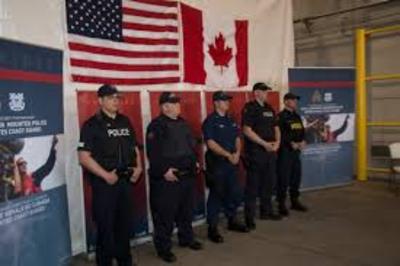 Before the incoming Trump Administration starts implementing concrete measures to build the President-elect's promised wall with Mexico, it might want to consider other ways to secure our borders that require a lot less concrete.
Two innovative and road-tested alternatives are particularly noteworthy, in large part because they treat our continental neighbors as partners in border security, rather than problems to be walled off.
As the designated new head of Homeland Security, John Kelly, will soon discover, engagement with Mexico in particular will be critical to accomplishing many of the new Administration's border security goals.
The first cooperative model that deserves a hard look comes from Canada, with whom we share a 5,525-mile border, the world's longest. Some 40 percent of it is water, with the Great Lakes and St. Lawrence River making up the biggest part of the maritime boundary.
Criminals have long exploited this watery domain to smuggle drugs, guns, untaxed tobacco and illegal aliens to ready markets in both countries. If the U.S. Coast Guard or Royal Canadian Mounted Police, who have the law enforcement mission here, spotted smugglers on the water, the bad guys could simply zip across the maritime boundary to escape their pursuers.
Worried in the post-9/11 world that a weapon of mass destruction could easily replace illegal cigarettes, the U.S. and Canada decided in 2005 this security gap had to be closed.
They began a pilot program called Shiprider on the Detroit River to test the idea of putting officers with arrest powers from both countries on a single vessel. Before they deployed, the officers were given specialized training on the other country's criminal procedures.
With an RCMP officer on board, a U.S. Coast Guard vessel in hot pursuit across Lake Ontario, for example, can now keep going when it hits Canadian waters, because the RCMP officer oversees any apprehensions and arrests. Coast Guard personnel on RCMP vessels play the same role in American waters. The pilot program worked so well the two countries signed a permanent agreement in 2011 and have now expanded it to five border zones.
You may think this was a no-brainer. After all, we have numerous trusted-traveller and joint law enforcement programs with Canada to protect our common boundary.
But as I learned during two diplomatic assignments in Canada, Canadians are highly sensitive to perceived U.S. encroachment on their sovereignty, and have very restrictive gun laws. Under Shiprider, an armed, uniformed, U.S. Coast Guard officer could theoretically detain a Canadian citizen in Canadian waters, under the RCMP's supervision. The same would be true for an RCMP officer in American waters.
That Canada and the U.S. were able to overcome these reservations in the name of securing the border shows how committed we both are to countering criminal or terrorist threats along the border, and how powerful doing it together can be.
This is border security without the concrete.
The Trump Administration has the opportunity to apply this same cooperative approach to our southern border, where several promising models also exist.
One of the most innovative is a 2015 U.S.-Mexico agreement that permits U.S. and Mexican customs agents to work in each other's country inspecting merchandise headed to their home country. The idea here is to push the border out, allowing U.S. customs agents to "pre-clear" U.S.-bound trucks well south of the border.
This enhances U.S. border security in two ways. First, the agents can detect potential hazards like drugs or agricultural pests before they enter the U.S., which has obvious benefits to our homeland. And by pre-clearing trucks away from the border, they can relieve the sometimes-acute congestion at the ports of entry. This gives U.S. agents at the border a better shot at spotting possible threats, and also speeds legitimate trade.
But getting to this preclearance agreement required a major concession by Mexico. Before it could be signed, Mexico had to amend its firearms law to allow U.S. officials to carry their weapons in Mexico.
Mexicans are even more sensitive than Canadians to real or perceived U.S. violations of their sovereignty, as I witnessed during my posting there from 2004-2006. Allowing uniformed American customs agents with guns on their hips to work in Mexico is shows how far they are willing to go to secure the border.
This should not come as a total surprise. Mexicans also worry about the border. Where Americans see drugs and unauthorized immigrants moving north, they see illegal guns and undeclared bulk cash shipments going the other way.
We both want to protect the nearly $1.5 billion in merchandise trade that crosses the southern border every day, especially since Mexico buys more U.S. products than any other country except Canada.
Walling off the entire southern boundary at great cost sends a hostile message that could snuff out the very cooperation needed to make our borders truly secure, especially if we want Mexico to help deal with the growing number of refugees fleeing violence in Central America before they arrive at our border.
The Trump Administration would do well to focus more on innovative cooperative solutions like Shiprider and preclearance that cement relations with our neighbors, and less on cementing bricks that would push them away.
REAL LIFE. REAL NEWS. REAL VOICES.
Help us tell more of the stories that matter from voices that too often remain unheard.