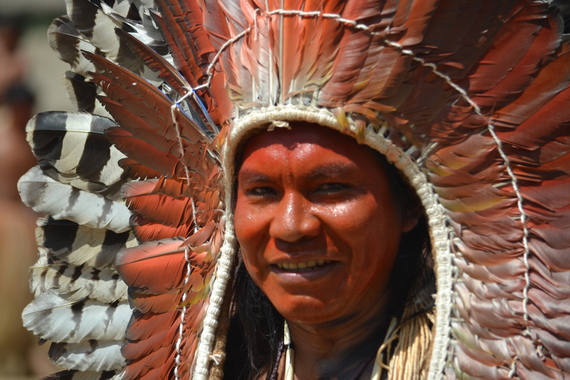 The flashbulbs will pop as Leonardo DiCaprio mingles with heads of state at this year's Conference of the Parties climate talks in Lima, Peru, which officially began on Monday. But in another part of the proceedings, a group of people will be talking about approaches to the problem of climate change that could well have lasting and profound effect, far beyond any eye-catching headlines.
A consortium of nine environmental and indigenous organizations called AIME (Accelerating Inclusion and Mitigating Emissions) has over the past two years been quietly making tremendous strides in how we look at some of the thornier parts of climate change -- and offering real hope.
And at this year's COP -- where the strong presence of indigenous people is a noticeable difference from meetings of years past -- AIME presents voices that speak of proven strategies and solutions.
Thursday, the group will present some of their work at the 20th Conference of the Parties (COP 20) to the United Nations Framework Convention on Climate Change (UNFCCC). The presentation will cover a groundbreaking project in the Brazilian Amazon involving indigenous people and their role in keeping carbon locked in trees; a way to connect the Life Plans of indigenous communities with the difficult task of reducing emissions in the atmosphere; and how an overhaul of the typical approach to climate change mitigation is necessary -- and possible.
In addition to their presentation, AIME members will participate in smaller meetings throughout the COP, including discussions that will focus on the development of a fund for indigenous REDD (Reducing Emissions from Deforestation and Forest Degradation). Earlier in the week, COP also hosted an AIME event at the restaurant Malabar, the cuisine of which focuses on "sustainable gastronomy," an innovative way of looking at how edible products of the rainforest can be part of solutions to climate change.
The nine partners in the consortium are led by the D.C.-based international/global nonprofit Forest Trends, and include Earth Innovation Institute, EcoDecision, the Environmental Defense Fund, Metareila Suruí Association, IPAM, PRISMA, COICA and Pronatura Sur. The program launched two years ago, funded by USAID, and works in Brazil. Peru, Colombia, Central America and Mexico.
Indigenous people and other local communities control about 33 percent of forest tenure in Latin America. Their stewardship of these swaths of trees -- which absorb the carbon emissions of our planet -- is a vital tool in the fight against climate change. Without these forests, the carbon would be released into the atmosphere and contribute to global warming and subsequent climate change. Rather than clear-cut these forests, as logging and mining interests would have them do, indigenous people should be encouraged to do what they have been doing for decades: remain the guardians of this valuable, irreplaceable climate-change solution.
Recognizing this, AIME supports these forest-dependent communities and their conservation efforts. An underlying premise of their work is that maintaining the livelihoods of these communities should be a central part of climate-change solution strategy.
Role of Indigenous People on International Climate Change Stage
The presence of AIME at the COP climate change talks illustrates the growing acceptance of indigenous people "at the table." No longer the purview of world leaders and scientists, the puzzle that is climate change and our world's future can only be addressed with the input of people like Almir Suruí, chief of the Paiter-Suruí community in Brazil.
Among other innovative accomplishments, the Suruí developed and signed a historic sale of carbon offsets in 2013, a deal that can serve as a model for other communities seeking alternatives to clear-cutting their land. At COP, the Metareila Suruí Association, representing the Suruí, will present the community's long-term development plan and several other ideas that constitute its "REDD+ Project."
Earth Innovation Institute, an AIME partner, will also be part of Thursday's presentation, explaining a "jurisdictional approach" to finding climate change solutions versus a "project approach." In this kind of focus, indigenous people work together with donors, donor nations, states and provinces, among other actors, in finding solutions and strategies.
Also presenting as part of AIME will be the indigenous advocacy group COICA (Coordinator of Indigenous Organizations of the Amazon River Basin). They will be discussing their own approach to reducing emissions (Redd+ Indígena Amazónico, or RIA), especially in the context of indigenous people's Life Plans.
For the first time, this year's COP is home to the "Indigenous Pavilion," where many of the events centered on the work of these communities will take place. "The Indigenous Peoples hold the knowledge," reads the information about the pavilion, "worldviews, experiences and proposals for mitigation, adaptation to slow and overcome the biggest threat for all life forms; the voice of the indigenous peoples can and must be heard by the global actors."
It is in this context, then, that the AIME consortium seeks to share their experiences and serve as a model of forward-thinking, creative approaches to climate change. As the world watches the high-level COP negotiations over the next days -- with varying degrees of skepticism and support - -on several smaller but nonetheless important stages, also at COP, stories of proven success will be told. And this year, the world will be listening.
Join the AIME presentation in Lima:
Thursday's event will be live-streamed on the Internet, but if you're in Lima, you can attend at the U.S. Center, in Zone F of the COP compound.
What: REDD+ for All: Enhancing Stakeholder Engagement in REDD+
Where: U.S. Center (Zone F)
This report was filed by Ann Clark Espuelas.
Related