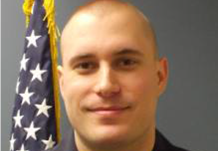 When a mother in need expected to get in trouble with the law, she was met with a moving show of generosity, instead. 
Sarah Robinson, a mother of six from Kansas City, Kansas, went to a Walmart store earlier this month, after running out of diapers for her 2-year-old twin daughters, ABC News reported. The family had fallen on hard times after Robinson's husband died a few years ago and without money to buy what she needed, the mother tried to steal diapers, wipes and shoes.
She was caught, and Officer Mark Engravalle of the Roeland Park Police Department answered the shoplifting call, according to the Prairie Village Post. When he arrived, he saw that Robinson's youngest kids were barefoot and decided to learn a bit more about their background.
"He noticed [what she stole] were necessities like diapers, shoes for the kids, some clothing," John Demoss, Roeland Park public information officer, told ABC News. "He asked her what the situation was, and she broke down crying."
The officer listened to Robinson's story and learned that the family had been struggling financially. After issuing Robinson a citation for theft, Engraville went into Walmart and used his own money to purchase the items the family needed, The Kansas City Star reported.
"Obviously she is going through a tough time," Engravalle told 41 Action News. "Walmart might see her as a criminal, but I just saw her as a mom going through a really difficult time."
Robinson and her six daughters had been living mostly in her car, but recently, their belongings were stolen from the vehicle, ABC News reported. Engravalle, who has two kids of his own, thought of his own children and felt compelled to help. On top of buying diapers, baby wipes and clothes for the kids, he also let the girls pick out their own shoes. 
The move left Robinson overwhelmed with gratitude. 
"There isn't enough words in the world to thank him enough,"she told ABC News. "Me and my girls are indebted to him forever."
Engravalle's gesture was incredibly compassionate and other law enforcement members as well as people in the community took the good deed another step further.
Following the incident,
Police Chief John Morris and Sgt. Randy Costlow
 helped Robinson set up a bank account, Prairie Village Post reported. And as the news of Engravalle's good deed spread, local radio stations also got involved in helping the family. Hosts of KMBZ's radio show "Dana and Parks" put out a call for donations and brought in more than $6,000 for the family. KCMO, another station, organized a donation drive to collect some basic essentials for the family as well as other monetary donations. 
The outpouring of support has changed Robinson's outlook on life. 
"It shows you that there are still good people in the world, and how great Kansas City is," she told 
the Prairie Village Post.
 "I don't have the words to thank people enough."
PHOTO GALLERY
Artist Redesigns Signs For Homeless People
Calling all HuffPost superfans!
Sign up for membership to become a founding member and help shape HuffPost's next chapter