"I Can't Breathe" shirts have become a ubiquitous sign of protest against what many feel was an unjust decision not to indict the cop who put Eric Garner in a chokehold before his death.
But now, a law enforcement uniform company in Mishawaka, Indiana, has designed a shirt that says, "Breathe Easy, Don't Break the Law."
Raw Story and other outlets have suggested the shirt is a form of counter-protest against those who think the Garner acquittal was unfair.
But in a Facebook post, South Bend Uniform owner and Mishawaka Police Corporal Jason Barthel insists that the shirt's message is one of unity.
"For those upset, please understand when we use the slogan 'Breathe Easy' we are referring to knowing the police are there for you!" the post said. "We are one people, one nation regardless of race, religion, creed or gender. We are all in this together. The police are here to protect and serve. 99.9% of us have the greater good in our hearts each time we strap on our uniforms and duty belts. We are all one people and this is by no means is a slam on Eric Garner or his family, God rest his soul. Lets all band together as AMERICANS regardless of our feelings and know we can and will be better!"
South Bend did not immediately respond to a request for comment from The Huffington Post.
Fox Sports Deportes reporter Erika Reidt was suspended after allegedly posting a similar comment on Instagram.
"I'm gonna start wearing a shirt that says I can breathe because I obey the law," Reidt apparently said under a photo of the Lakers' Kobe Bryant wearing an "I Can't Breath" shirt. Reidt claimed her account was hacked, but Fox Sports Deportes announced it was suspending her while it conducted an investigation.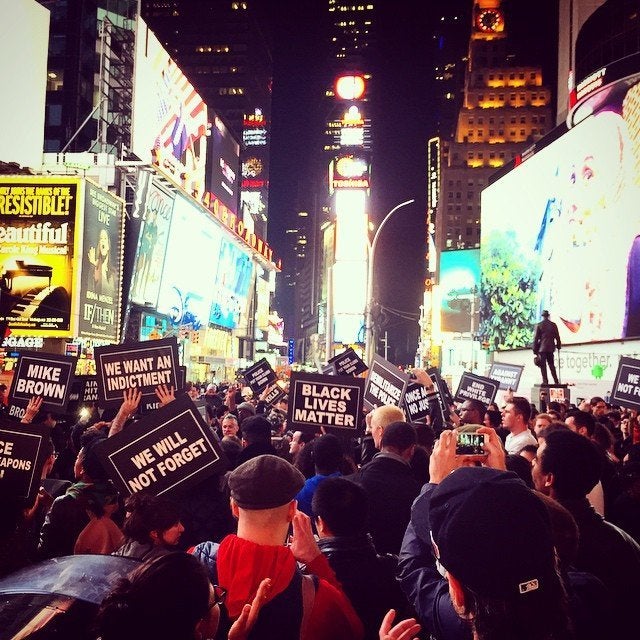 Ferguson Protests Around the Country
Popular in the Community