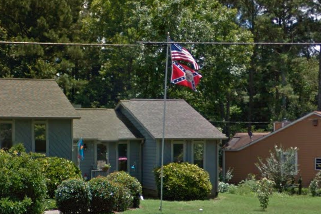 A former Georgia police sergeant is suing her department after she says she was fired for flying a Confederate flag outside her home, in a case whose defense efforts briefly included an accused "white supremacist lawyer."
Silvia Cotriss, 53 and formerly of the Roswell Police Department, filed a freedom of speech lawsuit against the city and its police force last week. She was terminated for "unbecoming" conduct in July, according to a copy of the decision obtained by The Atlanta Journal-Constitution.
According to the suit, Cotriss said the flag, which was a gift, had been flying for over a year outside her home in Woodstock, Georgia, about 30 miles north of Atlanta, "without causing any problems."
"She was displaying her pride in her Southern heritage and honoring her recently deceased husband," the suit says.
However, a man who lived near Cotriss complained to her department about the flag. Her attorney says that rather than asking Cotriss to take it down, the department "just fired her."
"It's interesting because if they simply said, 'Hey Silvia, you need to take down that flag because we received a complaint,' she would have complied," Cotriss' attorney, David Ates, told The Huffington Post Monday. "I think they wanted to get rid of her for other reasons. She's an older lady, she was out on medical leave for some time, she had trouble passing a fitness test."
"If I knew it offended someone, my friends, my family, I wouldn't do it," she said.
"I think they wanted to get rid of her for other reasons."
The case recently made national news after Kirk Lyons, who the Southern Poverty Law Center describes as a "white supremacist lawyer," announced on Friday that he would be helping fight Cotriss' case with his group, the Southern Legal Resource Center.
Ates said Monday that he has since cut ties with Lyons, and that he and Cotriss were not aware of Lyons' background and the allegations against him when they first accepted his help.
"We thought [SLRC was] just a Southern heritage group and like the Sons of the Confederate Veterans," Ates said.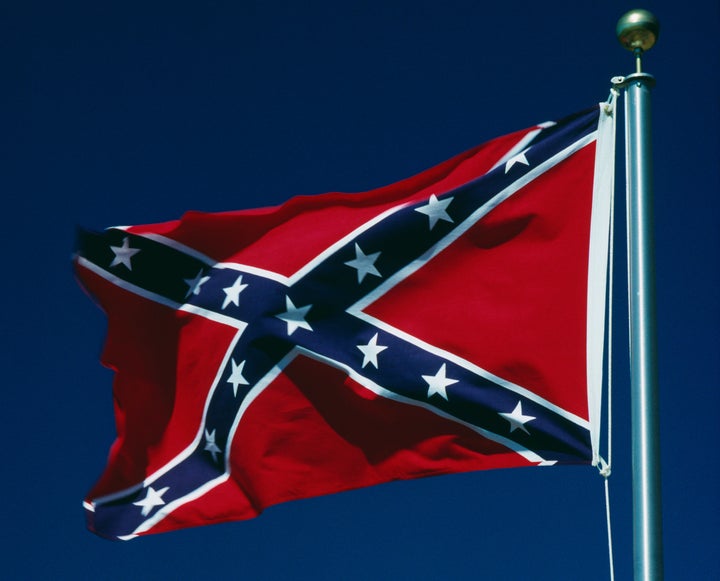 "When this news broke last week, I started getting calls that maybe Mr. Lyons holds some extremist views," Ates said. "And that was news to me and my client."
Lyons said he reached out and offered to help Cotriss because he specializes in defending Southern and Confederate heritage. As for the other allegations against him from the SPLC, which tracks hate groups, Lyons denies being a racist.
"We are not a right-wing group, we are not a hate group and I am not a white supremacist lawyer," he told HuffPost Tuesday.
According to the SPLC, Lyons has been affiliated with Ku Klux Klan and white supremacist leaders since the 1980s. In addition to representing and defending these people, the SPLC accuses Lyons of marrying his wife in a neo-Nazi Aryan Nations compound and marching with Klansmen in a Tennessee parade in 1989.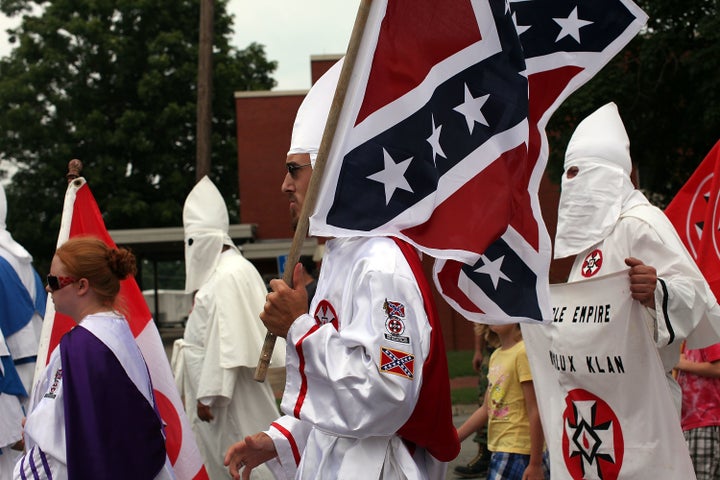 Lyons said he did indeed have his wedding in the compound, but claimed it was because his wife's parents' church was there. He also acknowledged that he was at the Klan parade, but said it was so he could protect the First Amendment rights of those marching.
"I gave instructions," he said. "I actually pulled people out of jail that were arrested just because they chose to participate."
He also didn't deny defending white supremacists in court.
"I don't know if I believed everything these guys believe... but it's my job to represent people who are hated, whose beliefs are unpopular. That is my duty as a lawyer," he said. "It shouldn't matter whatever my background is if I am willing to right a wrong."
"It's my job to represent people who are hated, whose beliefs are unpopular."
Ates said he doesn't know whether the allegations against Lyons are true. If they're not, he said, "I feel bad for him."
Regardless, Ates said Lyons is no longer involved in Cotriss' case.
"His involvement is distracting from Ms. Cotriss' case and interest," he told HuffPost. "We can't have everybody taking their eye off the ball."
Lyons said he hopes to rejoin the case at some point.
"We're getting a timeout because things need to die down, and they will," he said. "She deserves a fair shake and people in Atlanta not thinking that Godzilla is her attorney."
"Whether I'm on the case or not," he said, "I will do whatever I can to help Sergeant Cotriss."
The Roswell Police Department referred questions Monday to the city of Roswell, which declined to comment, citing the pending litigation.
Cotriss' lawsuit seeks reinstatement of her position or 10 years of pay and benefits.
Popular in the Community