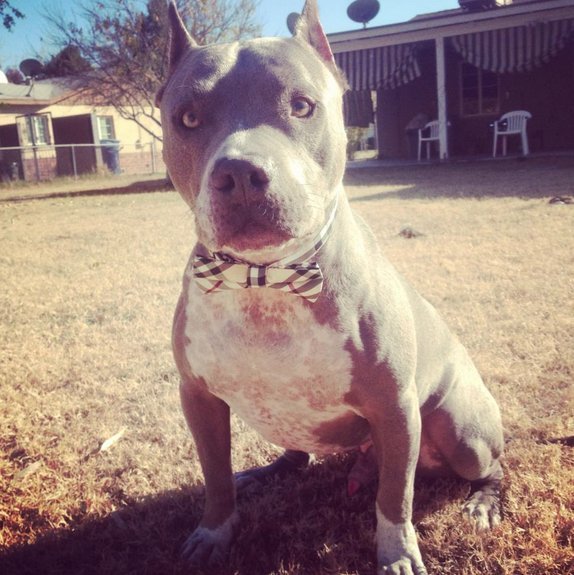 A California man is demanding police accountability after an officer fatally shot his service dog in the head.
Ian Anderson of San Diego told The Huffington Post he was sleeping in his home when officers pounded on his door at 5 a.m. Sunday over a domestic disturbance call. The 24-year-old man said police had the wrong house.
The knocking woke up Anderson and his 6-year-old pit bull, Burberry, who started barking until Anderson opened the door for the officers.
In a surveillance video obtained by HuffPost, one of the officers can be seen petting the dog. Burberry then runs over to the other officer, who backs away, drawing his weapon. Burberry keeps following the officer, and seconds later -- off-screen -- the cop fatally shoots Burberry in the head.
"The first cop reached down to pet the dog," Anderson said. "Then the other cop yelled at [Burberry] to get aside."
The dog trotted over to the second officer "just to say hello."
"Instead of greeting the dog like anyone else would have, he jumps back, then shoots him," Anderson said.
In a video taken by Anderson's friend moments after the shooting, a cop who identifies himself as "Officer Bennett" declines to answer why he shot the dog. The officer asks Anderson to wait for a lieutenant to arrive.
Officer Jackson, who had previously pet the dog, appeared "seriously distraught," Anderson said.
HuffPost asked the San Diego Police Department for help in identifying the officers in the video. They were not able to do so by this article's deadline.
"It was the most inhumane event I've ever been a part of," Anderson said. "As soon as he was shot, I jumped over to the dog and the officer grabbed and restrained me."
Anderson said he was equally shocked that the officer who killed his dog fired his weapon so close to his partner.
"It was so close to his partner being in his line of fire, and me being in his line of fire," he said. "Not to mention I had people sleeping in my house, and it was all over a wrong call. I don't know if they just picked my house out and decided to come, or if it was the wrong address."
In a photo provided to HuffPost, Anderson can be seen lying with his dead dog in a pool of blood. Burberry appears to have been shot once in the head, just above his right eye. (Warning: graphic image below.)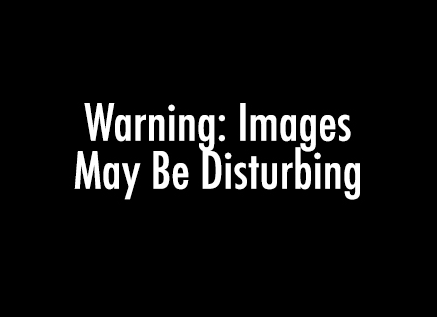 GRAPHIC Image Of Dog Shot In Head
For Anderson, Burberry wasn't just a pet. When Anderson was in high school, his father died, and it was Burberry who helped him heal, he said. Burberry was also a registered service dog: He helped Anderson with anxiety and depression, and even visited children diagnosed with Down syndrome and autism.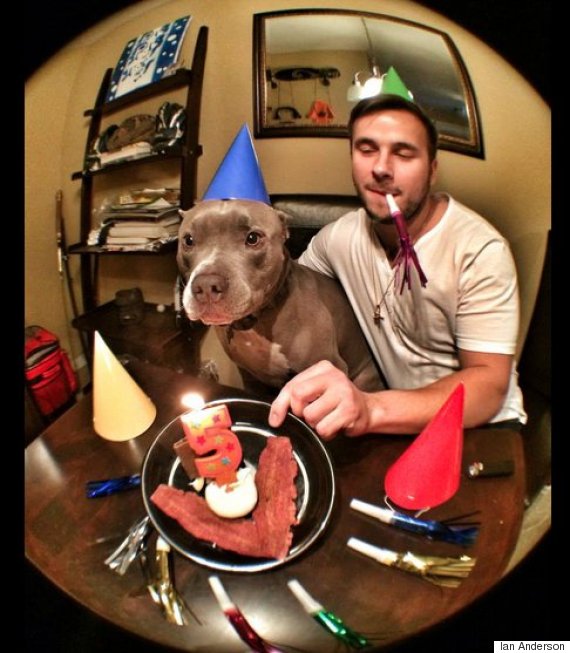 Ian Anderson celebrates Burberry's 5th birthday by giving the pooch a plate of bacon.
"My world's destroyed," he said. "This dog was a part of me. It feels like a part of me died. I wish I could have taken the bullet instead of him. It could have been any of us, this cop was so trigger-happy. It could have been me that was shot."
Multiple calls to the San Diego Police Department by HuffPost weren't returned, but in a statement given to NBC News, the department said it is investigating the incident.
"The preservation of life is our top priority and this includes the lives of animals," the statement says. "This incident is currently being investigated as any Officer Involved Shooting would be to assure proper procedures were followed. Any further comments prior to the completion of the investigation would simply be premature."
"He was absolutely the best thing to ever happen to me," Anderson said. "He impacted so many people and put smiles on so many people's faces, it was insane."
Like Us On Facebook |

Follow Us On Twitter |

Contact The Author
Support HuffPost
The Stakes Have Never Been Higher
Related
Before You Go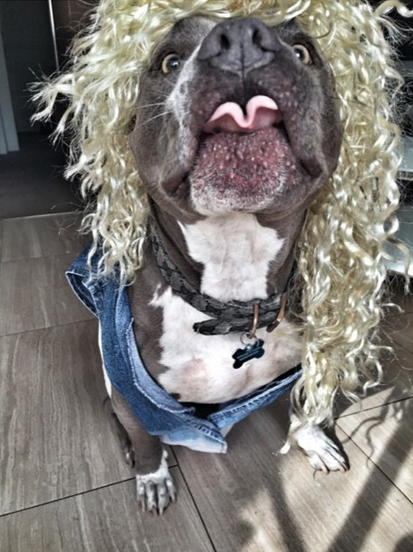 Burberry The Service Dog
Popular in the Community