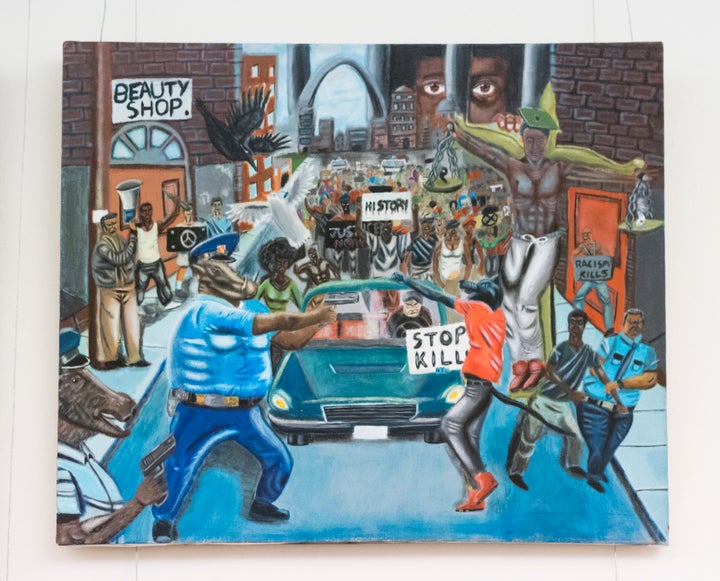 UPDATE: Jan. 10, 5:08 p.m. ― Is the painting back up, you ask? Why, yes. Yes, it is. 
UPDATE: Jan. 10, 4:20 p.m. ― At 3:55 p.m., Rep. Dana Rohrabacher (R-Calif.) and Rep. Brian Babin (R-Tx.) have once again removed the student painting from the Capitol complex tunnel and brought it, again, to Clay's office. 
In a video posted on Twitter, Rohrabacher explains the motivation behind this secondary removal of the work. "There are certain restrictions that apply," he said. "If someone wants to do this in a private gallery they have every right with their freedom of speech, we support freedom of speech. But you don't put something attacking policemen, treating them like pigs, here in the Capitol." 
What happens next is anyone's guess. Well, the best guess would probably be Clay re-hanging the painting for reasons discussed below. Good thing there isn't anything else super important going on today or anything! 
UPDATE: Jan. 10, 2:06 p.m. ― Rep. Lacy Clay (D-Mo.) returned the controversial student painting depicting cops as pigs to its original location, according to Hill reporter Cristina Marcos. It is currently hanging in what Marcos described as "a highly trafficked tunnel connecting the Capitol and two House office buildings."
Clay rehung the work on Tuesday, surrounded by members of the Congressional Black Caucus, explaining to press, "This is really not about a student art competition anymore. This is about protecting the Constitution."
"So [House Speaker Paul Ryan] got to do something about this," Hunter told Fox News on Tuesday. "I can't keep taking it down over and over. That becomes kind of a tit-for-tat thing. Artwork like this simply needs to not be up. The Capitol Police are behind me."
A GOP congressman removed a student painting, without warning or permission, from the walls of the U.S. Capitol complex on Friday, Jan. 6, because of its contentious depiction of police officers.
The image ― a response to the 2014 protests of police brutality in Ferguson, Missouri ― shows a policeman with the head of a boar aiming a gun at a protestor with the head of a wolf. In the background, protestors hold signs reading "Stop Kill—," "History" and "Racism Kills." On the right, a black man in a graduation cap appears crucified and holding the scales of justice.
The controversial artwork, made by recent high school graduate David Pulphus, was selected by a committee of artists as part of the annual U.S. Congressional Art Competition in May. The piece responded to the civil unrest brewing in Ferguson, where the competition was held, following the fatal shooting of Michael Brown by a white police officer. 
Not everyone, however, was moved by the piece. According to Fox News, over 27,000 law enforcement officials protested Pulphus' painting, specifically its depiction of cops as animals, describing the work as "reprehensible, repugnant and repulsive."
Police unions in New York, Los Angeles, San Jose, and Oakland collected their thoughts in a letter sent last Tuesday to House Speaker Paul D. Ryan. "This latest indignation, sponsored by an elected official intent on pandering to professional protesters, unfortunately adds credence to a demonstrably false narrative about law enforcement that undermines the safety of law enforcement officers and those we protect," they wrote. 
Yet Rep. Duncan D. Hunter (R-Calif.) acted alone and unprompted when he, on Friday, simply removed the painting from the tunnel wall and dropped it off in Rep. Clay's office. Clay was out at the time. "It was an impulsive thing when I walked by," Hunter said of his decision, in an interview with The St. Louis Post-Dispatch. "It strikes a nerve ... You shouldn't have something in the Capitol that depicts cops as pigs. It's that simple."
In response to the many people offended by the work, Clay suggested thinking about the artist's motivation for the painting, rather than just the piece itself. "The bigger conversation we should be having is, 'Why does this kid feel that way?'" Clay told the St. Louis Post-Dispatch. 
Earlier this month, Clay released a statement explaining his refusal to remove the work despite its criticisms because of the First Amendment's protection of provocative artwork. "I had no role in selecting the winner of this student art competition and I would never attempt to approve or disapprove artistic expression," he said. "The U.S. Capitol is a symbol of freedom, not censorship. The young artist chose his own subject and the painting will not be removed."
Whether or not Clay will re-hang the work after it has been removed remains to be seen. We have reached out to Clay's office for comment and will update accordingly. 
Calling all HuffPost superfans!
Sign up for membership to become a founding member and help shape HuffPost's next chapter
BEFORE YOU GO
PHOTO GALLERY
Anti-Trump Street Art From Around The World