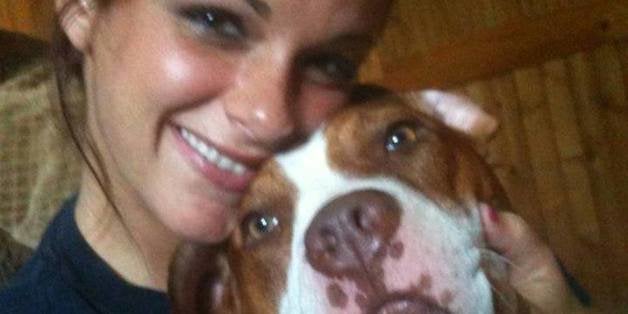 An Oklahoma cop is accused of fatally shooting a dog in the neck and bragging about it.
KOKH reports that last week Ardmore police were called to a neighborhood after a pit bull, kept in a family's back yard, had escaped.
According to a police report obtained by the station, animal control officers at the scene told police they had tried to catch the dog, whose name was Cali, several times.
They couldn't determine who she belonged to since she had no tags. The canine acted "aggressively" toward animal control officers and neighborhood residents, the report said.
Officer Brice Woolly determined Cali had to be put down. According to the report, he used a shotgun to shoot the dog in the neck. Cali died shortly after.
In a subsequent interview, a neighbor told police he did not witness the killing but did hear Woolly tell the animal control officer, "Did you see the way it's collar flew up into the air when I blew it's head off? It was awesome!"
Now the dog's owner wants Woolly to be disciplined.
Cali was "a great dog. Never aggressive. Just territorial in her own yard, like any other dog would be," Sarah Brown told KSDK.
Brown also said her neighbors have never complained about her dog being aggressive towards them.
PHOTO GALLERY
GRAPHIC IMAGES Of Dog Shot By Police
Cali's death has sparked a Facebook page and a petition on Change.org asking for Woolly to face consequences. The Facebook page has nearly 3,000 likes and the petition has more than 18,000 signatures.
The petition cites further testimony from a neighbor who said he witnessed Woolly talking about killing Cali. The neighbor said he heard Woolly tell an animal control officer "We'll just write in the report that she tried to attack you and others in the neighborhood."
Cpt. Eric Hamblin strongly defended his officer in an interview with KSDK, saying Woolly acted appropriately and followed department policy.
"I don't think it's prudent and I don't think it's wise for the police department to wait until a dog acting aggressively actually bites somebody," Hamblin said. "Unfortunately it's one of the aspects of our job that none of us like, but it's sometimes what we have to do."
Calling all HuffPost superfans!
Sign up for membership to become a founding member and help shape HuffPost's next chapter
BEFORE YOU GO
PHOTO GALLERY
10 Worst States For Animal Abuse Laws