Traffic tickets rarely have a silver lining, but a kind officer made an exception for a Missouri family.
Matthew Manley was driving back from a St. Louis area hospital with his 5-year-old niece, who had received chemotherapy treatments there, when he was pulled over, KTVI reported. But when the officer, Shawn Birdsong, issued Manley a ticket, he also handed over a backpack full of goodies and a handwritten note for the young girl.
"It meant the world to us," Dana Manley, the girl's aunt, told The Huffington Post in an email. 
Birdsong, an officer with the St. Charles County Police Department, initially pulled Manley over because he had failed to switch his license plate from a previous car, according to KTVI, and Manley was nervous when he saw the officer opening the trunk of his cruiser. But after noticing the young passenger, Sydney, was bald from chemotherapy, the officer returned with a backpack full of stuffed animals, art supplies and clothes, as well as a note that read "From Officer Shawn, Hope you get to feeling better real soon," punctuated with a smiley face.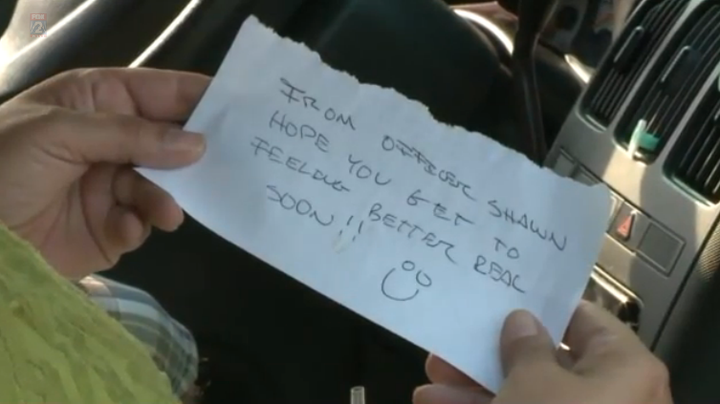 The gift was part of Project Backpack St. Louis -- a nonprofit that serves children in crisis. Backpacks are filled by volunteers with necessary items like socks, toiletries and clothing, as well as school supplies, books and games, according to the organization's website. About 3,000 backpacks are distributed a year, Project Backpack told CBS St. Louis, each bag carefully packaged to provide comfort items to kids in need. 
"Officer Shawn Birdsong was doing the job he was hired to do," Dana told HuffPost. "Sydney has had a tough time with this cancer, and the chemo isn't fun, but for Officer Shawn to give her a backpack full of goodies, just because, made her realize that people that don't even know her care about her."
The St. Charles County Police Department is an active participant in the Project Backpack, and although Birdsong still had to issue Manley a ticket, he took it as an opportunity to give the man's niece a thoughtful gift. After the interaction, Dana posted a message on Facebook, praising Birdsong, who then called the family to wish their niece well.
"He showed us, again, that a police officer is just a regular person with a job to do," Dana said. "He just put a little more effort into his job to make a little girl's day a little brighter."
PHOTO GALLERY
Random Acts Of Kindness
Calling all HuffPost superfans!
Sign up for membership to become a founding member and help shape HuffPost's next chapter