A traveler from Maine said a small-town Louisiana police officer smirked after fatally shooting his "incredibly friendly" dog on Monday.
Brandon Carpenter, 28, told The Huffington Post Tuesday that he and 21-year-old Logan Laliberte, both of Maine, had hopped off a freight train and were walking through the town of Sulphur, Louisiana, with Carpenter's dog -- a 14-month-old Labrador, Newfoundland, golden retriever mix named Arzy Kensington -- when it started raining. The men were on their way to visit friends in Lake Charles.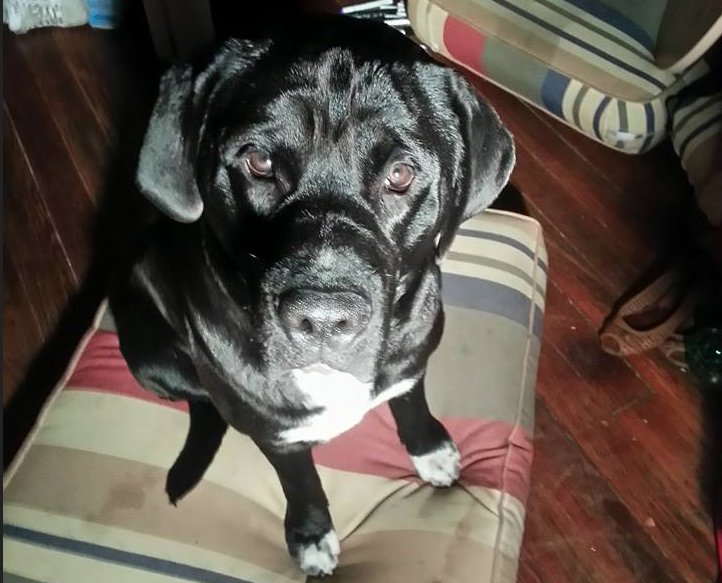 They climbed into the back of a parked box truck in the near-empty parking lot of the Southwest Daily News to take shelter, Carpenter said. Before long, a police car pulled up and an officer, gun drawn, ordered them out of the truck.
The officer, Brian Thierbach of the Sulphur Police Department, spotted Arzy and told the men to "get your dog," according to Carpenter. He said the officer watched him tie Arzy to a nearby fence with a 3 1/2-foot leash before Thierbach handcuffed both men, ordered them to the ground facing away from Arzy, and asked, "Is this dog going to bite me or attack me?"
"No," Carpenter said he responded. "He is an incredibly friendly dog."
Twenty seconds later, Carpenter told HuffPost, he heard a single shot.
Eric Midkiff, Southwest Daily News circulation manager, said his boss phoned him around 7 a.m., asking if he knew anything about the men in the parking lot. Midkiff "took off" and headed to the office, and by the time he arrived, "the officer already had Brandon and the other guy on the ground."
Midkiff, 33, told HuffPost he stayed about 20 feet from the men, and heard Thierbach asking if the dog was going to attack. Midkiff said Thierbach was standing on the bumper of the box truck petting Arzy.
"The dog was rubbing up against the cop," Midkiff said. "He would rub the dog's back and then push him away. All of a sudden, he just jumped down and shot the dog in the head."
Midkiff said he could see both Thierbach and the dog clearly. "That dog did not bite that officer," he said. "The dog was wagging his tail, his tongue was hanging out."
Carpenter said he spun around when he heard the gunshot. "I see my dog kind of start shaking and batting at his head," he said. "I saw the blood start to run down his face. … I'm watching my dog die while I'm sitting in cuffs."
Thierbach, Carpenter told HuffPost, "seemed to be fighting back a smile." He said he asked the cop why he was smiling, and that Thierbach "smirked" and replied, "Well, he nipped at my foot."
Backup officers put Arzy's body in a trash bag and threw it into the back of a vehicle, Carpenter said. According to the Southwest Daily News, police charged Carpenter and Laliberte with trespassing and kept them in jail for a few hours.
Midkiff said he watched as other officers questioned Thierbach about the shooting. Within about 15 minutes, he said, Thierbach's story changed. He first claimed to have been bitten on the calf, then on the back of his heel. Later, another officer took a photograph of his toe.
A Sulphur Police Department public information officer told the Southwest Daily News that the department has launched an internal investigation. The department did not return a request for comment from The Huffington Post.
Carpenter, who raised Arzy from a puppy, said the dog never behaved aggressively toward anyone. "He was just a big teddy bear that you had to feed," he said.
Like Us On Facebook |

Follow Us On Twitter |

Contact The Author
Related
Popular in the Community