The continent that's most at risk from the effects of climate change -- Africa -- recently played host to a major UN meeting to discuss the issue.
It came just days after the seismic election of Donald Trump to the US Presidency, and strong suggestions that the new American leader would row back on the United States existing commitments to a global climate deal.
Morocco hosted the 22nd annual meeting of the UN Conference of Parties (CoP) assembly on climate change, at a time of increasing concern at the impact that global warming is having on food production in the region.
While COP was, to a significant extent, overshadowed by the result of the American election and the impact that it might have on the climate change debate, the conference did take place just weeks after the UN Food and Agriculture Organization's annual 'World Food Day' sought to focus world attention on the links between food and climate.
The UN system is very clear on the challenges that lie ahead -- countries across the globe must address their future food and agriculture needs within their climate plans. Given the importance of smallholder agriculture in Africa and Asia in particular, the way forward is not in dispute -- we must all work to strengthen the resilience of smallholder farmers if we are to guarantee food security for the next generation.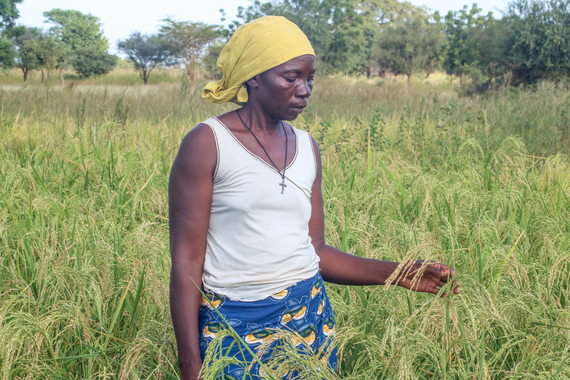 Currently, close to 10 million people in Ethiopia are receiving emergency food assistance following the worst drought in half a century, while in Southern Africa up to 32 million people are at risk, following the failure of seasonal rains that has created the worst crisis in 35 years. Hunger will deepen in this region in the coming months too, as grain stores empty, and rural poor households must wait until March until new crops are harvested.
Researchers warn that the effects of global warming in sub-Saharan Africa are putting peace and stability in the region at risk, with a recent report from the University of Berkeley concluding that climate factors and the struggle for a share of scarce water resources has increased the risks of conflict in the region significantly.
Rural poverty and food insecurity have long been a reality in many parts of sub-Saharan Africa, but rising temperatures and the disruption of seasonal rains upon which millions of small-scale farmers rely is creating altogether new challenges for Africa's poorest people.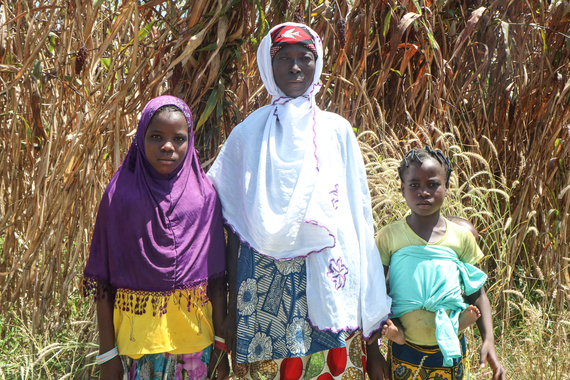 Climatologists estimate that in East Africa it is approximately 1.5 degrees Fahrenheit warmer today than it was in the 1980s, while rainfall during the main rainy season has fallen by 15 per cent. Projections also show that if the challenge is not addressed, climate change could drive down yields of staple crops such as rice, wheat and maize by 20 percent in the next 30 years. During the same period, the growing season for grain crops in some regions could shorten by up to 40 percent.
240 million people in Africa live in extreme poverty, much of which is concentrated in rural areas, on small farms. Many live on the brink. "One extreme event can drive people into poverty almost instantly," says Calestous Juma, an authority on African agriculture at Harvard University.
Meanwhile, a new index that lists the vulnerability and preparedness of countries for changing climate shows that 36 of the states at the very bottom of the list are in sub-Saharan Africa.
A number of factors inform this index, but central to Africa's vulnerability to the effects of climate change is a heavy reliance on rain-fed agriculture.
Today, between 25-30 percent of the income that is generated in sub-Saharan Africa is from agriculture, while up to 70 percent of people rely directly on farming for their survival. Contrast this with the European Union, where farming is responsible for less than 3 percent of GDP, and creates employment, often part-time, for less than 5 percent of working people.
At the same time, irrigated agriculture counts for under 6 percent of all agricultural production in Africa, compared to 30 percent in Europe and 35 percent in India.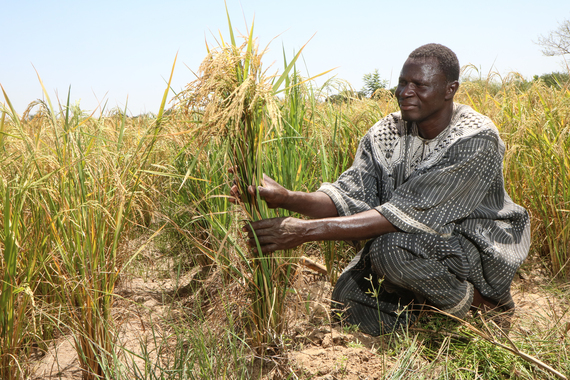 The message is not all doom and gloom however, as progress is being made, and Africa's agricultural sector has huge untapped potential, despite the challenges.
Under one-third of Africa's arable farmland is cultivated, while irrigated production can be increased greatly, meaning there is enormous potential to grow much more than at present.
Improved farming technologies, better access to good quality seed, reform of land laws, and the utilization of information systems including mobile phones to give farmers timely information, can all contribute greatly to the growth of Africa's farming sector.
Agriculture is at the heart of a series of recent ground-breaking international agreements, including the Sustainable Development Goals (SDGs), and at a time of global population growth it is more important than ever that farm production keeps pace, even in the face of the challenges posed by climate change.
Africa's farming systems need to adapt to the adverse effects of climate change and become more resilient, productive and sustainable. 'Climate smart' farming practices will help, and will enable Africa's small-holder farmers to grow food in a way that is sustainable, and will help them to use their natural resources wisely.
Allied to this, a reduction in food losses due to better storage and packing, improved infrastructure, and stronger links to markets will make agriculture on the continent more productive, dynamic and profitable.
This is good news for the extreme poor in sub-Saharan Africa. But it will take significant investment, energy and focus to unlock Africa's potential in the face of the climate challenge.
While the COP summit in Morocco keeps the conversation on global climate change to the fore, we must hope that much of the pre-election rhetoric of the new American president was just that, and that the issue will continue to receive the critical attention that it requires in the years ahead.
Ray Jordan, Chief Executive, Self Help Africa
All of the images in this article were taken by photographer Christine Redmond in a programme implemented by Self Help Africa in the Centre East region of Burkina Faso. The programme aims at improving incomes and food security through agricultural production. The images are, from top, Martine Zongo (48), Limata Sana (48) and her children, François Tarpaga (49).
Calling all HuffPost superfans!
Sign up for membership to become a founding member and help shape HuffPost's next chapter