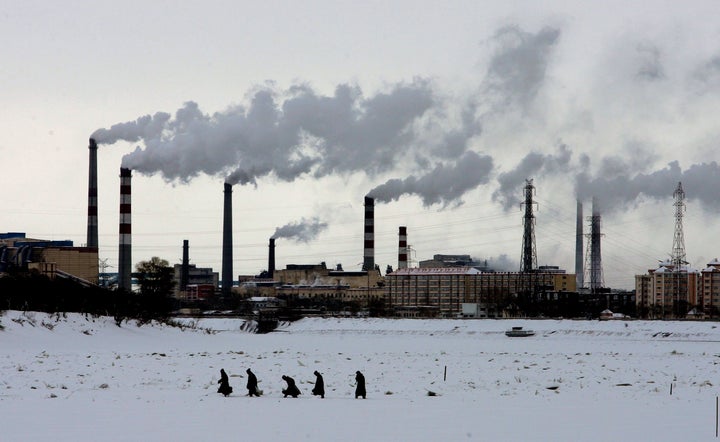 Copenhagen (AP) -- President Barack Obama declared Friday a "meaningful and unprecedented breakthrough" had been reached among the U.S., China and three other countries on a global effort to curb climate change but said much work was still be needed to reach a legally binding treaty.
"It is going to be very hard, and it's going to take some time," he said near the conclusion of a 193-nation global warming summit. "We have come a long way, but we have much further to go."
The president said there was a "fundamental deadlock in perspectives" between big, industrially developed countries like the United States and poorer, though sometimes large, developing nations. Still he said this week's efforts "will help us begin to meet our responsibilities to leave our children and grandchildren a cleaner planet."
The deal (click here to read the document released to the media, or read the AP's summary) as described by Obama reflects some progress helping poor nations cope with climate change and getting China to disclose its actions to address the warming problem.
But it falls far short of committing any nation to pollution reductions beyond a general acknowledgment that the effort should contain global temperatures along the lines agreed to at a conference of the leading economic nations last July.
The limited agreement by the U.S., China, Brazil, India and South Africa reflected the intense political and economic obstacles that had blocked a binding accord to restrict emissions of "greenhouse gases" believed to be causing a dangerous warming of the Earth.
The accord calls for the participating countries to list specific actions they have taken to control emissions and the commitments they are willing to make to achieve deeper reductions.

Huffington Post bloggers and activists have weighed in on the tentative agreement, expressing everything from condemnation of rich countries to something verging on cautious optimism.
So that's it. The world's worst polluters - the people who are drastically altering the climate - gathered here in Copenhagen to announce they were going to carry on cooking, in defiance of all the scientific warnings. They didn't seal the deal; they sealed the coffin for the world's low-lying islands, its glaciers, its North Pole, and millions of lives.

Those of us who watched this conference with open eyes aren't suprised. Every day, practical, intelligent solutions that would cut our emissions of warming gases have been offered by scientists, developing countries, and protesters - and they have been systematically vetoed by the governments of North America and Europe... Continue reading
This deal is still not nearly enough, even for these four countries, but it is a major step forward. And perhaps most importantly, it puts to rest the claim that China and India would never join, nor be held accountable for, an international accord -- the core argument that has held back Congressional action on U.S. clean-energy legislation.

President Obama did not do this alone. China, I'm convinced, came to Copenhagen wanting a deal but also wanting a larger role in shaping that deal -- a desire that this four-party agreement nicely addresses. France and Ethiopia helped break the bitter deadlock over finance by putting together the first North-South agreement on that topic -- one that the Obama administration's finance proposal tracked in important ways. And, perhaps most significantly, countries such as India, South Korea, South Africa, and Indonesia made historic reversals of their traditional refusal to acknowledge that business-as-usual is no longer good business.

We're now left with a three-fold challenge: pass energy and climate legislation that will enable the U.S. to keep its part of the four-part agreement; launch a series of concrete confidence-building measures that begin implementing climate solutions globally, particularly in the poorest nations; and get ready for more robust and complete negotiations on a final climate agreement in 2010... Continue reading
"The city of Copenhagen is a crime scene tonight, with the guilty men and women fleeing to the airport. Ed Miliband [UK climate change secretary] is among the very few that come out of this summit with any credit. It is now evident that beating global warming will require a radically different model of politics than the one on display here in Copenhagen."
"Climate negotiations in Copenhagen have yielded a sham agreement with no real requirements for any countries. This is not a strong deal or a just one -- it isn't even a real one. It's just repackaging old positions and pretending they're new. The actions it suggests for the rich countries that caused the climate crisis are extraordinarily inadequate. This is a disastrous outcome for people around the world who face increasingly dire impacts from a destabilizing climate...

"The failure to produce anything meaningful in Copenhagen must serve as a wake up call to all who care about the future. It is a call to action. Corporate polluters and other special interests have such overwhelming influence that rich country governments are willing to agree only to fig leaf solutions. This is unacceptable, and it must change.
Bill McKibben
Author and founder of 350.org
"This is a declaration that small and poor countries don't matter, that international civil society doesn't matter, and that serious limits on carbon don't matter. The president has wrecked the UN and he's wrecked the possibility of a tough plan to control global warming. It may get Obama a reputation as a tough American leader, but it's at the expense of everything progressives have held dear. 189 countries have been left powerless, and the foxes now guard the carbon henhouse without any oversight."
Kumi Naidoo
Executive Director of Greenpeace
"Not fair, not ambitious and not legally binding. The job of world leaders is not done. Today they failed to avert catastrophic climate change.

The city of Copenhagen is a climate crime scene tonight, with the guilty men and women fleeing to the airport in shame. World leaders had a once in a generation chance to change the world for good, to avert catastrophic climate change. In the end they produced a poor deal full of loopholes big enough to fly Air Force One through.

We have seen a year of crises, but today it is clear that the biggest one facing humanity is a leadership crisis."
Related
Popular in the Community